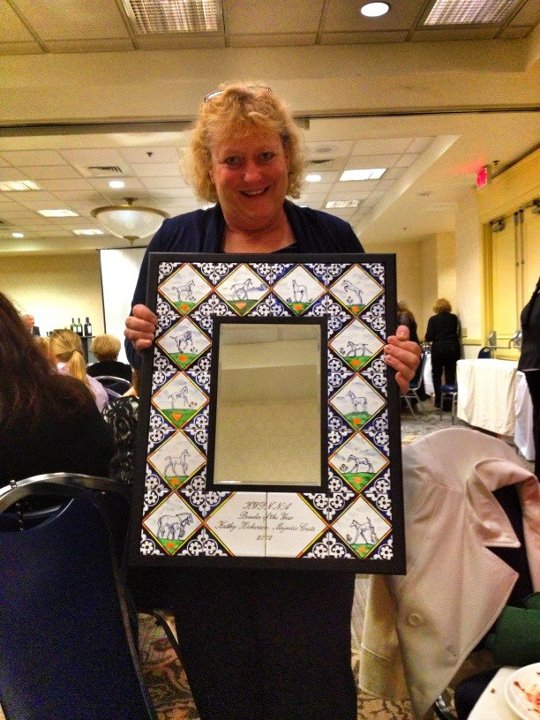 Share the Success!
KWPN-NA GOLD Breeder!
2012 #1 USEF Dressage Sport Horse Breeder
2012 KWPN-NA Breeder of the Year
#1 KWPN-NA National Jumper Foal
#1 KWPN-NA 2 Year Jumper
Celebrating over 30 Years of Breeding Success!
We can help you pick a stallion for your mare.
We breed Top Quality Dutch Warmbloods. Our goal is to breed for Grand Prix and Olympic Quality horses with good working minds and characters. We select only Approved stallions to be bred to our Dutch Approved mares. We do this because we want to breed the best to the best to produce the best. The Dutch registry in Holland (KWPN) and the North American counterpart (KWPN-NA) provides us with the vital tools & information for us as a breeder in selecting the stallions and mares that will continue to produce the quality offspring that we desire. The Dutch were awarded the #1 studbook in the World in 1999 and have continued to be the #1 or #2 studbook in the world since. We have been breeding First Premium and Top Ten Dutch Warmbloods in the United States since 1985.
We IMPRINT all our foals. That means that we work with them as soon as they are born. We find that this makes them easier to work with and easier to train. We love working with the young ones and pride ourselves on producing young horses that are easy to work with and have a good working mind. Our horses are mountained raised. They build good strong hoofs, body strength and socialization with other horses.
We offer foals for sale and Prefoaling Sales of foals from our existing pregnant mares for those on a limited budget looking for the best they can get. If we don't have what your looking for, we can direct you to our fellow breeders in the United States. Our Mares are tops in the nation and all imported famous mare lines. Why import when you can buy one bred here!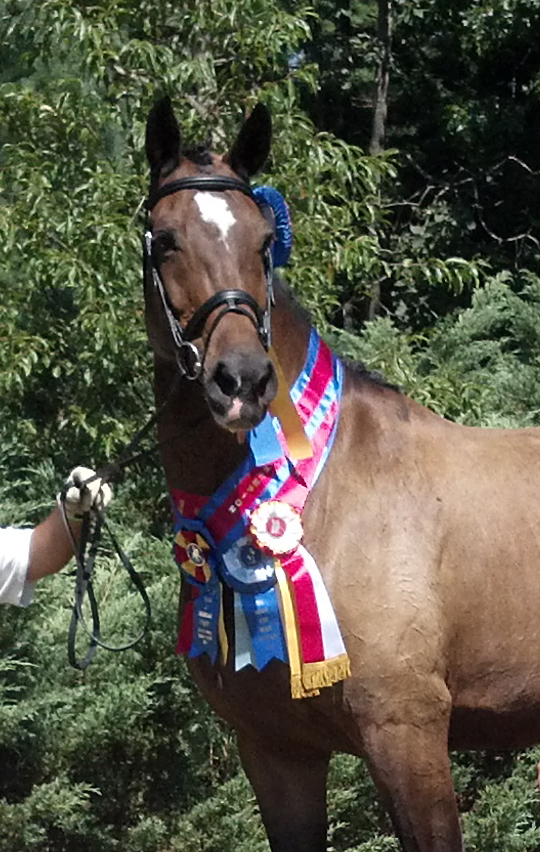 We travel to Holland on buying trips. We attend the major events (Stallion show, Mare Show, etc) in Holland and keep up with the latest breeding information available. Contact us if you are interested in traveling to Holland either to buy or to enjoy as an education trip.
We are pleased to be offering frozen semen from Quality stallions from Holland and a select few from Germany. We are an agent for VDL Stud Visit our "Frozen Semen" link for more information on these over 50 superb stallions in stock and ready to ship.
In 2001 we stood the KWPN Dutch approved stallion Aram. Aram is the sire of the 2000 Gold Medal Jumping champion De Sjiem. He is also sire to the approved Belgian stallion Galant competing in Dressage. Aram produces both Dressage & Jumping champions. Aram had to be put down due to a broken leg.
In 2002 we also took partial ownership of the approved KWPN stallion Navarone (Jus de Pommes x Armstrong). This is the only approved KWPN stallion of the legendary 2 time Gold Medalist Jus de Pommes. Navarone jumped to the prelim level successfully and one of his oldest offspring Navarre won a $25,000 Grand Prix in Canada in 2007. Since then many of Navarone offspring are winning in Grand Prix and now also International Eventing. Navarone has competed in Dressage to Grand Prix and jumped to 1.4m with many wins. Navarone produces fantastic all around athletes. They can jump! They love it with lots of scope and handiness and good technique. The offspring have power behind, supple, correct, with nice muscling and beautiful heads with nice long necks. They are highly trainable and personable and easy to ride for anyone. Temperament is our #1 requirement for breeding. Check out Navarone's webpage for updates on his offspring doing well in international Grand Prix Jumping and Eventing.
In 2005 We imported the Keur stallion Farrington (Wellington x Doruto). Farrington has produced many Grand Prix Dressage horses. He produces 3 strong fancy gaits with a super character. In 2013 we retired Farrington at 26 years of age from breeding. Frozen is available.
In 2008 we imported our approved Hanoverian stallion Schroeder (Sandro Hit x Escudo I). Schroeder had a great first year here with receiving #1 USDF Hanoverian Horse of the year and scoring up to 80% in material. His foals have been well received with KWPN first premiums and #4 USDF in the nation. In 2010 Schroeder received a 80.1% at the FEI 6 year olds and 1st Place! In 2012, Schroeder scored up to 69.5% at 4th level. And preparing for PSG in 2013. His foals have easy characters, leggy and modern like himself with nice movement and a strong hind leg. They are winning at the shows. In 2012 Schroeder was listed #6 for USEF Dressage Sport Horse Sire in the Nation. In 2013 he received 1st place and 76% at 4th level and debuted at PSG. We are thrilled that our breeders are pleased with them and coming back. The trainers are loving them!
In 2012 we introduce our new black stallion Dante MG (Chin Chin x Glennridge) bred by us. He was licensed by the Oldenburg GOV, ISR Oldenburg, sBs and RPSI and finishing the 70 Day test in Oklahoma. He easily can free jump to 1.6m. Super trainability, sweet and athletic. At his first shows in hand, he was champion stallion not at stud and 1st place under saddle. Great gaits for the dressage breeder too. His first foals in 2014 are amazing. Big movers like him and althetic..
With the top stallions in Holland that we offer with frozen semen and stallions standing at our farm, we can offer you the best blood for your mare. All stallions standing at Majestic Gaits backs up the frozen semen for VDL Stud. We want your mare to get in foal. See our contract for our backup guarantee.
Majestic Gaits is located in Brookline, New Hampshire centrally located to all of New England, along the Massachusetts boarder. Vist our Map Quest link to view our location.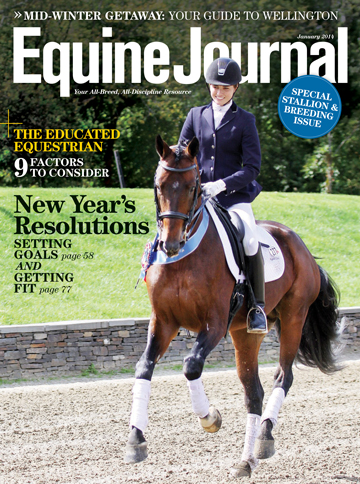 2013 - Article about us in the Equine Journal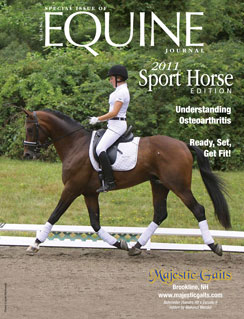 2011 - Article about us in the Equine Journal
Podcast interview Jan 2015

We look forward to hearing from you by email, facebook, text or phone.
Kathy Hickerson, MGCEO
KWPN-NA Stallion Committee Chair
KWPN-NA Members Committee
NEDA Sporthorse Director
USEF Sporthorse Committee Member
USDF Sporthorse Committee Member