Keur stallion PROVEN to produce Grand Prix Dressage Horses!
Farrington comes from a sound well-bred family. Farrington is one of the few Dutch stallions with the famous dressage stallion Doruto in his blood. Doruto sired many top dressage horses including Olympic Barbria, Chevalier, Ideaal, etc.
His sire Wellington is well known as a producer of quality movement in his offspring, siring dressage horses like Bollvorms Ceylon and Luxaflex.Due to the fracture in his leg, Farrington was not able to perform in the sport.
>His offspring perform very well. This appears from the successful participation of various progeny at the Pavo Cup and from his dressage index.
Farrington has been awarded the Keur Predicate by the KWPN in 2002. This is a high honor for a stallion indication he is a producer of good performance horses.
Due to a fracture in his leg, Farrington was not able to perform in the sport, which is a pity because of the great talent he possesses. During his Stallion Test he received an eight for his basic gaits and 9 in temperament.
His daughter Perry became Dutch reserve-champion of the 3 year old mares.
His offspring perform very well in the sport, resulting in his high index. His progeny have placed high in the Pavo Cup, and many of them are already performing at the Prix St. George level, such as Limited Edition.
Farrington sires horses with a willing character and 3 excellent strong gaits. These are the requirements for top performances in dressage and you see that his offspring compete to the highest levels of Dressage proving it! Farrington is a super stallion for dressage. He received high marks on all 3 gaits 8.5 walk, 8 trot and 8 for canter. And a character of 9. He was described in his testing that the work was easy for him and he was very willing to work. We have seen that in his offspring here too. Uloma, Vermouth and Uno have all been super characters and big strong fancy movers. In Holland he has so far received 41 star mares, 23 keur mares and 1 preferent mare. For colts, he has had 22 1st round stallions, 2 2nd round stallions and 3 third round stallions. All indicating star or better!
Farrington has a high dressage index of 129 in 2007. He brings the famous Doruto bloodlines who produced top dressage horses as Olympic Barbria, Chevalier and Ideaal. His sire Wellington also well known as producing great movers like Ceylon and Luxaflex.
His daughter Perrey was the Dutch Reserve Champion of 3 year olds and Theadra was National Reserve Champion of the Keur and Elite mares. He has many offspring showing at the upper levels of dressage including Limited Edition and Michigan. After the stallion testing, Farrington himself had an unfortunate accident fracturing his hind leg, so he was unable to perform in sport. But, he has proved himself as a dressage sire and the KWPN recognized him with the prestigious predicate of KEUR.
Farrington is a 16-3 dark chestnut stallion with good bone. He crosses well with thoroughbred and warmblood mares. Email me if you'd like to know if Farrington would cross well with your mare. If your looking for a good solid dressage stallion with 3 strong gaits and good character, consider Farrington.
Listed in the USDF Dressage Sires since he is producing Horse of the Year offspring! Farrington is one of VDLs most desirable successful sires in USA. He produces super temperaments, big boned offspring with very big powerful gaits. He crosses well with mares that you want to improve on temperament, suppleness, freedome of shoulder, action and powerful gaits for dressage.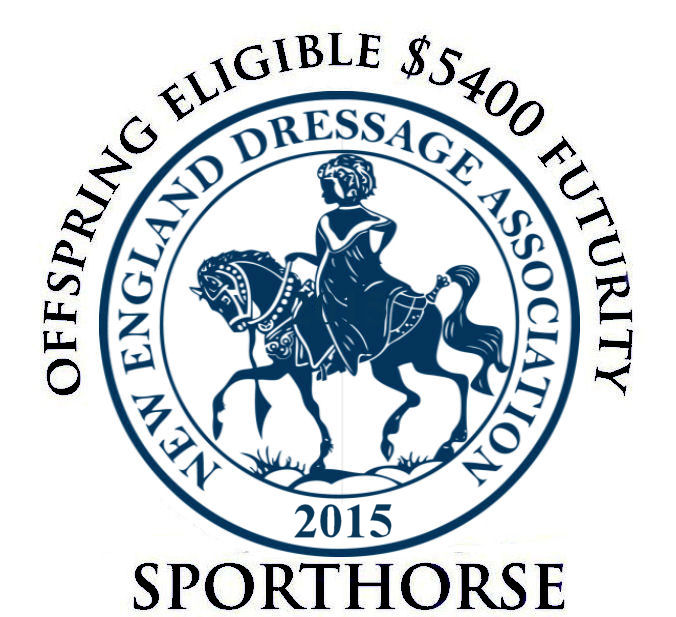 All offspring from Farrington up to the age 3 are eligible for the NEDA $5400 Futurity Prize by entering the NEDA Fall Breed Show in their age class. The New England Dressage Association (NEDA) Fall Festival USDF Breed Show offers breeders and owners a total of $11,400.00 in prize money through our Breeder Sweepstakes, Born in American and Stallion Futurity Purses. The total Purse Money is distributed as follows: $1,250 Cash Awards in Qualifying Classes ~ $5,400 New England Sport Horse Breeder's Futurity $2,400 Born in America Awards ~ $2,100 NEDA Breeders Sweepstakes ~ $300 Three Year Old Prospect Award.

Only offspring of stallions donated to the NEDA Stallion Auction are eligible to win a part of the $5,400.00 Stallion Futurity Purse. Offspring must compete in their age appropriate Sporthorse Prospect Qualifying Class on Thursday, September 18th for their scores to be entered into purse eligibility. The Qualifying Class Scores determine Futurity Placing. Prizes are awarded in the Breed ring on Friday. Horses/Representative must be present at the awards ceremonies to receive Cash Awards. More information can be found on the Futurity page at the NEDA Fall Show site.