Felix Free Jumping 7-8-12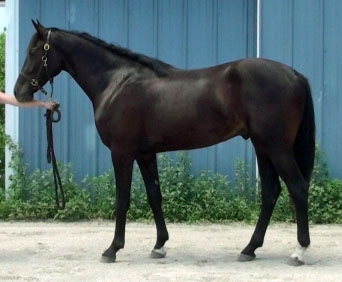 Felix MG 2 year old gelding @ Windswept Breed Show. Scored 82.1, 9 on trot Reserve Champion and Qualified for Regional championships.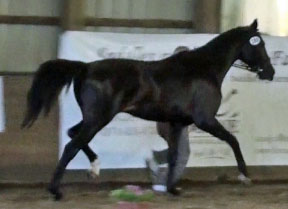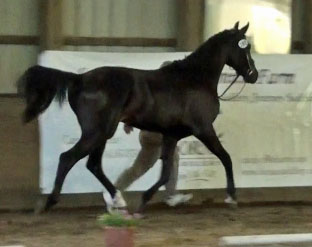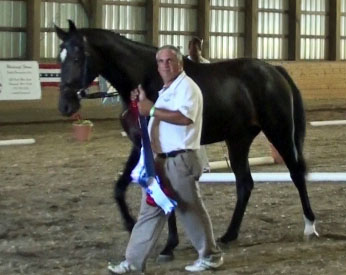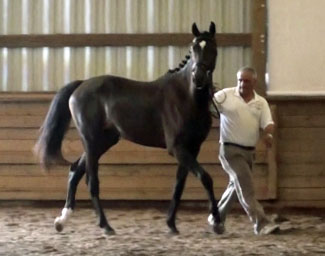 Free Jumping 7-9-12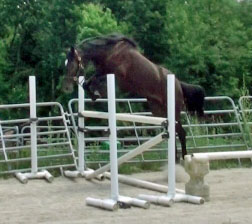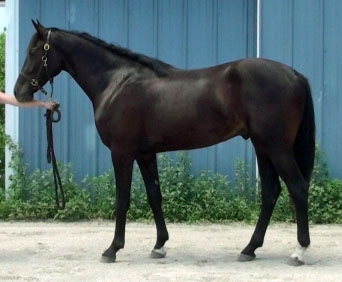 Felix MG 9-1-11 as a yearling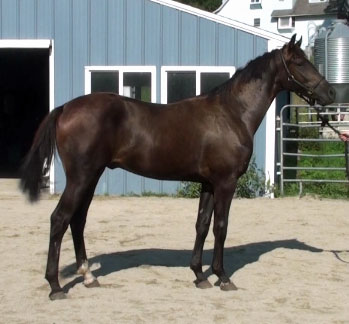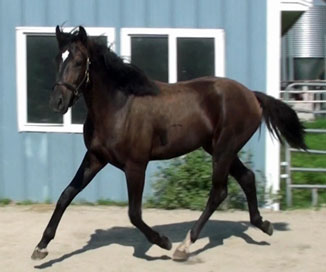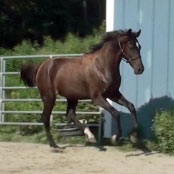 Felix MG 5-27-11 as a yearling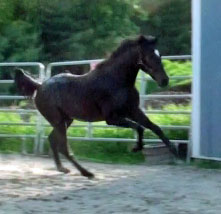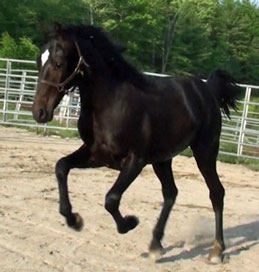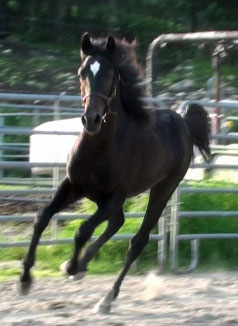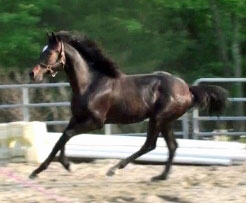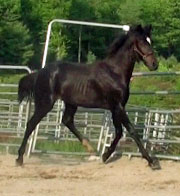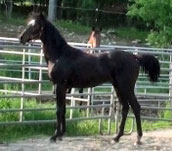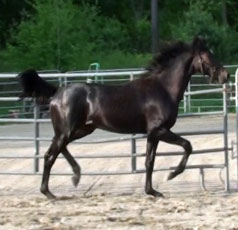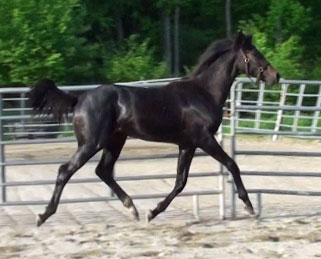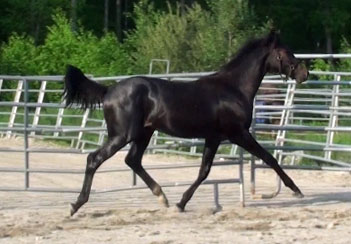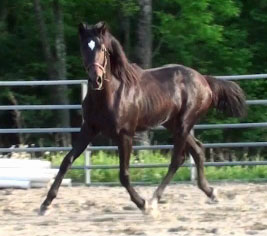 Felix MG October 25, 2010 as a weanling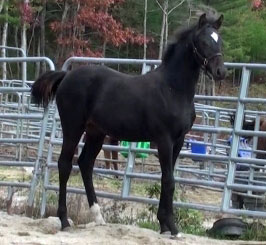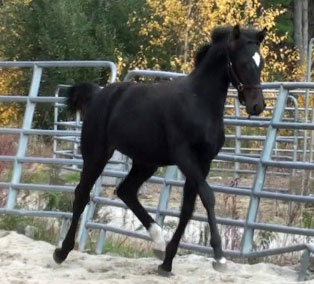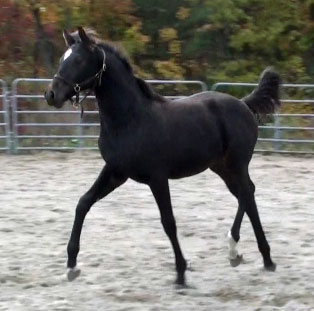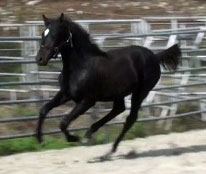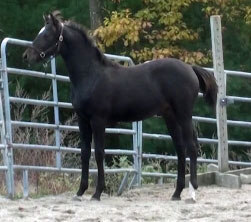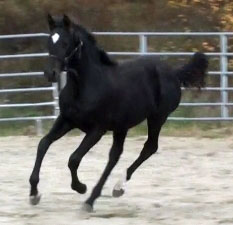 Felix MG video October 25, 2010

Felix MG at the Foal Expo August 8, 2010, Photos by Carole MacDonald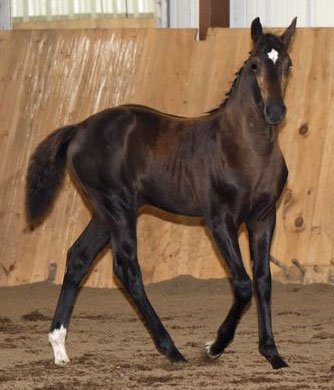 Felix MG video at the Foal Expo August 8, 2010

June 5, 2010 photos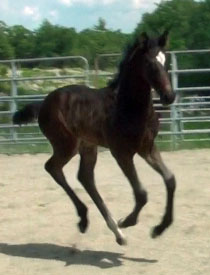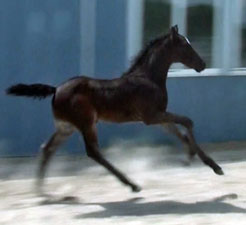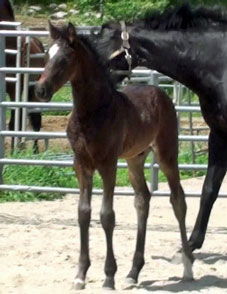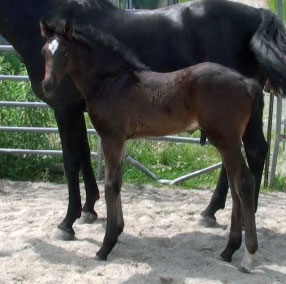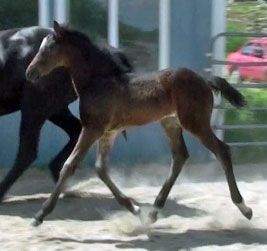 Felix at 7 weeks old, Mom Obertede loves to run! We cut the arena in 1/2 and that slowed her down a bit.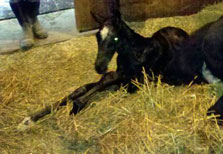 Felix MGs First time out at 2 days old!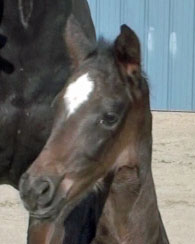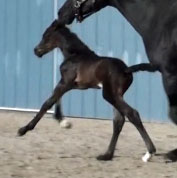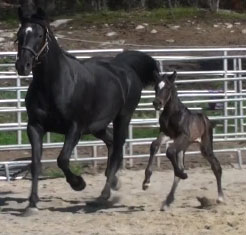 #1 2 year old KWPN-NA Jumper Colt in the USA 2012!!!
SOLD Congrats to Kimberley McGlaghlin (MA)

Felix MG (Zapatero x Glennridge Keur x Zuidhorn)
Ten Broeck Young Horse Show 2 year old Free Jumping Champion. Qualified for Championships in Wellington Dec 2012
Windswept Breed Show, Champion 2 year old, Reserve Champion Young Colts, qualified for series championships. Scored 82.1% with a 9 on his trot!

1st Premium, Champion Top 5 in the nation 2 year old Jumper KWPN-NA Keurings
Dark Bay gelding born April 22, 2010, star and 2 alternating socks. This spectacular colt is looking like his 3/4 brother Dante MG (Chin Chin x Glenridge x Zuidhorn). The Chin Chin blood goes very well with this mare. Felix is incredibly friendly and his first day out at 2 days old, he showed huge expressive gaits with flying changes right away! He is very athletic for dressage or jumping. Take him out to the breed shows and clean up or start his ground work at the end of 2012. He will be a super top sporthorse wherever you want to go.
Felix MG's sire Zapatero (Chin Chin x Ircolando) was Reserve Champion at the Stallion approvals in 2007 and had a good stallion 70 day test. He won a 4 year old competition in Dwingeloo and placed 6th in the Final of the 4 year old Championship in Geesteren. Also during the stallion competition he did really well, by placing 3rd in Hengelo and 4th in Roosendaal and Deurne. Zapatero received a very good foal report, his foals have a pretty type and a great canter! I think you see that here!

Zapatero's sire Chin Chin (Constant x Farnese) had a very impressive jumping career. Together with his former owner and rider, Jaime Azcarraga from Mexico, this combination participated for more than five years at international level. In 1988 Jaime Azcarraga won five consecutive times in the North American League on the World Cup circuit and competed in Seoul at the Olympic Games where they placed sixth individually. Four years later, they competed again at the Olympics in Barcelona. In 1990, Chin Chin and Jaime Azcarraga started in the first edition of the World Equestrian Games in Stockholm. In 1989 and 1990, they were placed in the final of the World Cup in both Dortmund and Tampa. At the same time, they competed at international jumping competitions during which the scope, character and the suppleness of Chin Chin always aided his determined but amateur rider.
Felix's dam Obertede is a Keur mare imported from Holland. She has produces us both dressage and jumping foals that have done well at the KWPN inspections and breed shows. O'Bert-e-de is by the keur stallion Glennridge who is deceased son of Wellington. Glennridge died young at 11 years old, but we carry on his bloodlines un O'Bert-e-de. Glennridge won his stallion test with scores; walk 9 trot 7.5 canter 8 riding test 7 Free jumping 8.5 Show jumping 89.5 Cross country test 8 Character 8 Training report 8. Glennridge has a breeding value in jumping with the high score of 137! He was a Grand Prix jumping stallion who placed in numerous Grand Prix, World Cups and International Stallion competitions. In 1998 Glennridge was placed 12th in the World Rankings. He tragically died in 1999. For the Record by Glennridge is jumping level 5/1.35 meters in USA with rider Jennifer Rossire. Glennridge is also the sire of Jane Karol's Grand Prix dressage gelding Nibbit. He has produced both jumping and dressage offspring like our mare O'Bert-e-de does.
O'bert-e-de's motherline is the Ritta mareline #15 in Holland. O'bert-e-de's dam Jorfa is a Keur mare who had the incredible high IBOP riding test score of 90! At 2 years old Jorfa was a UTV mare which is top honors for a mare in Holland indicating they are among the top mares in Holland. She comes from a long established line of Keur and Preferant mares. From this motherline is the approved stallions Triton, Zadok, Akteur, Zenner, Sportman, Theobalo and Zandor. Famous sires in her line include Zuidhorn, Amor, Marco Polo. Triton's granddam Geroma jumped at international levels. Triton's dam Lydia also produced the famous showjumper Nautilus who jumped the 1991 World Cup Finals.