Keurcordia @ 2.5 months old First Premium!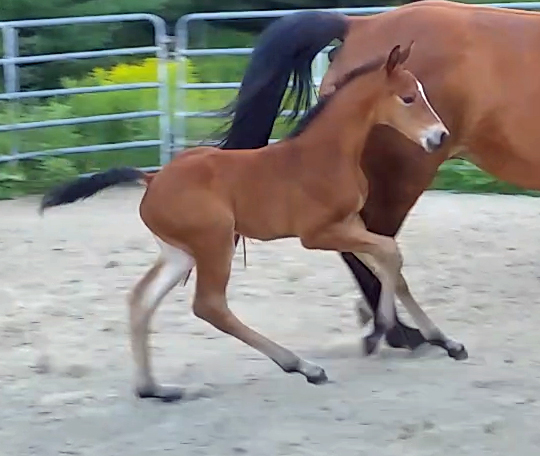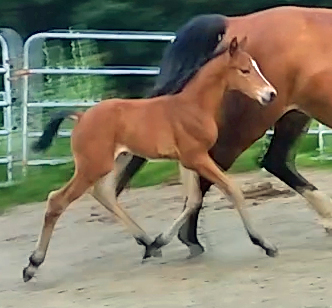 Keurcordia MG a t 4 days old



SOLD Congrats to Sarah Pojanowski (IN)

Keurcordia MG (Everglade VDL x Marlon x Accord II)
Bay Filly born July 19, 2015
First Premium, High Score Young Jumper KWPN-NA Keuring
This gorgeous filly comes from top international jumping pedigree and top motherline!
Her sire Everglade VDL is a beautifull and correct build. He jumps with ease, has a lot of scope, is carefull at the jump and has a great attitude. Everglade VDL has a very interesting pedigree. His sire is Kashmir van het Schuttershof, a son of Nabab de Reve who jumped with Philip Le Jeune at Grand Prix level. His offspring are upcoming at international shows. Grandsire is the 'Preferent' stallion Indoctro, who we all know as sire of many international jumpers. Further in the sire line we find the stallions Nabuur and Notaris.Mother Adea is 'Elite Sport' and is competing at 1.35m level. Grandmother Fodea is ' Keur, Preferent and Prestatie' and has also brought the international jumper Karina. She won the Team Gold Medal with rider Robert Whitaker at the European Championships for young riders and placed individually 4th. She won more then 20 international classes up to Grand Prix level.
Keurcordia MG's dam Tercordia MG (Marlon x Accord II) is from the Holsteiner Stamm 1907 known for producing approved stallions and international jumpers! She is already producing winning foals like Fraucordia MG #1 KWPN-NA foal in the nation and Top Scoring jumper mare in NL Acordia, and jumper Becordia Jumping 1.45m in Norway with Rider Cecilie Hatteland.
This filly is bred to jump with top movement! She could easily do dressage and has that sweet character and temperament we strive to breed for at Majestic Gaits. For sale for someone who wants a top bred filly for future sport and especially good for future breeding.