Lorette 4-23-17, looking like a mature yearling! Very sweet and loves to jump already. Will be a top performer and a fun ride! Also a super future breeding mare from a top motherline!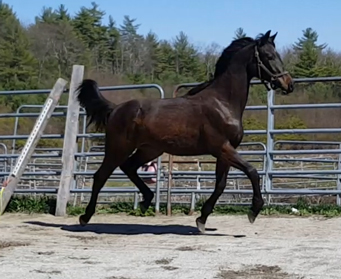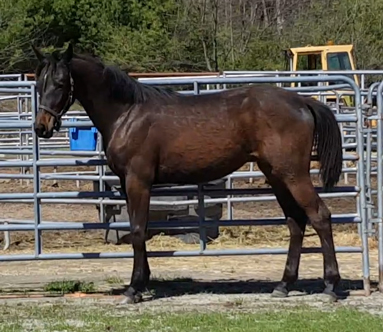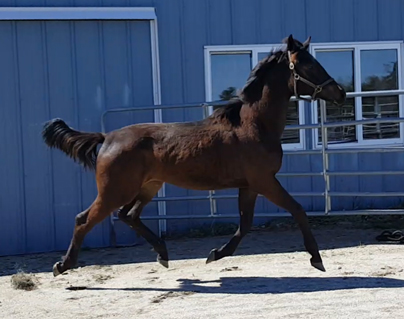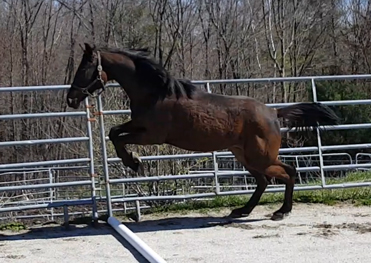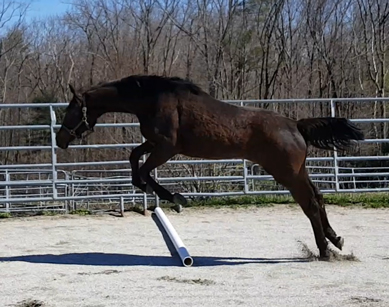 Sadly Deceased from a broken leg 5-31-2017

Lorette MG (Dante MG x Schroeder x Silvano)
born May 9, 2016, from the motherline of the approved KWPN stallion Goodtimes!

Full sibling to Champion colt Kalypso MG now owned by FEI rider Liz Caron scores to 82.325%
Another fantastic filly from Dante MG (Chin Chin x Glennridge). This filly is amazing just like her champion brother Kalypso MG! She has a 3 super gaits. Super supple. Fantastic type and striking presence. Super sweet to work with. Mother Florette MG was breed show mare champion! Grandmother Torette R was not only 4th of all the Mares in Holland at the famous Paardendagen in Ermelo, but she is also KEUR ELITE, the highest ranking a mare can have before her offspring! She has gone on to be the 2008 NEDA Grand Champion and the USDF New England Mare Champion, along with #2 USDF National Bred Mare Horse of the Year and #1 USDF KWPN-NA Bred Mare Horse of the Year.
The motherline doesn't get much better than this. Her grand dam Lorette R is Elite and Preferent and great grand dam Dorette is not only Elite but has her Sport predicate in Dressage. Her great grandmother Zigeunerin is the mother of the approved Stallion Goodtimes. Also, coming from this mare line (Holsteiner Stam 1795) is the CWHBA approved Hannoverian stallion Sagittarius, Oldenburg approved Stallion Sirius Song, NRPS and AES approved stallion Acapulco Z, AES approved stallion Cezeone, Zwuibrecker approved stallion Nemo 150, HSH/AEH Approved stallion Hampton, Grand Prix jumper Temp VDL (Indoctro) and the full sibling to Goodtimes-Grand Prix jumper Goodtimes Mercedes.
A fanatastic mother line for future breeding and/or your top sport horse. Bred to excel in jumping but also super gaits for dressage or eventing. Lovely modern type.

4-23-17 as a coming yearling