Farm News 2001
Farrington, Flemmingh & Indoctro are now Keur Stallions. Check out this fabulous stallion available from frozen semen on our semen link. I can vouch for their good producing and good semen as I have foals of my own! (1./11/01)
Fairplay We will be collecting Fairplay for Kellie Paige this year. Information available on our semen page. Contact Kellie Paige for details.
Polansky wins his first stallion competiton: Polansky is doing super in the stallion competitions. Check out the frozen semen available from this fabulous young black dressage stallion on the semen link. (1/5/01)
Lancet was 1st and 2nd place in the selection rounds for the indoor Championship of the NVDR (Dutch Federation of Dressage Riders) in Maasdijk at ZZ-Z level (Prix St. George). Check out this wonderful dressage stallion on our semen link page. (1/5/01)
Congratulations to Mike & Elli Wesson on their purchase of the Dutch Warmblood gelding Killamanjaro who was a 3rd round stallion. Elli just loves her horse and will compete in combined training. Mike's new horse Nora will be competing with Mike in combined training. Pictures coming soon! We can help match your perfect horse in Holland too! (12/14/01)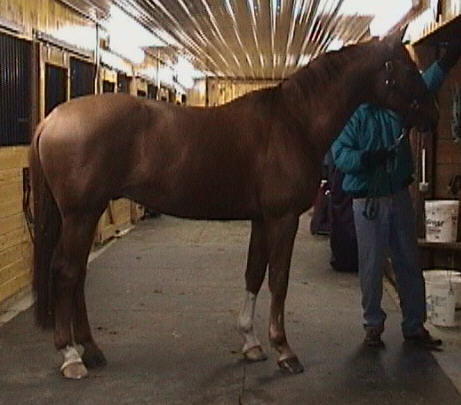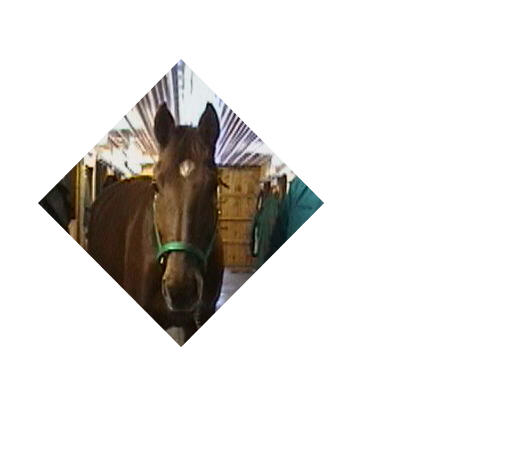 Nora (Landwind II)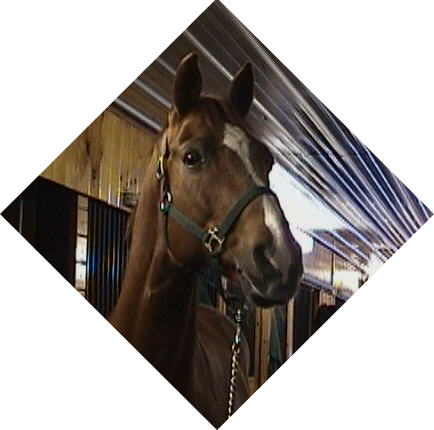 Killamanjaro (Recruut)
Navarone I put up a conformation picture of Navarone on the semen links. I saw this stallion in person in Holland in November 2001. He has a super nice temperament, very correct conformation of the legs, nice neck and gaits. Navarone took 1st place at the stallion competition in Zuidbroek. (12/14/01)
2002 Stallion Show Tour: Web page has been updated with the details of the stallion show tour in Jan/Feb 2002. This is even better than last year! (12/14/01)
2002 Semen Prices are here: 2002 semen prices are all in US $ this year due to the change to the Euro. That should make it easier for everyone and the Euro is very close to the US $ in value. First shipment is due around March of 2002, but much of the semen is in stock already. Get your orders in early to guarantee what you want. Escpecially Orame and Indoctro who sell out every year. Polansky & Lancet is planned to be here late March/April. (11/25/01)
New Video of Dressage Stallions: We now have a video of Polansky & Lancet (Black & White) and 007 at the 2001 PAVO cup. Send $15 to cover the cost of copying and mailing for a copy. (11/25/01)
New Colt in Holland: We have a new colt in Holland. A black (Polansky - Goodtimes - Wahtamin xx) out of the famous Bria lines. His great grandmother is a full sister to Olympic Barbria. U will stay in Holland and be trained for the stallion selection. Also we have acquired the Orame x Nimmerdor colt out of the elite mare Monalissa from Melissa Meryweather. He will grow up with our Farrington colt and we will see how they are when they are 2 for stallion approvals. We are very excited to participate in the stallion selections, but we know that of over 750 stallions presented this year, only 10-12 will likely be approved. It is very hard, but I also still buy my lottery tickets. :-) (11/25/01)
| | |
| --- | --- |
| | U and his dam. Most of the horses were a bit fat this year in Holland. The grass was very good this year! 12/02/01 |
Stallion Show Tour: Details on the stallion show tour will be posted soon. They have been sent out in email. We plan a clinic this year on preparation of the stallion for the show by Alexandra Wieberdink, author of the popular book in Holland on preparing the stallion. They will be training our new colt. Tour dates Jan 29th-Feb4th. Email me for details. (11/25/01)
Mares for Sale: We are still trying to recover financially from the loss of Aram. It did not work out to bring a new stallion this year, so we are putting up most of our horses and mares for sale to help recover. If your interested in a quality breeding mare or foal, see our sales and mares pages for our offerings. (10/10/01)
Uloma: Uloma (Farrington x Goodtimes) was first premium at the Iron Spring Farm keuring. Uloma is offered for sale. See our mares page. (10/10/01)
Equine Affaire:Equine Affaire is coming in MA, November 8-11. Visit their web page www.equineaffaire.com and visit us in the Dutch booth in the breed Pavilion. We plan to have a riding demo Thursday night at 6:30. If you are interested in riding your dutch horse in the demo, let me know. This is a super event. The clinics are fantastic and the vendors are the biggest you will find. Don't miss this event. (9/21/01)
Majestic Gaits Horses and Clients Winning at NEDA: Regardless of the terrorism that happen to our country. NEDA held a super dressage and breed show in Halifax, MA. The American flag was at 1/2 mast and many of the winners donated their winnings to the Red Cross. The crowd was the biggest I have seen and the loudest of cheers during the events. The grounds were quiet, but many liked that we could grieve together for our countries loss and show that we continue regardless. This was the first year that the Dutch held a special IBC class. It was exciting as the top 5 horses were either ours or our clients that we have sold and found for them here and in Holland. The scores were very close. Beth Dzaugis won the class and beat us by 7/10th of a point. Congrats to all the winners and our clients. It is nice to know that we are doing the right things and we are all winning at the shows. I hope that we can help you find the horse for winning too. (9/21/01)
New Frozen Semen Sales for Dressage Stallions: My trip to Holland was quite successful for frozen semen sales. We will be offering frozen semen from approved Dutch black stallion 007, Polansky and Lancet. We will also offer to get available frozen semen from other stallions upon request. Check out our semen sales page for more details. (9/21/01)
Taloma and Uniblab: We have pending sales on the imported Yearling Navarone x Goodtimes filly, Taloma and the 2001 Flemmingh x Indoctro filly, Uniblab are pending sale. We still have for sale the gorgeous 2001 Zeoliet x Consul filly, the stuning Zeoliet x grand Slam filly along with the Imported yearling Greand Prix dressage prospect Talina by Flemmingh and the very flashy Goodtimes imported yearling colt Travel Boy. (7/23/01)
Welcome our new mare Amarens We have a new mare joining our farm this Fall. The star mare Amarens by Telstar out of the famous Karla mare line in Holland. Amarens is grey 19 years old mare but already this year she produced an outstanding stallion prospect by Indoctro. Amarens is being bred to Mill Reef. (7/23/01)
PRESALES for 2002 Foals: We have tentative listings of the breedings for 2002 and the presales that will be offered. Details are on the Mares pages. (7/23/01)
Holland Trip I am leaving for Holland August 15th, Arriving August 16th. I will be attending the SELL foal auction August 17th and then August 20th-25th, I will check out some of the competitions going on in Ermelo. I leave for Germany on Aug 28th for the IAES Breeders Seminar and will return Sept 10th. If anyone wants to join up with me for looking for horses, let me know. I plan to visit as many new farms as I can and scout out places for visits for our next tour. Should be a lot of fun. (7/11/01)
Fillies Fillies Fillies!: We now have 6 foals all born at the farm here. We have a farm full of super fillies for sale. If you are looking for your future breeding prospect or filly for sport, this is the place to look. Jenni had a fabulous Zeoliet filly (Uriah Road) who is flashy and movement is incredible. Superior in every way. $9,000 Obertede also had a gorgeous Flemmingh filly (Uniblab). She is quite the little chatter and irresistable too. $10,000 Both born on the same day 6/25/01. Details and pictures on the Sale Barn link.
Farrington x Ferro colt is born (UNO). Our Ferro mare had a Farrington colt premature. We named him Uno. Super temperament, nice neck set and catching up nicely. Farrington x Ferro was the #2 mare in Holland last year, so we know this is a good cross. Not for sale.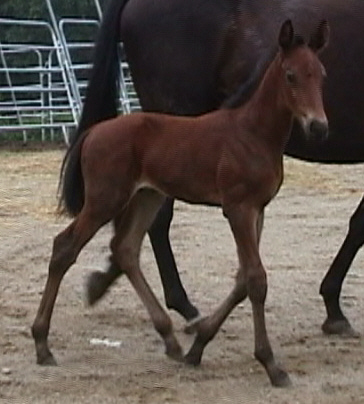 Aram I am very sad to announce that Aram had to be put down for a broken leg 6/10/01. We miss him a lot. Aram can not be replaced. We do have his frozen semen available here for sale. We will be searching for a new stallion to import for next year when we go to Holland in August. We have a lot of VDL semen in stock now, so check out our Frozen semen link. Prices are excellent right now and we can ship out very quickly if needed.
Aram Breeding Success! Aram has been doing super his first breeding season in the USA. The reports are coming in and the vets love the quality of the semen and the mares are mostly getting in foal on the first try! One vet reported that she inadvertantly left the semen on the slide overnight and when she looked at it in the morning it was 80% motility. I am glad that everyone is pleased with semen, motility and the extender. We have had our own fantastic success on our farm too. I have not been able to get my approved thoroughbred mare Sherry in foal for the past 4 years. She has had all sorts of complications, 18 years old and has a grade 3 uterus. She is in foal to Aram on the first try! Yahoo! (5-29-01)
Frozen Semen Success: Our mare Rose by Consul is in foal to Orame (Indoctro x Ramiro) via frozen semen from Holland. She has been a little bit hard to get in foal the last 2 years. She has this year 2 big cysts on her uterus and the vet thought that would be a big problem getting her in foal. Well, Orame semen pervails! She is in foal. Orame frozen semen is sold out this year, but you can get your order in for next year. We also have lots of other great quality stallions in stock via frozen semen at great prices. You pay the same stud fee as they pay in Holland. We only add on the costs of importing and shipping. See the Frozen Semen link for details. (5-29-01)
Frozen Semen Arrived: We now have a big shipment of frozen semen that has arrived. Many stallions are available, so check out the frozen semen link for availability. (5-20-01)
Open House The Open House on Mother's Day was good. We had a lot of people show up. The weather was perfect and all the horses were looking great. Thanks to all those who came. Next year we will look at trying to do one earlier in the year and get some more advanced advertising out. (5-20-01)
2001 VDL Stallion Video has arrived. VDL just shipped me the 2001 stallion video. There was no stallion show this year at their stud due to FMD. :-( This video is similar to their 2000 stallion video with a few more additions. On the video is Ahorn, Atlantic, Aram, De Sjiem, Corland, Donnerman, Emilion, Flemmingh, French Buffet xx, Glenridge, Goodtimes, Great Pleasure, Hattrick, Hold Up Premier, Indoctro, Indorado, Kalusha, Labor's VDL Kalusha, Laroche, Marlon, Matterhorn, Natal, Navarone, Neckar, Ohorn, Orame, Pacific, Silvio II, and Wellington. If anyone wants a copy, please send $15 to cover postage and the cost of copying the tape. I can take check, credit card or paypal. (5-20-01)
French Buffet Colt Arrived (UNIX): A big chestnut gorgeous French Buffet colt out of our keur mare Larinette by Accord II arrived 5-2-01. Congrats to Stacey Gorr who prepurchased this colt. (5-3-01) ...French Buffet semen is now here and available (5-20-01)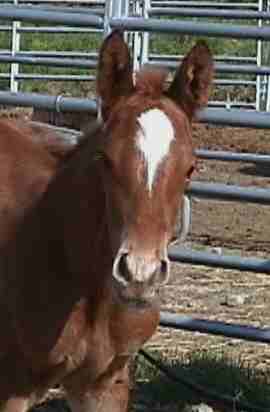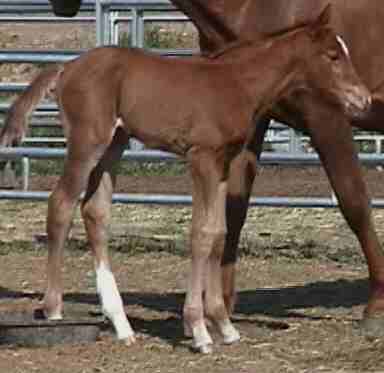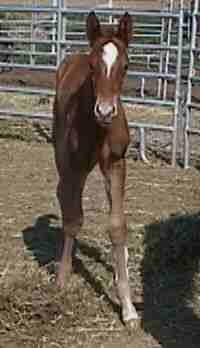 1Day old
OPEN HOUSE: The Open House is scheduled for May 13, 2001 1-5pm. Come on by and see Aram, the foals, the dams and the imported yearlings. It will be a great day for talking bloodlines, breeding and finding a horse for you either here or in Holland. (4-13-01)
Credit Cards: We are now accepting Visa, Mastercard, American Express and Discover for your convenience.
Announcing the 2nd foal and filly born by Zeoliet x Consul: This filly is big and beautiful. And doesn't she have her mother's great temperament. She is curious and friendly. Bay, with 3 very small socks and a little bit of hairs for a star. By the Keur stallion Zeoliet and the mare that has produced us 2 Top Ten foals in the Nation. For Sale $8500 (4-13-01)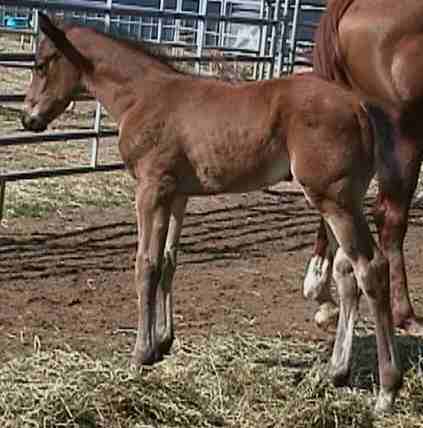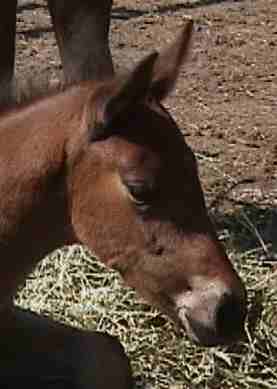 3 weeks old
Aram Arrives at our Farm April 3rd. I am pretty excited to go pick up Aram on Tuesday. The new 10 inches of snow slowed us down a bit for installing the new phantom, but we are ready for him. (4/1/01)
Announcing a new Filly (Farrington x Goodtimes) born March 5th. We expect this one to be super in Dressage. She is already doing Pirouettes in the stall. She has nice straight legs, good bone, strong hind end and a super neck and shoulder. This one we will keep to show. (3/5/01)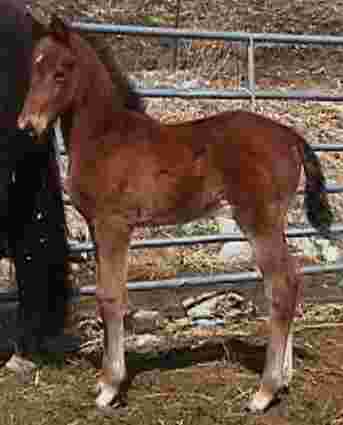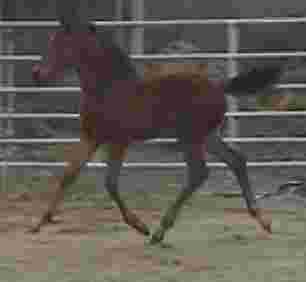 Congratulations to Stevie Kehm (MA) on her purchase of the imported yearling Tyfoon. Here are pictures of the happy new family. Good Luck Stevie in all your endeavors with Tyfoon. 4/13/01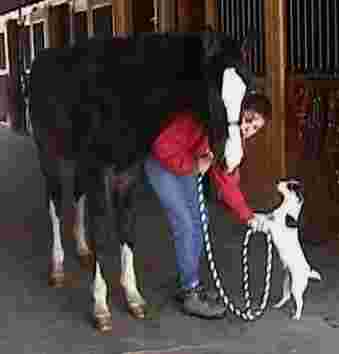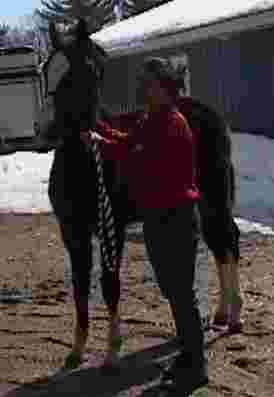 Congratulations to Regina Adam (MI) on her purchase of the imported yearling Teginia (Wellington x Zaire). Teginia arrived at her new home a few weeks ago. We miss her at the farm as she has been a super horse to work with. Regina has already noticed what a treasure she has bought! 4/13/01
Video Now Available on Imported Sales: I have an video available of the 3 yearlings imported for sale. Contact me if you are interested in buying a young prospect and would like a copy. 3/4/01
Frozen Semen is Here!: The first order of the season has arrived. Check our frozen semen page for what is available. I have another order planned for March/April, so if you want something we don't have, please let me know. 3/4/01
Buying Trip to Holland In June: I have a tentative group buying trip to Holland planned for June 2001. This will be a great time to look at the new 2001 foals that are born for sale before the foal auctions start up in July. If your looking to go to Holland, email or call me about when would be a good time for you to go and I will plan the trip that works out the best for all. If you can't go then and want to go another time, I can aways work with you to plan an individual trip or help you with our contacts in Holland. 3/4/01
New Video Available of Holland Sales I have finished making the new video tapes of the horses we saw for sale in Holland in Feburary 2001. It is mostly mares, but a fee 2000 foals, stallions and geldings. 3/4/01
Arrivals Aram arrived in New York today, along with our keur mare O'Bert-e-de and a 2000 Flemmingh filly that we will be listing for sale soon. We plan to be shipping semen from Aram after I return from the NA/WPN annual meeting in FL (March 7 - 12). The exciting news is Aram is listed as #4 of breeding jumping sires with the World Federation for Breeding Sport Horses (WBFSH)! 2/10/01
Good News! Our star mare Jenni Road who came up with a grade 3 uterine biopsy last year and we thought we would not ever get pregnant again is in foal to Zeoliet. That is our 6th foal we are expecting this year. 2/10/01
Hengstenkeuring I'm back from the Hengstenkeuring (Stallion Show) and our first tour that we hosted with Barb Funk of Dove Creek Farm in Washington. We had 12 people along the trip. It was a super time, we all learned a lot and some people have bought or in the process of buying horses. It couldn't have been a better time. I'll have a web page up soon with pictures and stories for all to see, along with information on the horses that were purchased by the people on the trip. 2/10/01
Archive MG News 2009
Archive MG News 2008
Archive MG News 2007
Archive MG News 2006
Archive MG News 2005
Archive MG News 2004
Archive MG News 2003
Archive MG News 2002
Archive MG News 2001
Archive MG News 2000