Farm News 2002
Congratulations to Prudence Calise from Rhode Island on her purchase of the 10 year old Star Sport dressage schoolmaster mare Kendy (Zeoliet x Duc de Normandy) imported from Holland! Prudence will be showing and maybe some day breeding Kendy. Watch for her at the shows. Best of luck Prudence!
Congratulations to Tricia Jacklin of Ontario Canada on her purchase of the imported filly Viviane (Indoctro x Voltaire). This is a super filly with superior bloodlines and very nice to work with. She led the hauler onto the trailer and knows exactly where to go! Watch for her at the jumper shows in the future!
VDL has 8 stallions selected for the 2nd round and the stallion show in February. VDL Prestige (Silvano N x Goodtimes) who is already won his stallion test in Sweden and approved Swedish was also selected. VDL plans to freeze his semen this winter and if all goes well, we'll have it available. I am looking forward to access to such a fantastic horse and bloodline. I've heard good feedback on the foals in Holland with super temperaments too! Pictures are below:
Congratulations to Martha Kearsley, Florence MA and her purchase of the imported 2002 filly VIP (Corland x Indorado). VIP will be shown at Mt Holyoke and then off to Ohio. She has a promising career ahead of her.
Congratulations to Angela Clark, Williams OR on her purchase of the 2002 filly Vwala (Contango x Fleming) out of our mare Nala. This is a super filly and will do well for Angela in both dressage and jumping. We hope to hear super news at the keurings in Oregon too!!!
New Breed Show Series in the Northeast The NEDA Breed Show commitee has finally pulled it off. We have a new Breed Show Series with 4 new breed shows in the Northeast. So, now many of us breeders can show off our great horses and try to get our 3 scores to qualify for the Horse of the Year (HOY) awards with the USDF. Check it out.
Navarone Success with USDF!!! We got a call during Equine Affaire that Navarone and Colleen were #3 in the nation for Adult Amateur USDF dressage training level. We are so exciting that he could do such a fantastic job after starting his dressage training late this past May and with so few shows. Congrats!!
Equine Affaire For our 4th year in a row we have hosted the Dutch Warmblood booth at Equine Affaire in Springfield Massachusetts. This year was another super success. The booth was beautiful thanks to the many volunters and donations from all involved. Special thanks to the NAWPN and KWPN for sending some nice brochures. Everyone loved Navarone. The demo was fantastic with riders showing off the Dutch horse for dressage, jumping, hunters and in hand. The demo was followed by a clinic with Todd Minikus who loved Navarone. Todd rode Navarone and commented on what a fantastic stallion he was. Pictures and details can be seen at EQUINE AFFAIRE 2002. Thanks to everyone for volunteering and we look forwarding to hosting the booth again next year.
Congrats to Elisabeth Galvin from Kansas on her purchase of the imported filly Vigrantha (Goodtimes x Derrick) and Lezlie Enfield from California on her new filly Vajra (Ferro x Glenridge). Both fillies are off to their new homes and we wish them both luck in the future in dressage and breeding.
NEW Stallion Offspring Classified & Support for our clients for Sales: I have the new classified pages up for the offspring of the stallions we carry on the web page now. Click on the Stallions Offspring Classified link on the left menu to view offspring for sale by our clients of the stallions we support and carry or to post an ad. If you are a client of Majestic Gaits, you can upload an ad with a photo free. All others will be charged $15 for the service. We want to support our clients and help them get their horses sold. (10/20/02)
Imported Foals Arrive from Holland: 4 gorgeous 2002 foals arrived from Holland. Prices $8500-$10,000. Check out the foals sales page for details. This is a fabulous opportunity for an imported top foal with super bloodlines. (10/18/02)
Navarone & Todd Minikus Clinic: Navarone & Colleen have been accepted in the Todd Minikus jumping clinic at Equine Affaire on Saturday November 9, 2002 at 10:00AM. Come see Navarone jump. At 9:45 will be our breed demo where you can see several Dutch horses do a demonstration. Come early for the clinic! Details on Equine Affaire is at www.equineaffaire.com
Navarone NEDA Year End Champion: Navarone & Colleen are to receive the Champion NEDA Year End award for Adult Amateur at training level. Congrats to Colleen for riding Navarone to such a great success in such a short time that he was here and his first time at dressage! Colleen and Navarone also competed at 1st Level for the first time at the CT Dressage and CT dressage show and won both their classes with a high score of 71%. Moving on up! (10/18/02)
Navarone Success at Devon: Navarone had a super success at Devon. He received 3rd place in the stallions in hand class beating out the stallion that won at NEDA and under a different judge 3rd place in the stallions under saddle class. As many of you may know, just getting a ribbon at Devon is an honor as it is the top competition in the country. We are really pleased. Comments we received from the judges "Nice head and neck with a strong wither and well muscled hind quarters". (9/30/02)
Navarone Success at Breezy Meadows: Navarone and Colleen have 3 first place wins at the Breezy Meadows dressage show and a high score of 75%. Congrats! He would have had 4 first places, but he was in the mare barn the first night and a mare in heat was coming to the door and his stall and teasing him all night long. So you can imagine his state in the morning! Congrats to Navarone and Colleen on a super job!!! (9/30/02)
Navarone Special: We are trying to fund Navarone going to Florida this year. We are offering an early bird discount on the stud fee of $500, so the stud fee is $1000. This is good until October 15th only. (9/30/02)
Vwala and sales: The buyer never paid for Vwala (Contango x Fleming) 2002 filly. She had financial problems so the filly is up for sale. If you are looking for a nice filly, check out our sales page. We also have several other super top bloodline and quality foals and yearlings for sale.
40 Horses for Sale in Holland My video of the horses I looked at in Holland is now done. It is a 2 tape set. I'll gladly send it to anyone for $25 to cover the cost of the tapes and mailing. We send all our tapes by Priority Mail so they arrive within a few days. You get to keep the tape. If you buy something through us, we'll deduct the cost of the sales tapes. We will gladly help you through the import process or help you in whatever your needs are for finding the horse for you. (9/22/02)
NEDA Breed Show and Keurings Congratulations to the many clients and breeders who have had super success this year at the Breed Show and Keurings. We were pleased that Navarone continued to win in his Dressage competitions at NEDA, especially since the competition there is very high! The judges loved him and all think he has high potential. Our 2002 colt Valante (Indoctro x Accord II) out of our keur mare Larinette was 2nd place and high point for the Dutch. We were thrilled with how well he handled his first show and such a big one! We have high hopes that Valante will be a stallion prospect in the future. Our yearling Uloma (Farrington x Goodtimes) was 1st in her class and reserve champion of the mares/fillies. She qualified for Devon, so she will be travelling to Devon with us and Navarone.
Congrats to our client Fran Webber who got 1st Premium at the NAWPN keuring in Ontario on Monday with her colt Vandor (Orame x Consul) out of Irish Rose. We bred Irish Rose and Vandor and sold her them both this year so we are thrilled to have such good feedback and that we can help others in their breeding program to be successful too. Irish Rose is in foal to Navarone for next year.
Congrats to our clients Prima Equestrian/Michelle Bartlett, Stonecrest Farm/Lana Sneddon, Renee Miller, Loucky Hagens, Martha Haley, Nancy Debosek, Siegi Belz-Fry, Dr. Carlos and Karen Jimenez, Waino Phil And Susan Taylor, Allison Hagen on their success at the first keuring tour this year on their first premiums, star and keur predicate awards! We truly are doing fanatastic breeding in North America! I hope I didn't miss anyone as I don't have the entire results, so pardon me if I do. Good luck to those of you on the 2nd keuring tour! (9/18/02)
Many thanks to Janko from VDL Stud for rearranging his schedule and supporting us at the NEDA Fall show and doing such a super job at handling. Everyone was very pleased and I am sure they were pleased at the keurings too!
VDL Sales Tape is now available with many yearlings, mares and a stallion available for sale in Holland. The list is on the Video link. We ask for $15 to cover the costs of the tape and mailing and you can keep it. If you buy something through us, we'll be glad to deduct the costs of the tape.
VDL 2002 Stallion Show Video taped this year at their stud is now available. Click on the video link or <here> to order through Paypal or call, fax or email credit card or send a check for $15 to cover postage and cost of copying the tape and you can keep the tape. (9/1/02)
VDL Travel Boy (Goodtimes x Coriander) was selected at the ISR/Oldenburg stallion inspection for the pretest. This fabulous 2 year old stallion prospect showed off his super gaits and is a fantastic jumper and the judges agreed! (8/15/02)
VDL Navarone Super Success! Navarone was a big hit at his first dressage show this past weekend at King Oak in MA. After just a few months of dressage training and competing only 3 days before in jumping, he had his debut in dressage. Under 4 different judges for each class in training level, he was receiving consistently high scores, 8's for his gaits and 9 for his free walk. 72% (1st place), 72% (2nd place), 68% (1st place) and on a very hot day beat the horse that beat him the day before, 70% (1st place). VDL Navarone was 3rd highest score for the enitre day's competitions. At his first jumping show, The Northeast Benefet show June 25-26th in Northampton, Massachusetts he placed in every class - 2nd place out of 12 in the open jumper division, 2nd place out of 12, 3rd out of 13, 4th out of 33, 5th out of 10 and 5th out of 11. Again at his 2nd jumping show at the Vermont Summer Festival July 10th in East Dorset Vermont he also was 2nd place in the high jumpers. See the show schedule for details and future shows if you would like to see him at the show grounds.
Navarone's show schedule is now posted: If you would like to see Navarone in person, consider these shows where he will be showing this year. Schedule and results will be kept on his web page. (7/1/02)
Northampton, MA jumping June 25-27 RESULTS: 8 clear rounds, always in the ribbons, Two times 2nd place open jumpers, 2 5th place, 1 4th out of 33 rides, 1 3rd place.
King Oak Dressage, Southampton, MA July 13-14
Vermont Summer Festival Jumping July 17th
GMHA dressage, VT July 20-21 We did not get in, sorry wont be there as planned
Hilltop Oldenburg Selection, Colora MD July 24-27
NEDA dressage & breed show Sept 11-15
Devon dressage & breed show Sept 24-29
Congratulations to Debbie Malcomson on her purchase of Uriah Road, the yearling Zeoliet filly out of our star mare Jenni Road. Uriah Road will be growing up on a gorgeous farm where she will pursue her sport and breeding career. Visit our web sales page for more youngsters for sale. (6/30/02)
Ferro x Glenridge filly arrives! Congrats to to Lezlie Enfield (CA) on her prepurchase of this gorgeous black filly! (6/15/02)
Farrington x Goodtimes colt arrives! Miloma our Keur Elite mare by Goodtimes had a very nice Farrington colt this morning. Very big! Bay, star and 2 hind socks. (5/25/02)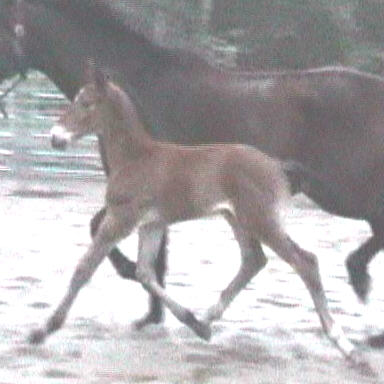 All 2002 presales and foals sold! Congrats to Lezlie Enfield on her prepurchase of the Ferro x Glenridge foal due in June. (5/25/02)
New Contango x Fleming filly arrived. Congrats to Gabi Williams of Missouri on her prepurchase of this gorgeious filly! (5/25/02)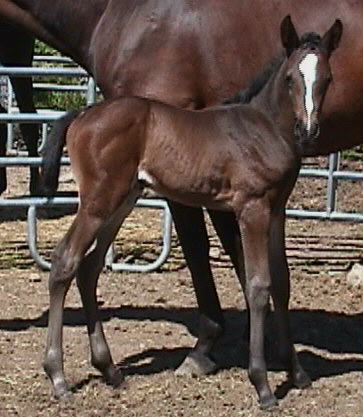 Volante (Indoctro KEUR x Accord II KEUR mare) arrives
Our latest stallion prosect Volante has arrived. I've wanted an Indoctro colt for some time now and I got just what I ordered in this one. I couldn't be happier. Watch for him at the breed shows this year along with Navarone.
Orame x Consul colt arrives! We had a beautiful Orame colt out of our Top Ten producing mare Irish Rose. Irish Rose and her new colt has been sold to Fran Webber (Canada). Rose was bred back to Navarone. This is a gorgeous colt, beautiful head and excellent conformation. Congrats Fran! (4/15/02)
Vandor 1 month old
Navarone Arrives! Navarone is here and already we are shipping out semen. He is wonderful. I have been enjoying riding him. He is so light to the hand and leg and beautiful comfortable gaits. I can see why he makes such wonderful foals! (4/15/02)
Aram Foals. We received the sad news that our mare absorbed her Aram foal, so no Aram foal for us. Congrats to Cathy Youngstrom on her new Aram filly out of her mare Aunitemy. Pictures on the Aram foal page. (4/15/02)
Open House will be Saturday May 4th 1-3pm. We plan to have demonstrations with Navarone, Fairplay and show off a few new foals that should have arrived by then. Amanda plans to make her Swedish meatballs again and this year she will cook some poffertjes which is a favorite at all the shows in Holland. (3/25/02)
Congratulations to the 2 new Aram fillies that arrived on 3-35-02. Mike & Elli Wesson in Hollis, NH are a proud new parents of a Aram filly out of their mare Dynamite. Bay, star and a drip and 4 white socks. What a stunner. Janet Nagar is the proud parent of a new Aram filly out of her Thoroughbred mare It's a Rhea. I am told she looks just like Daddy and is a stunner! Congrats. I started a page with pictures of the Aram foals and will try to keep it up if people send pictures in. I will also start pictures of any other foals for stallions that we carry.
Congratulations to Kari Allen in CT on your purchase of the yearling filly Udora (Zeoliet x Consul). Udora will be Kari's future dressage prospect. (3/22/02)
Navarone is approved Swedish. SWANA has fully approved Navarone for breeding to Swedish mares. Aram is still available with frozen semen and fully approved on Swedish and Thoroughbred mares. (3/15/02)
Navarone has Arrived! Navarone is safely here and in quarantine at Rigby Farm in Darlington, MD. He should be released around April 10th. If you are in the area and want to see him before that you can contact Rigby Farm for an appointment. 3/10/02
Urame (Orame x Nimmerdor) arrived today at our farm. We bought Urame from Melissa Meryweather who had purchased the elite Nimmerdor mare Monalisa in Holland last year during our stallion show tour. Urame was 1st Premium at the NAWPN keurings last year. Urame is typical of all the Orame foals and easy to handle. For his first trailer ride by himself, I had to wonder if there was a horse there. He went right on and was so quiet! He has a good strong body and gaits and we have high hopes for him. Urame will grow up on our farm with Uno (Farrington x Ferro) as stallion prospects. They have about 1% chance as the KWPN selections are so hard, but if they don't make it they will be top geldings for sport! (2-20-02)
| | |
| --- | --- |
| | Urame, 6 months old |
| | Colts Urame(Orame x Nimmerdor), Uno (Farrington x Ferro) and filly Uriah Road(Zeoliet x Grand Slam) hanging out together. Urame just joined Uno and Uriah Road in the paddock and you would have thought that they had always been together. |
Navarone (Jus de Pommes x Armstrong), the only approved KWPN Approves son of the legendary 2 time Gold Olympic medal jumping champion in Atlanta Jus de Pommes is coming to America. Navarone will stand at our farm for a stud fee of $1500. He produces a beautiful head, modern type, athletes with suppleness and powerful gaits. VDL will be backup for the VDL frozen semen to give our buyers of VDL Frozen Semen a live foal guarantee. (2/7/02)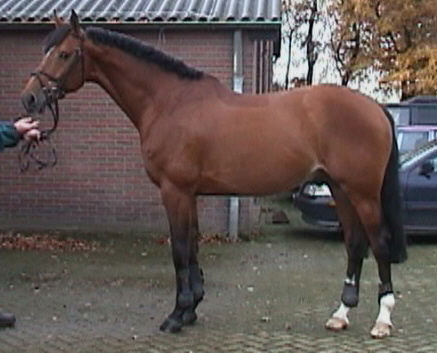 Navarone
Sylvester (Flemmingh x Daimler). We purchased the coming 3 year old stallion Sylvester at the Select Sale at the Stallion show in Holland along with Beth Dzaugis of Stone Rose Farm. Sylvester is selected to go to the 70 day test in the fall. It is a high risk but we have hopes for this super stallion. He has a loving sweet temperament. Unbelievable powerful, supple elevated gaits. Keep your fingers crossed for approval! We need this blood in America for a fresh semen stallion. (2/7/02)
Beth & Kathy with Sylvester in Holland
Stallion Show & Tour. We had a fabulous tour group for the 2002 Stallion Show (Hengstenkeuring). 14 people attended the tour. We had a super clinic with the Wieberdinks, fabulous tour with VDL, along with an education visit and lesson from Jacques Verkerk, our USA representative inspector for the KWPN. A virtual tour with pictures will be available soon. Several people bought horses on the tour too. What an extra treat. (2/7/02)
Congrats to Mellissa Manco and her purchase of Sunny Boy (Clavecimbal), a 2nd round stallion, soon to be a gelding. Sunny Boy will begin training with Mellissa and she has high hopes for him to develop into her future FEI horse. (2/7/02)
Sunny Boy
Archive MG News 2009
Archive MG News 2008
Archive MG News 2007
Archive MG News 2006
Archive MG News 2005
Archive MG News 2004
Archive MG News 2003
Archive MG News 2002
Archive MG News 2001
Archive MG News 2000