Farm News 2003
Navarone Mare Top Score in Holland The Paardenkrant newspaper in Holland reported: "The 3 year old stermare Tedaldine from A.F. Brouwer from Ter Apelkanaal has received the highest score of the IBOP in Tolbert on 27th of November with 77 points. Tedaldine got a 7,5 for walk, trot and talent as a dressage horse. The canter got an 8. For the take off and the scope she got a 7,5 and for technique and for the talent bot an 8. Tedaldine is a bay daughter of Navarone out of the elite mare Ledaldine. She has Democraat and the ster preferent Haldine (Mytens xx x Nimmerdor) as parents." We've heard nothing but good things from the breeders and owners of Navarone offspring in Holland. The oldest are now 4 and they are seeing how talented they are for jumping and dressage. We are very excited espeically after his first mare presented in America, Taloma by Navarone was star and provisional Keur at the keuring this year and 2nd in the nation and after seeing that his mares were in the national finals for jumping too. He is proving to produce very good movers for jumping and dressage with super temperaments. We couldn't be happier with how he is doing. (12/8/03)
Majestic Gaits Top Ten in the Nation Breeder Again! We are thrilled that 2 of the horses we bred were Top Ten in the Nation for the NAWPN keurings. Rene by Olympic Ferro out of our approved foundation thoroughbred mare by the impressive old time jumper sire On the Road was awarded the star predicate and tied for 2nd in the Nation in her movement score! Congrats to Kate O'Connor who now owns Rene! Trooper by Rampal out of our mare Nala was also awarded the star predicate and tied for 1st place in the Nation for conformation and tied for 3rd place for Movement. Congrats to Lisa Cox who prepurchased Trooper before he was born. Also goes to great success for the imported mare Taloma by Navarone out of a Goodtimes mare. Taloma owned by VDL and Majestic Gaits was awarded the star predicate and provisional keur. Taloma was tied for 2nd in the Nation for movement and tied for 8th in jumping. We are really pleased at the success of Navarone's first mare presented at a keuring in America! Taloma is offered for sale. There is updated pictures of her and other offspring for sale bred and imported by Majestic Gaits. You could join our success next! (11/25/03)
Top Fillies For Sale just Imported from Holland We just got 5 new fillies from Holland for sale. Out of the best motherlines for improving your breeding program. Super prices, fantastic movers and highly talented for both dressage and jumping. Click here for details.
Keurings Big Success for Majestic Gaits! We had a wonderful success at the keurings this year. Taloma (Navarone x Goodtimes), the 3 year old imported mare was designated Star and provisional Keur. She just has to do her IBOP or performance now to become Keur. Rene (Olympic Ferro x On the Road xx) is bred by us and now owned by Kate O'Connor was also designated Star Quality. Congrats to Kate! Trooper (Rampal x Fleming) was also bred by us received his star pedicate too. Congrats to Lisa Cox! Trooper is the first foal out of Nala who is now owned by Laura Gloor has her first offspring to get Star and just needs 2 more to get Preferent status. Her Ferro filly last year looks good for star and we still have a beautiful black Goodtimes filly for sale here that looks good too. And Nala is back in foal to Navarone, so that should be a fantastic one too! Also congrats to Joel and Keersten Nichols on their mare Sijalda by Flemmingh getting her star predicate at the Ohio keuring! Sijalda was selected by VDL in Holland and imported and sold from Majestic Gaits! (9/26/03)
New VDL 2003 Stallion Show Tape is here and available for purchase for $15. See videos links for a list of horses and order information. Paypal, check or credit cards accepted. (9/1/03)
Professional Handlers at Keurings and NEDA If your looking for a handler for the keurings or NEDA Fall Breed Show and Championships Janko and his brother Sipko will be here and charge $40/horse/class. Contact me for details. kathy@majesticgaits.com (9/1/03)
Congrats to Sally Wales on the purchase of the imported yearling filly Veronike (Corland by Nimmerdor). This is a fantastic bred with 3 long strong predicated motherlines and superior sires in the pedigree. She is big moving and already showing fantastic free jumping talent. Veronike will be a super addition to Sally's breeding program in Florida! Congrats. (9/1/03)
VDL Navarone Grand Champion Beland Breed Show Navarone was Grand Champion of the Breed Show at Beland Stables in Lakeville, MA. It was a super day for Navarone (Olympic Jus de Pomme x Armstrong) and handler Brian Byrne. Navarone won his class and the excitement grew as he went on to be stallion champion, then mature horse champion and then Grand Champion of the Breed Show. Navarone was trotting out with powerful fluid gaits which impressed the judge Gert Zuther. Gert commented on his nice type, beautiful head, nice neck and topline. Also, our4 month old colt Wilbur (Navarone x Accord II) was 1st place in his class and Kate O'Connor's Reny (Olympic Ferro x Share the Road XXA) was also 1st place, also bred by Majestic Gaits. It was a super day! (8-3-2003)
Janko from VDL Stud in Holland handling at the 2003 NAWPN Keurings Janko from VDL stud in Holland will be here for the keurings again this year. He is a superior handler and in demand all over the world. He handles all the VDL stallions for many registries and is also a certified USDF handling clinician. If you would like him to handle your horse at the NAWPN keuring, please email me kathy@majesticgaits.com or email Janko janko@vdlstud.com. I am keeping a list for him so he can make his travel plans and which keurings he needs to attend. His fee is $40/horse USA and in Canada $45 Canadian/horse. He will also be available at the keurings if you would like to discuss the VDL stallions and selecting a stallion for your mare or importing a horse. (7/26/03)
Navarone qualifies for Regional Dressage Championships at 3rd Level Our approved Dutch Warmbood stallion VDL Navarone (Jus de Pomme x Armstrong) has qualified now for the Regional Dressage championships at 3rd level. We have had such high feed back on his dressage abilities and his potential for Grand Prix. Right now he has had a very busy season with the heavy breeding, shows and training. He has some bug bite bumps on his back that are getting inflamed, so we are resting him. Next show will be the championships and jumping in NH at the new big Silver Oaks jumping show. See the schedule for details. (7/26/03)
Miloma's full sister champion foal in Friesland Holland Today we heard the news from VDL that the full sister to our Keur Elite mare Miloma (Goodtimes x Dreamstreet x Lucky Boy) was the champion foal in Friesland Holland. We knew our mare was special, but it is even more special to hear the mareline and Goodtimes continues to produce fabulous offspring. (7/13/03)
VDL Navarone Successful at 3rd Level Dressage. Our approved Dutch Warmblood stallion Navarone (Jus de Pommes) debuted at 3rd Level Dressage today and was fabulous. Starting off with scores of 62% in his first class ever, we knew he would again be a success. He had a very sore bug bite irritating him under the saddle that was swollen for the last test and was changing leads in tempis trying to adjust for it and even with all the problems of the last class he still earned a score of 61% and was 2nd place! Navarone continues to show us how much he wants to please, work his best and win! (7/13/03)
Congrats to Colleen O'Connor Congrats to Colleen O'Connor who now earns her USDF bronze medal this year. Colleen has been a very successful rider for VDL Navarone. She started him in May of last year, was 3rd in the nation after a very few shows and short training period starting him last May. Colleen is a talented rider and Navarone shows great talent and love for Dressage. (7/13/03)
New Stallion Prospects in Holland: Majestic Gaits and Linda Ross, GA have invested in a superb 2003 colt in Holland, Washington (Orame x Animo KEUR) out of the fabulous stallion producing ette mare line . Congrats to Linda Ross on this fabulous purchase. Majestic Gaits also purchased a 2003 bay colt (Flemmingh x Olympic Cocktail) out of the famous daula mare line. Pictures and details can be seen here. (7/9/03) Thanks to VDL Stud for finding us these fantastic prospects. They will remain in Holland and prepare for stallion selection in 2005.
Congrats to Kellie Nelson, MN on her purchase of Woodstock (Glenridge Keur out Obertede Keur). Woodstock is beautiful in type, conformation and gorgeous movement and has the it all including a superb breeding for a stallion prospect. We wish Kellie super success. (7/2/03)
Woodstock Arrives! Last but not least, we have a beautiful chestnut colt by Indoctro Keur out of our Keur imported mare by Glenridge Keur. This is a fabulous colt and he has proven that top proven bloodlines does produce. Woodstock has the conformation, character, presence and movement for a top performance horse in jumping or dressage and a stallion prospect.
Navarone Moving on Up with Success! Navarone (Olympic Jus de Pomme x Armstrong) has moved up to 2nd Level dressage and already winning with scores of 63% and 64%. The judges and spectators are giving the same consistent feedback. This is a high potential horse and good rider combination. Navarone already has his first qualifying score for Regional Championships. He will move up to 3rd level in July and continues to jump with great success. We are very proud of him. He has a good working character and lots of fun to work with. His first foals have been arriving around the country and Canada and the feedback is consistent. Navarone is stamping his foals with his type and beautiful head and neck, strong hind end and super characters. Most of them have his bay color, hind socks and a star. (6/12/03)
Woolala: Black Indoctro filly arrives Nala (Fleming x On the Road) had a beautiful big black filly on Mother's Day. She has a perfect round star on her forehead and no socks. She has Nala's gorgeous head and looks to have the strong Indoctro hind end. She is very sweet and Nala is super with all the kids in playing with her. This one is perfect & gorgeous! If your looking for a beautiful black filly, let me know. She is for sale and I should have pictures on the web soon. Indoctro x Fleming (Farnese) (4/11/03) SOLD

Navarone does it again! Navarone & Colleen went to the first Dressage show of the season. They competed at 1st level tests 3 and 4. The competition and judging was tough but they manged to get 1st and 2nd place. The 2nd place was a tie with a well known Grand Prix rider. It was a good start for the season and the plan is to move up to 2nd level now for the next shows and aim for 3rd level by July. (4/11/03)
Whatsup: 2nd Navarone colt Arrives: Amarens finally had a beautiful Navarone bay colt, big star and 3 white socks. He is perfect in conformation, showing big suspension in his movement already and just the super Navarone temperament that he is throwing on all his foals. (5/9/03)

Frozen Semen We received the lastest shipment from Holland this week. We have all the stallions stocked up now.
Farrington filly out of Jenni born 2nd Filly of the year born at Majestic Gaits. Wendi Road was born on 4-19-03, by Farrington out of our star mare Jenni Road by Grand Slam. A pretty bay with a star, snip and 1 hind sock. Pictures are below. (4-20-03)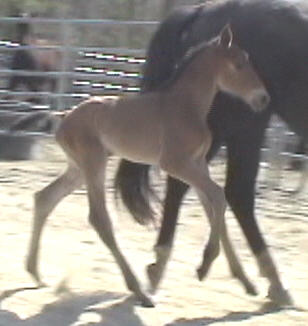 First American Navarone Colt Arrives! He is here! Navarone x Accord II x Ahorn out of our Keur imported mare Larinette, same dam line as the approved stallion Matterhorn. And check out this gorgeous colt. A light chestnut blaze, 3 white socks, only 1 hour old and strong, good solid bone, handsome head, nice expression and he is anxious to play and friendly. I'd say Navarone produces!!!! (4-16-03)
5 days old
VDL Prestige (Silvano N x Goodtimes) is approved KWPN. Congrats to VDL Stud in Holland on a super success. Prestige is already approve Swedish and has his first crop of foals in 2001 in Sweden and looking good with nice temperaments. Frozen semen arrives on Friday. All available VDL Stallions will be stocked and ready to ship from Majestic Gaits. 4-2-03.
Congrats to Paul Cormier (MA) on his purchase of the 2002 yearling stallion Vermouth (Farrington Keur out of our Keur Elite mare Miloma by Goodtimes). Vermouth will be raised and trained to compete at the breed shows, upper levels of dressage and prepared for stallion selection. Best of luck to Paul and Vermouth and watch out for them at the shows!!!
Congrats to Patrick Jaworski and Christina Maria Trettel (MN) on their purchase of the 2001 2 year old stallion Unix (French Buffet xx out of our Keur Mare Larinette by Accord II). Unix will be prepared as a jumper and for the 100 day stallion test. Another top notch breeding out of proven lines with lots of potential. Larinette is from a long proven mother line that also produced the approved KWPN Dutch stallion Matterhorn in Holland. Good luck to Patrick & Christina!
Congrats to Kate O'Connor (MA) on her purchase of the 1997 black mare Rene (Olympic Ferro KEUR out of our approved thoroughbred mare Share the Road). Rene is in dressage training already (doing super!!!) and will be bred to either Flemmingh or 007 this year. Hopefully she'll be at the keurings this year and in the shows! She will be the one that catches everyone's eye and is just wonderful to watch move with all the blue ribbons! :-) The foal will be offered for presale. Contact Kate if your interested in a presale (NativeRoss@aol.com).
New VDL stallions available by Frozen Semen this year: Next order for frozen semen planned for March 2003.
Sheraton (Indoctro x Calypso II x Grannus) This newly approved young stallion received 9 for elevation and 8.5 four times in his testing for canter, technique, power and jumping ability. He is one of the upcoming jumping stars. Stud fee $800 for 3 doses, plust $250 import and fedex shipping (approx $150 round trip)
Silverstone (Champion du Lys x Carthago x Renomee Z) Also a fantastic jumper, receiving a 9 for take off , 8.5 for technique and 9.5 for jumping ability. Silverstone is the first licensed son of the world famous international show jumper Cahmpion du Lys and his dam is the Keur mare from the Holsteiner Stam 8763. Stud fee $800 for 3 doses, plust $250 import and fedex shipping (approx $150 round trip)
Arkansas (Acobat II x Silvano x Hanassi xx). This stallion is approved only with the ISH, Irish Sport Horse. But, if you're looking to register a foal in that registry. Arkansas was the champion for the 4-year-olds showjumpers in Ireland and also was in the finals as a 5-year-old.
Chin Chin (Constant x Farnese x Sorgenbrechter xx) This famous International Olympic Grand Prix jumper was bought by VDL Stud in 2002. This year we have his frozen semen available, but unfortunately the price is $3500 for 3 doses, plust $250 import and fedex shipping (approx $150 round trip). Chin Chin is 25 years old and bred a LOT of mares in Holland, despite the high price. How often to you get an opportunity to breed to a 2 time Olympic jumper and World Cup stallion?
3 New Imported fillies arrived from Holland: Check them out on the sales page. These are top dressage prospects and jumpers. Don't miss out on these top bloodline quality foals for a reasonable price. (1-14-03)
Congratulations to Bonnie Zimmerman (VT) on her purchase of the imported 2002 colt Vivaldi (Flemmingh x Goodtimes). Watch for Vivaldi in the show ring in the future. Vivaldi will be Bonnie's next FEI horse. (1-14-03)
Archive MG News 2009
Archive MG News 2008
Archive MG News 2007
Archive MG News 2006
Archive MG News 2005
Archive MG News 2004
Archive MG News 2003
Archive MG News 2002
Archive MG News 2001
Archive MG News 2000