Farm News 2004
Indoctro #1 Jumper Sire in America: The USEF has reported Indoctro as the #1 jumper sire in America. We've known the Keur Dutch stallion has had a big impact on jumpers in Europe, but now we see he is top in America. He is also super for dressage and all around horses. Details on the frozen semen pages. Congrats to VDL and all the owners of Indoctro offspring.
KWPN Merchandise Now on Sale: Makes great Christmas Gifts. Proceeds go to support or promoting the Dutch Warmblood at Equine Affaire in MA. Every year in November we host the KWPN/NAWPN booth at Equine Affaire at the Big E in Springfield MA. Please help us support the breeders in New England and promotion of the Dutch Warmblood in the northeast by purchasing a hat or polo shirt. Click here for details. New items will be added in the future.
Imported Foals arriving in November from Holland for Sale VDL has selected another nice batch of foals that are coming over here for sale. There is a Farrington and a Flemmingh colt that I saw in August that are fabulous. If your looking for a dressage colt, check them out! Also, we have some top bred fillies again for breeding by Flemmingh, Goodtimes and Tenerife. Pictures and details will be added to the sales pages. Some info already there. (10-17-04)
Equine Affaire Don't forget to visit us in the Breed Pavilion in Springfield MA at Equine Affaire on November 11-14, 2004. Navarone and lots of foals and other Dutch warmbloods will be there to see. Our breed demo is on Thursday, Nov 11 at 11:15 in the Coliseum. Come see Liz Austin demo on Heirarch and other young Dutch Warmbloods shown in hand. (10-17-04)
Navarone & Colleen training with Jane Karol After a nice year off of the shows and training at home and having all the trainers we picked in the area move south to warmer weather, we've found our new trainer Jane Karol at Bear Spot Farm in Acton. Jane is a fabulous trainer and coach for Navarone & Colleen. Already they've been schooling for canter pirouette and tempis. Navarone has had a double bridle put on for the first time and adjusted to it easy. Soon, they will start working on Piaffe. Pictures of the training can be found here. (10-17-04)
Navarone x Nimmerdor mare again Top Ten at the keurings! Congrats to Katie Kuhn and her success for her mare Synthe VDL (Navarone x Nimmerdor) and bred by VDL Stud in Holland and tied for #2 in the nation in the free jumping. Synthe is now Star and Provisional Keur. (10-17-04)
VDL Offspring in the Top Ten In addition to the Navarone mare, congrats to the following from VDL stallions in the Top Ten at the keurings:
Ustarel-V (Corland x Ahorn) owned by Julie Ballard Haralson (GA) tied for 5th in Jumping.
Unescoba (Flemmingh x Farrington) owned by Christine Mazur and bred by Allison Hagen (Canada) tied for 6th in Conformation & tied 7th in Movement
Union-S (Hold up Premier x Emilion) owned by Sarah Davies and bred by Prima Equestrian (Canada)
Zaccai (Orame x Nimmerdor) owned and bred by Katie Kuhn(CA) #1 Foal in the nation!
Zhivago (Indoctro x Beaujolais) owned and bred by Shelley Campbell (WA) tied for #6 in the nation.
Rarusa H (Indoctro x Nabuur) owned by Waino Pihl & Susan Taylor #3 Dressage IBOP and #2 Jumping IBOP
Sizarma H (Farrington x Heirarch) owned by Sonnenberg Farm #9 in the DG Bar Cup
Also congrats to the 007 offspring...
Zorbe S.E. (007 x Wanroij) owned & bred by Siegi Belz-Fry (VA) tied for #3 in the nation
Zeven (007 x Cabochon) owned and bred by Christine Mazur
Olympic Lancet Sold: Lancet (Wenzel I x Shogun) who made his way into the Olympics only having competed at Grand Prix 6 times has been sold to England. We still have frozen semen for sale here until it is gone. Check out our frozen semen pages.
Congrats to Marty Young-Stratton at finishing up 2004 season on her horse Val (Norell) bred by Majestic Gaits (Rampal x Consul) at winning 3rd level 66%.
Travel Boy is Sold Congratulations to Kamel Mikhael from (Ontario Canada). We expect to see him jumping Grand Prix in the future. (9-22-04)
Zeppo (Prestige x Rossini x Farn x Sinaeda) joins our stallion prospects in Holland. We've purchased this fabulous fancy moving powerful colt in Holland this year to add to our stallion selection program. As always we have hope for him to make the approvals in the future, but if not he will be a top notch dressage gelding. This colt moves just like Prestige. 4 white socks and a blaze makes him also a handsome package. Look for news of him in the future and details on our stallion prospects page. Thanks to VDL for finding us this fabulous colt! (9-22-04)
Uno is Sold Congratulations to Merry Bowman (KS) on her purchase of Uno. Look for Uno (Farrington KEUR x Ferro KEUR) in the dressage news in the future. This is a very exciting young dressage prospect with big gaits and lots of power and wonderful to work with. (8-15-04)
Jack Russell Fans...We have a new addition to our Farm. See our new Jack Russell bitch Alika. We are very excited about our new puppy. She is getting along super with our labs. We hope to breed her in the future so look for puppy news in the years to come.
Seminar a Big Success! Handling Clinic with Janko from VDL Stud and Sporthorse Seminar with Hilda Gurney was a great success. We had top ratings from everyone attending. Janko did an outstanding job at working with all the horses and teaching us all super techniques for handling at the keurings and the USDF sport horse show. Hilda was fantastic as always. This is the 3rd seminar I've been with her and she always amazes me with her wealth of knowledge. We also had a great lecture from Blue Seal Feeds on nutrition. People told us they learned more at this seminar than they have at any clinic in a long time. We should have video available in the new future. Email me kathy@majesticgaits.com and I'll put you on a list to get a copy when they are ready. (7-5-04)
Urame Sold Congrats to Lauren Kramer from Michigan on her purchase of the 3 year old stallion Urame (Orame x Nimmerdor). Watch for Lauren and Urame to be cleaning up at the jumper shows in the future! (6-16-04)
Zakarla is Born! Our star mare Amarens (Telstar x Joost) gave birth to a gorgeous Navarone filly on June 27, 2004. Amarens has produced many top horses and Grand Prix jumpers. This is a very famous motherline in Holland. Amarens has 3 generations of Preferent motherline (the highest you can get for a mare). Amarens is 22 this year and we want to keep this fabulous motherline going at our breeding farm, so we are keeping the filly. Navarone has proved to be an outstanding cross with Amarens. Zakarla's full brother Whatsup is in California and looks to be a top jumper stallion prospect. (6-27-04)
Zakarla at 2 days old.
Taloma Sold Congrats to Jill Stacey from New Mexico on her purchase of this Top Ten #2 Star Provision Keur mare (Navarone x Goodtimes) out of the famous LOMA lines. Taloma will be competing in dressage. Look for them at the upper levels in the future. This is one fabulous horse and we are looking forward to hear about the success. Navarone proved himself again by producing gaits, good temperament and power behind that is required for upper levels.
Email Problems If you are not getting a response or a bounced message from emailing me at kathy@majesticgaits.com, please forward the email to my alternate account at kathy@dutchbreeders.com. If you have a bounced message, I would like to see it so I can provide it to my email provider. (6-5-04)
Lots of Super VDL Foals Arriving in America! If your on our email news list your getting the announcements of all the new foals arriving from all the fabulous frozen semen and also Navarone. When we get a good photo of the offspring where people can see what the type, movement and conformation of the foals are, I'm posting them on the individual stallion pages now. This way you'll be able to see what people are getting when crossing the stallions with different bloodlines. Also nice to see the frozen semen works so good! (6-1-04)
Zalig is Born! (Navarone x Accord II x Ahorn). After a long unknown infection last year for our Keur mare Larinette and wondering whether she would live or not, she miraculously recovered and slowly came back to health. This morning at 2:30 am she had a very easy delivery of a big, strong, beautiful bay colt. We have named him Zalig which means blessed in Dutch as we feel he is truly a miracle foal! He looks very much like Navarone (Jus de Pomme) with a pretty head and eye, nice neck and long legs. Zalig is very strong, with a super character like Navarone and learned everything fast. We are very happy with him and also how fantastic the Navarone foals are turning out! (3-31-04)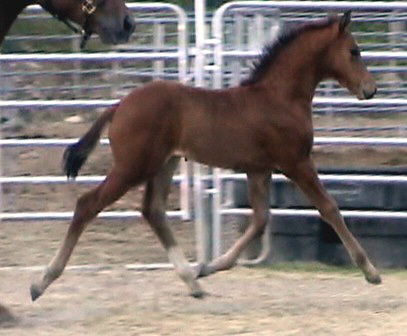 New England Breed Show Series The 2nd USDF Cosequine New England Breed show series flyer with contact information and dates. We hope this year is a super success like last year. NEDA is offering year end awards for their members and who apply for them. More details on the NEDA website www.neda.org (Pass the news on!!!) (2/20/04)
Sport Horse & Handling Clinic The USDF Sporthorse and Handling clinic that will be held at UMASS Holyoke, MA June 25, 26 & 27 with Olympian Hilda Gurnery and Janko van de Lageweg from VDL Stud in Holland. It will be a great time to prepare for the breed shows! Details and an application. Also availabe on the NEDA website www.neda.org I hope to see you all there! (Pass the news on!!!) (2/20/04)
Jumping Amsterdam & 2004 Stallion Show We had a fabulous trip with a good group of people to Jumping Amsterdam and the KWPN 2004 Stallion Show. For a fun report including Jumping Amsterdam, 2004 Hengstenkeuring Stallion Show, 1st International Meeting, Stallion Competion Finals (Yeah Prestige!), Visiting our stallion prospects in Holland and fun with losing a passport, check out the details here. (2/11/04)
Videos I have the new VDL 2004 Video. Stallions new to this video include Arkansas (Acobatt II xSilvano) AES approved, not frozen semen available, Prestige (Silvano N x Goodtimes), Radison (Indorado x , Tenerife (Raphael x Ahorn) and finally Wetano (Weltmeyer x Bretano II) Swedish Approved going Prix St George! If anyone is interested in a copy, $15 will cover the cost of sending a copy by Priority Mail. You can order through Paypal, check, or call or fax with a credit card. Check out our videos page. (2/11/04)
Indoctro #2 Stallion for Producing Jumpers in Germany! The ranking list of best jumping horse producers of Germany is published. Indoctro is high placed in this ranking. In the ranking of the Holsteiner studbook, Indoctro is the 2nd best producer of jumping horses, close behind Carthago Z. Over all of Germany, Indoctro is placed 5th in this ranking. Indoctro is the best Dutch approved stallion in the German list.(2/11/04)
New Backup Guarantees The Brinkmans have now agreed for the breeders that are breeding to Polansky and Lancet if they go through 3 doses and don't get a foal over at least 2 cycles, they will provide additional doses 1 at a time at 1/2 stud fee. We always hope the breeders don't get this far, but I'm working hard to get the stallion owners to stand behind the quality of the semen and help the mares here make sure they are in foal. Mostly it is out of their control when it is shipped so it is hard. It is very different from how they do it in Holland. But, one thing we have in common is we want the mares in foal. The stallion owners we work with are proud when they can say they have a high % of mares in foal!
For 007, after 3 doses you can switch to Navarone for the booking fee $300 and get fresh semen. They do not want to do the additional dose option as they are limiting the amount of breeding 007 will be doing so he can concentrate on his training. They want him to eventually be ready for GP and the Olympics. Again, we never expect or have anyone to get to that point. We want to help the breeders the best we can. We hope to have a 2nd stallion next year as a back up option. I have looked and discussed new stallions every trip. I would rather wait for the right one to settle on something that doesn't fit. The temperament, breeding, conformation, training, semen quality all have to be good!
For all of the other frozen semen from VDL, we offer the 1/2 price additional doses OR back up to Navarone options.
And as always, if you buy 3 doses and get your mare in foal with one or two doses, the rest is yours to use as you like on another mare or another year with no extra charge from us. Details on the Frozen Semen pages.
For those that are planning to breed or bred to Navarone. We offer discounts for return breedings, quality and multiple mares. Please inquire if your interested. (2/11/04)
Nitrogen Tanks I am working on some options for tank rentals for those breeders that want to breed out of the tank and don't have a vet that has a storage tank. I hope to have those options soon. If anyone is needing this option, let me know as soon as possible as I'll have to make sure I have enough tanks to handle shipping and for long term rentals. The long term rentals will need to be reserved well in advance. All our dry shippers were continuously shipped out last year, so if your ready for your shipment, I'll be glad to ship as early as possible! (2/11/04)
Email Please if anyone has emailed me and not heard back. We've had some troubles still with emails not going through. If you have experienced this, I'm probably getting your email and trying to figure out how to contact you. :-( If you find you have not received back from me, leave me a phone number, address, AOL IM name or fax number so I can contact you and at least let you know. We are finding that the wonderful spam blocking companies block the home cable boxes, the cable company sometimes doesn't send out email...especially when I use that wonderful "semen" word. :-( Kind of hard to avoid though. And I don't always get a bounced message saying they don't go through. I wish email was more reliable. I try to respond to everyone as much as possible. As always, I love to hear how everyone is doing! (1/1/2004)
Archive MG News 2009
Archive MG News 2008
Archive MG News 2007
Archive MG News 2006
Archive MG News 2005
Archive MG News 2004
Archive MG News 2003
Archive MG News 2002
Archive MG News 2001
Archive MG News 2000