Deceased 12-17-16
O'Bert-e-de
1996 16-2 hand Imported Black Dutch KEUR Mare

What does the name O'Bert-e-de mean? From the Breeder Joop de Ruiter "my father's name was Bert de Ruiter. The name of my mother was Dirkje de Ruiter-Alkema. We called her De. (The short name). Bert and De were my parents. So O'Bert e De is an ode to my parents."


O'Bert-e-de is an beautiful black imported Keur mare top jumper bred and one of the oldest mare lines in Holland, the Ritta mare line.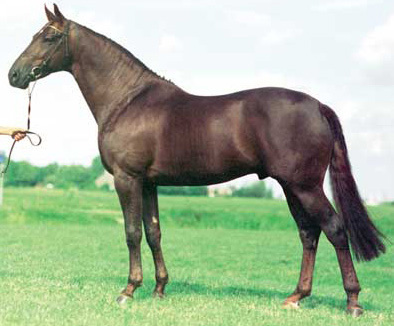 O'Bert-e-de is by the keur stallion Glennridge who is deceased son of Wellington. Glennridge died young at 11 years old, but we carry on his bloodlines un O'Bert-e-de. Glennridge won his stallion test with scores; walk 9 trot 7.5 canter 8 riding test 7 Free jumping 8.5 Show jumping 89.5 Cross country test 8 Character 8 Training report 8. Glennridge has a breeding value in jumping with the high score of 137! He was a Grand Prix jumping stallion who placed in numerous Grand Prix, World Cups and International Stallion competitions. In 1998 Glennridge was placed 12th in the World Rankings. He tragically died in 1999. For the Record by Glennridge is jumping level 5/1.35 meters in USA with rider Jennifer Rossire. Glennridge is also the sire of Jane Karol's Grand Prix dressage gelding Nibbit. He has produced both jumping and dressage offspring like our mare O'Bert-e-de does.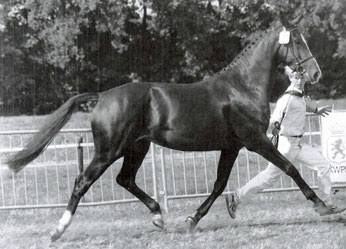 O'bert-e-de's motherline is the Ritta mareline #15 in Holland. O'bert-e-de's dam Jorfa is a Keur mare who had the incredible high IBOP riding test score of 90! At 2 years old Jorfa was a UTV mare which is top honors for a mare in Holland indicating they are among the top mares in Holland. She comes from a long established line of Keur and Preferant mares. From this motherline is the approved stallions Triton, Zadok, Akteur, Zenner, Sportman, Theobalo and Zandor. Famous sires in her line include Zuidhorn, Amor, Marco Polo. Triton's granddam Geroma jumped at international levels. Triton's dam Lydia also produced the famous showjumper Nautilus who jumped the 1991 World Cup Finals.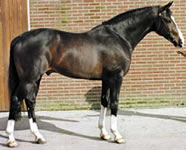 O'Bert-e-de's dam sire Zuidhorn was champion of his stallion test with scores walk 8 trot 8 canter 8.5, riding test 8.6 Free jumping 8.5, show jumping 9, cross country test 9, In harness 8, Characcter 9, Training report 10! He produced an approved son Lennard, 8 sons approved for the 100 day test, 9 3rd round stallions, 19 2nd round stallions, 97 star mares, 42 keur mares, 10 preferent mares and 6 prestatie mares. His showjumping index is 122! He died in 2001 at the age of 20.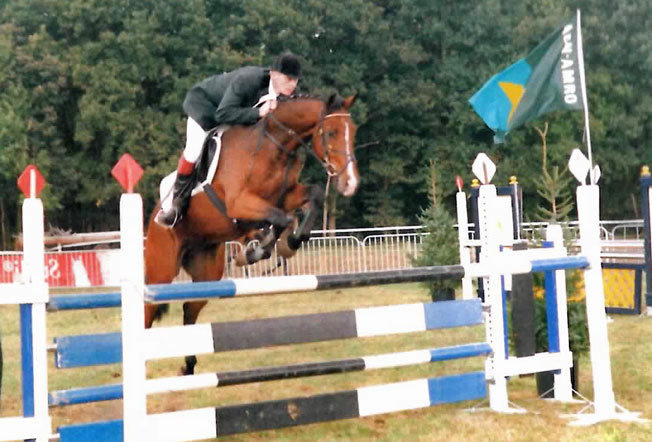 Obertede's full brother Nacimento jumping.
From this same mare line comes these sport horses...
Pardok, who jumps 1.5 meter classes with Leslie Burr, USA.
Nautilus V (Nimmerdor) approved NRPS, jumped in the 1992 World Cup Final with Victorio Orlandi from Italy before he was exported to Chili
Lesley Z (Landlord) approved NRPS, jumping 1.5 meters internationally with Italy's rider Davide Kainich
Zandor (Nimmerdor) AES approved
Casanova (Magneet) 5 times selected for the UTV championships in Holland, jumped 1.3 meters and 3rd level dressage
Tom Tom (Joost) jumped nationally with rider Jochem Munsterhuis
Voque H.E. (Heartbrfeaker) jumping 1.4 meters
Obertede's brother Valiant (ex Vagant) by Gribaldi is in USA and ridden with Louise Koch an S level Judge and top dressage rider. In 2009 they have been scoring in the 70%'s at 1st level.
O'bert-e-de's 2001 Filly Uniblab by Flemmingh was reserve champion for the NEDA Stallion futurity class and 2nd in the Dutch IBC class and 1st place in 2003 at the Breezy Meadows Breed Show. Her 2003 colt Woodstock by Indoctro was very athletic, fabulous type and athletic, strong and supple mover. He sold to MN as a dressage stallion prospect. He was reserve champion of the USDF show and qualified for the championship where he tragically died by a lightning strike in the pasture prior to the championships. Her 2005 black colt Aragorn by Prestige is sold and starting under saddle with a jumper rider who loves him. Her beautiful black daughter Britta MG was sold to Debbie Malcolmson for her breeding program. A beautiful mare! And her 2008 colt Dante MG by Chin Chin was 1st premium, 1st in class at his KWPN-NA keuring. We are keeping him as a stallion prospect. O'Berte-e-de is proving that a good motherline and strong pedigree will produce!
Glenridge
KEUR

Wellington
KEUR

Nimmerdor PREF
Sire of the Century

V. Farn PREF
M. Ramonaa STER

Patty
KEUR PREF

V. Lucky Boy xx PREF
M. Eritama STER

Aziemieka
PREF

Silvano

V. Le Mexico SF KEUR
M. Truida II KEUR

Puissance

V. Hanassi xx
M. Ingrid STER PREST

Jorfa
KEUR

Zuidhorn

Le Val Blanc XX

V. Val de Loir xx
M. White Beam xx

Ritta
MODEL PREF

V. Sinaeda PREF
M. Vitta Y MODEL

Orfa
STER PREF

Marco Polo
PREF

V. Poet xx
M. Mirakel (TRAK)

Sandria
STER PREF

V. Amor PREF
M. Sheila MODEL PREST
Foals by O'Bert-e-de
Tatoo S - 2000 Foal by Natal. Born in Holland. We hear Tatoo S is doing well in jumping and hoping for some new pictures of him soon.

Uniblab, now named Uriella MG - 2001 Foal by Flemmingh. Now owned by Donna Nita, NH. Uniblab was reserve champion at the NEDA Breed Show Stallion Auction Futurity. 2003 1st place Mares Breezy Meadows Breed Show.

Vajra - 2002 Filly by Olympic Ferro. Sold to Lezlie Enfield, California. This is a gorgeous black mare.

Woodstock - 2003 Colt by Indoctro. Sold toy Kellie Nelson, MN 2005 2 year old Champion and Young Horse Reserve Champion, Sorensen Park, WI He tragically died by a lightning strike the day before the championships.

Aragorn MG - 2005 Colt by Prestige.

Competing in the hunters under the name of Black Gold with Kristen Berian.




Britta MG - 2006 Black filly by Prestige. Now owned by Alanna Madison (Canada)

Chester MG - 2007 Chestnut Colt by Navarone born 5-13-07. First Premium KWPN-NA Keuring!

Showing under the name Jus II owned by ARK Partners

2013 Qualified for 6 year old Young Jumper Championships



Double clear 5th Place 1/25/13


1/22/14 Wins 7 year old YJC



Dante MG 2008 Black Stallion Chin Chin born 5-9-08,
2008 1st premium Foal KWPN-NA Keuring.
2012 Approved Oldenburg GOV, sBs, RPSI, ISR
2012 Completed 70 day test, OK




Evitta MG 2009 Bay Filly by Navarone. Full sister to Chester MG, first premium colt. Evitta MG was also a First Premium filly, 2nd in the class at the 2009 KWPN Keuring. Sadly deceased 11-20-09. We miss her very much. She was a beauty.
Felix MG 2010 Black Bay Colt by Zapatero(Chin Chin x Ircolando). Beautiful modern colt with a nice long neck and gorgeous gaits. Born 4-22-10. 3/4 blood to our stallion prospect Dante MG (Chin Chin x Glenridge x Zuidhorn). Another really special one who wants a top jumper or dressage horse.



SOLD Congrats to Kimberley McGlaghlin (MA)




#1 2 year old KWPN-NA Jumper Colt in the USA 2012!!!

1st Premium, Champion Top 5 in the nation 2 year old 2012 Jumper KWPN-NA Keurings

2012 Ten Broeck Young Horse Show 2 year old Free Jumping Champion. Qualified for Championships in Wellington

2012 Windswept Breed Show, Champion 2 year old, Reserve Champion Young Colts, qualified for series championships. Scored 82.1% with a 9 on his trot!




Gepeto MG 2011 Black colt by Zapatero(Chin Chin x Ircolando).

Sadly deceased from a freak pasture accident at 3 months old. A shame.

Hybritta MG 2012 Dark Bay filly by Crespo VDL (Canturo x Cantillo)
SOLD to Carly Fisher (MA)


2012 KWPN-NA #1 Top Five National Jumper Foal
2012 KWPN-NA First Premium Jumper Foal 1st Place
2013 KWPN-NA First Premium, High Point Jumper NE Keuring 2014 KWPN-NA First Premium, #1 KWPN-NA Top Five National Jumper 2 year old filly





Jillbritta MG 2014 Dark Bay filly by Crespo VDL (Canturo x Cantillo)

2014 KWPN-NA First Premium foal