Tercordia
2000 Imported Bay Dutch Keur Elite mare 15-3 hands (Marlon - Accord II- D.Nightshade xx)
-From the famous Holsteiner Stamm 1907 known for producing athletes and many many approved stallions in Europe. A new book is coming out in Holland featuring famous mare lines and Tercordia will be in it.
-Produced the High Score Jumper Keur Mare -Acordia sold to VDL Stud in Holland!
Produced the #1 Jumper Foal in the Nation!


Schroeder (Sandro Hit x Escudo I)

In Foal to FEI Grand Prix dressage stallion Schroeder (Sandro Hit x Escudo I)
Due May 6, 2017 - Foal is presold.

Tercordia at the 2010 Keuring where her foal Fraucordia MG by Campbell was 1st Premium, High Score young jumper and #1 Jumper Foal in the Nation! Photos by Unbridled Photography.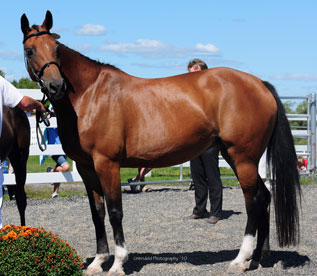 Pictures of Tercordia as she arrived from quarantine and home. She is due this day here to have her foal by Campbell (Rossinni x Carpaccio)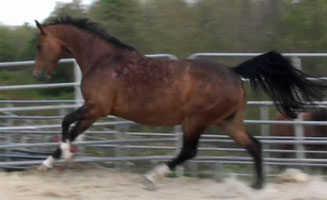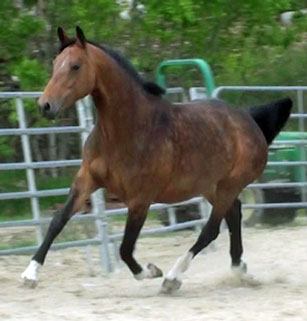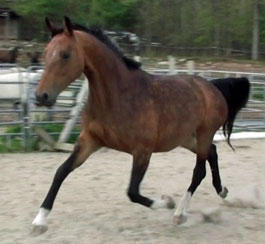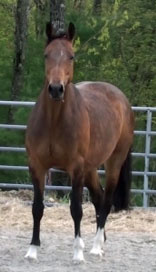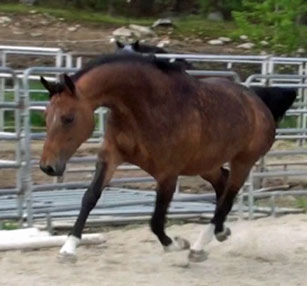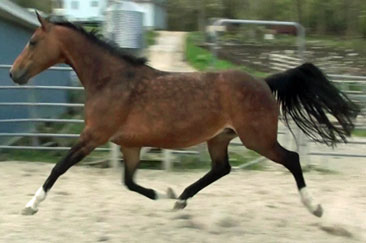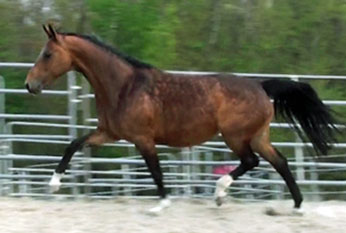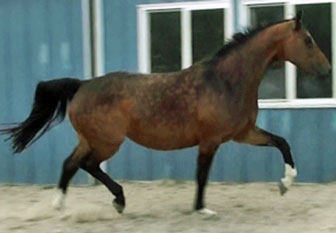 In Holland 2008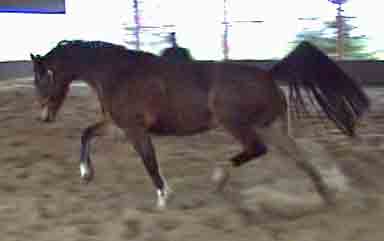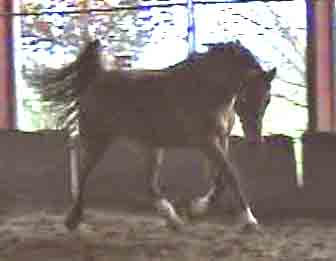 Video of Tercordia Keur Elite on 4-23-09 the day she got home from CEM quarantine an the day she is due to foal!

Tercordia is sired by Marlon from the famous jumper stallion Zues out of the proven broodmare Bonjorna by Ramiro. Marlon never had frozen semen, but we've seen some super mares by him and when the mother of my mare Acordia was offered for sale, I could not pass it up and a chance for breeding more super crosses with the Keur stallion Indorado in Holland again. Both Indorado and Marlon semen did not freeze and not available for us to breed in America, but now we have access to this with this mare in Holland. We look forward to breeding more top offspring similar to our mare Acordia (Indorado x Marlon).
Tercordia is a big moving mare with lots of action and use of the body, showing a top overall athlete. At her mare test as a 3 year old she recieved walk 7.5 trot 7 canter 7.5 and 7.5 for free jumping and 7 for jumping under saddle.
Tercordia decends from the the Holsteiner Stam 1907, Many Holsteiner approved stallions come from this line including; Landmeister, Consul (Cottage Son xx), Corso (Calypso II), Davis (Deadly Nightsahde xx), Antimon (Anilin), Cascaron (Contender), Capitol (Cor de la Bryere), Fiorello (Farnese), Cunningham (Cassini I), Windsor I and Windsor II, Cosmas (Condus) and many many more. Also, this line produced the approved Oldenburg Stallion Sandro King and the approved Dutch and Holsteiner stallion Colino who received a 10 for course jumping and the approved Holsteiner stallion Fiorello. Also coming from this motherline is the approved Westfalen stallions Lord Farm and Lord Orion. The list goes on!
The dams in Tercordia's mareline has proven themselves also. Tercordia is Keur Elite, but also her Lacordia is Keur Elite and her great dam Batavia III is a states premium Holstein mare. The mares have not only proven themselves in the offspring they have done but for themselves too.

Dam of Tercordia, Lacordia Elite Preferent (Accord II x D.Nightshade xx)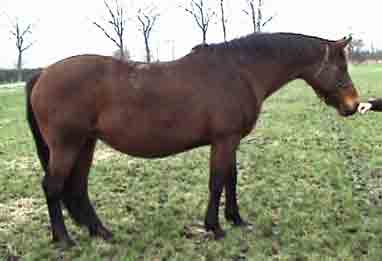 Marlon
16-2 hands
Jumped 1.35m

Nurzeus (Zues)
KEUR

Arlequine x

v. Massondo x
m. Nuit Blue x

Urielle (SF)

v. Matador x
m. Evelyne (SF)

Bonjorna
KEUR PREFERENT PRESTATIE

Ramiro PREFERENT

v. Raimond (Holst)
m Valine (Coralle Z) (Holst) International Jumper

Karta PREFERENT PRESTATIE

v. Millerole xx
m. Alanda

Lacordia
ELITE PREFERENT PRESTATIE
16-1

Acord II (Holst)
Jumped 1.4m

Ahorn Z (Hann)

v. Alme Z (SF) Jumped 1.6m
m Heureka Z (Hann) Jumped 1.6m

Ribecka (Holst)

v. Calypso I (Holst)
m. Gerlis

Batavia III (Holst)
SPS

D. Nightshade xx

v. Floribunda xx
m. Maxim's xx

Marina (Holst)

v. Farnese (Holst)
m. Olympia (Holst)
Offspring of Tercordia
Zocordia (Radisson x Marlon x Acord II) 2004 mare, Sold to Cuba

Acordia Keur, top scoring mare Sleen NL mare testing May 29 2008
(Indorado x Marlon x Acord II)
2005 Mare in Holland

Jumped 1.2m in NL,
Now in Switzerland competing.




Becordia Sport(Jumping) (Hold up Premier x Marlon x Acord II)

Grand Prix jumping in Norway with Rider Cecilie Hatteland at CSI 4*



<Click here for Details>


Dycordia MG (Silverstone x Marlon x Acord II) 2008 filly sold at the Elite Borculo Auction.

2013 rider Francesco Villotti riding in Italy.

<Click here for Details>

Fraucordia MG (Campbell x Marlon x Acord II) 2010 filly. SOLD Congrats to Michelle Mann (MN)

2010 #1 Jumper Filly in North America
2010 First Premium Foal
High Point Keuring Jumper Foal

SOLD Congrats to Michelle Mann (MN)


<Click here for Details>


Gercordia MG (Farrington x Marlon x Acord II) Chestnut KWPN filly born April 20, 2011

A super athlete and what a sweet personality.
2013 Ten Broeck Breed Show I 2nd Place, 2 year old Fillies
2012 Ten Broeck Breed Show II 1st Place Yearling Fillies
2012 USDF KWPN #4 Horse of the Year 74.1%

SOLD Congrats to Caroline Robbins (VT)


<Click here for Details>


Iceman MG (Crexpo x Marlon x Accord II)
Bay KWPN colt born May 4, 2013


Carbery Fields Farm Breed Show I, 2 year old champion, Colt champion, Young Horse Champion, Grand Champion of the show.

1st Premium KWPN-NA Keuring 1st Place Jumper Foal

SOLD Congrats to Emily Larson (CT)


<Click here for Details>
Keurcordia MG (Everglade VDL x Marlon x Accord II)
Bay KWPN filly born July 19, 2015


First Premium, High Score Young Jumper KWPN-NA Keuring





SOLD Congrats to Sarah Pojanowski (IN)