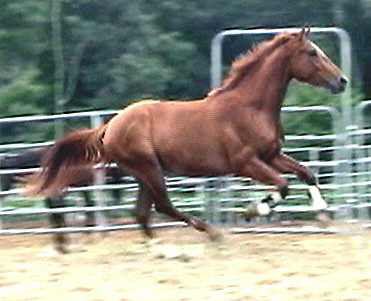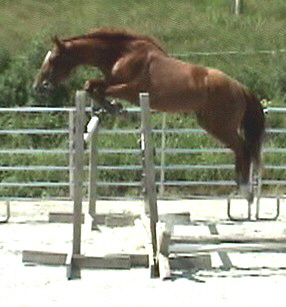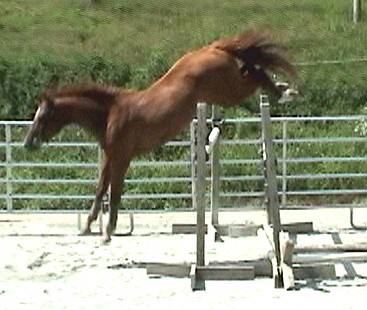 Unix will free jump anything. He loves to jump! His favorite is speed and doing stop and turn on the haunches in one spot. He has done that since he was a foal at play.
We see him winning at the speed classes. He will be handy and a jumping sensation.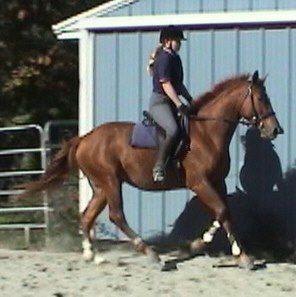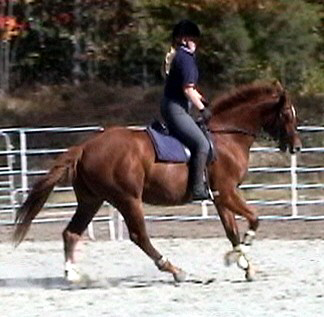 Unix is shown her cantering for his 4th time. Very easy and has taken the correct lead each time. Super compfortable to ride.
SOLD Congratulations to Suzanne & Sharon Hasemen (NH)
Unix (French Buffet x Accord II) This beautiful chestnut 2001 gelding has it all. Bloodlines for Grand Prix jumping and movement to go with it. His sire French Buffet was brought to Holland from Chile after a very successful Grand Prix jumping career as an improvement sire. His KEUR dam Larinette competed in Z (4'3") jumping in Holland before imported to our farm. Unix has a super temperament and learns fast. He is a pleasure to work with. He has 3 strong gaits, shows good power behind and agility. Whether you want the jumper or the dressage ring, Unix will take you where you want to go. Super easy to work with, cross ties, trailers, etc. Going nicely under saddle with lead changes and started over cross rails. Really easy to work with and likes to work. We can see him Grand Prix jumping or combined training. 16-0 hands, will likely grow a bit more. He has lots of body and takes up a leg well. Colleen is 5'7" shown riding in the pictures.