Valanta at Brookside Breed Show 2012

Valanta at NEDA Fall Show 2010. 1st Place Mares 79.1% Photo by Carole MacDonald.

2010 Ten Broeck Farm Breed Show Mare Champion, Show Reserve Champion 80.1%
Photo by Carole MacDonald

Valanta at the Foal Expo August 8, 2010 Photo by Carole MacDonald


Valanta at home after she was imported Februay 2010 and foaling Falanta MG




Valanta KEUR ELITE
(Goodtimes x Houston x Kodario)
2002 Bay Dutch Imported Mare
17-0 Hands
This is a fabulous very sweet mare with impeccable quality powerful fancy gaits and throwing it to her offspring too.Her oldest filly in Holland is invited to the mare show in 2010 and was champion of her provincial keuring and receiving her provisional keur. Top honors for any mare to get and super for a mares offspring to get this too. In 2012 her daughter Dalanta MG received her Keur predicate and received the KWPN-NA Gert van der Veen award for top mare in the country. Her daughter Falanta MG went to her first show and was champion with high scores in the 80%'s and qualified for the championships. From the famous Yranta mother line. see below for more details and pictures.


2010 Ten Broeck Breed Show Mare Champion
2010 NEDA Fall Show 1st Place Mares 79.1%
2012 Brookside Breed Show 1st place broodmares, Champion Mare, Champion Mature Horse,Reserve Champion of the show Brookside Breed Show II.
2012 USDF NEDA Fall Show #1 Bred Mare
2012 USDF Series Final Mare #3
2012 USDF Bred Mare #4 HOY National 77.7%
2012 USDF KWPN-NA #2 HOY

Valanta is in foal to Schroeder (Sandro Hit x Escudo I) due April 30, 2013! Full sibling to Champion foal --> Galileo MG and and first premium foal Hifive MG. Both SOLD. Awesome cross! Here's your chance to reserve the next one...

Presale of the 2013 Schroeder x Goodtimes foal for $9,000.






Valanta comes from the super producing YRANTA mareline #24. The fabulous Grand Prix jumping mare VDL Oranta ridden by Chris Kappler comes from this line. This line produced the approved KWPN stallions Interpol (Marco Polo), Plutus (Marco Polo), Warrant (Numero Uno), Renville KEUR (Courville xx), Adios (Legaat), NWP approved Spartaan (Sinaeda), Staalmeester (Sinaeda), AES approved Nashua (Iroko), ZfdP approved Birght's Eye (Bright Speed), licensed Warmblood Studbook of Ireland Boytoy (Ekstein), Elite Irish Sporthorse Approved Renkum Englishman (Arturo), Approved Irish Sporthorse Ringfort Cruise (Cruising). Valanta received at the keuring 77 for conformation and 80 for movement IBOP: Walk 7.5 Trot 7 Galop 8.5 Suppleness 7.5 Balance 8 Overall 7.5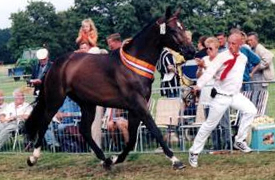 Valanta's dam is Nalanta Keur Elite Sporthorse (Dressage) (Houston x Kodario
Nalanta Keur Elite Sporthorse (Dr) (Houston x Kodario)
On the sire side she has the fabulous all around producer Goodtimes who is known for putting on super movers with powerful hind quarters. We also get to add the blood to our breeding program of the Keur stallion Houston. We are very excited to have this new Keur Elite mare join our breeding program. She will have her Johnson foal in Holland and be bred to the new VDL stallion For Ramadour by Furst Heinrich and then later in 2008 imported home.
Valanta received at the keuring 77 for conformation and 80 for movement
IBOP: Walk 7.5 Trot 7 Galop 8.5 Suppleness 7.5 Balance 8 Overall 7.5