Walburga LAN
(Indoctro - Worldstreek - Willow Cratic xx - Courville)
Chestnut Filly Imported from Holland born July 9, 2003
Walburga is by the highly sought ofter jumper Keur stallion Indoctro. Indoctro produces the most amount of offspring you see competing in sport in Holland. They have super characters, love to jump and very nice types with super movement. Already you can see Walburga is carrying herself uphill. She has a beautiful fluid trot with lots of good reach in the shoulder and power behind. She gets lots of air time! Her canter is powerful with lots of jump. Her character is just as sweet. Indoctro is one of my favorites and people love them for both jumping and dressage. Walburga's motherline is also highly superior. That is always important in a good breeding filly to see 3 long and strong motherlines. Her dam and granddam are both ster showing they are of top quality in conformation and movement. Her grand dam has already earned the prestigous and highest award for a mare by the KWPN of Prestatie showing she produced at least 3 offspring that have gone to at least M2(4' jumping, 3rd level dressage) with at least 2 points (clear rounds or above 60%). If you've been thinking about Indoctro, here is a chance for a super filly to add to your breeding program or a high performance mare for jumping or dressage. $15,000.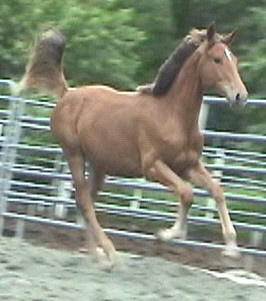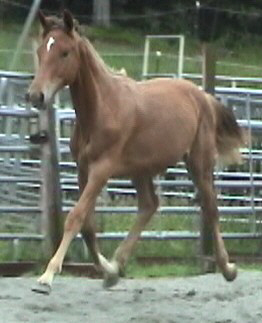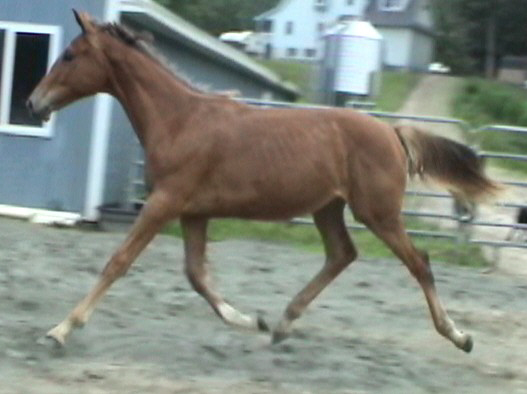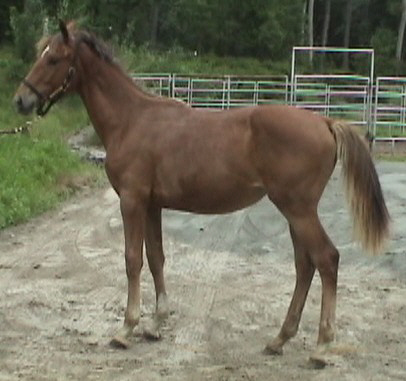 Indoctro
KEUR
16-2.5

Capitol I

Vapitano

v. Corporal
m. Retina

Folia

v. Maximus
m.Vase (Holsteiner)

Vanessa VII

Caletto II

v. Cor de La Bryere
m. Deka (Holsteiner)

Orgesch (Holsteiner)

v. Calypso I (Holsteiner)
m. Iris (Holsteiner)

Garina
STER
16-1

Woldstreek
16-2.5

Le Val Blanc xx

V. Val de Loir xx
m. White Beam xx

Pamela
STER

v. Komeet
m. Louwerdine STER

Warina
STER PREF PREST
16.0.5

Willow Cratic xx

V. Democratic xx
M. Gertimurfi xx

Sarina
KEUR PREF

V. Courville PREF
M. Odula