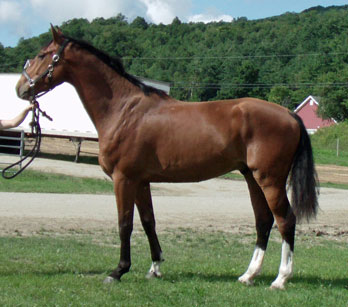 Washington: 2003 Bay Gelding by Orame (Indoctro) out of a keur mare by Olympic Animo. Washington's sire Orame is a fabulous Grand Prix jumper by the famous Indoctro. This is a super horse with 3 big comfortable gaits to ride. He is 17-1 hands. We have allowed Washington the extra time to grow. He has had very good ground training and proved himself for dressage talent at the 2008 NEDA Fall show with scores of 8's for his gaits. He does his flying changes and has a wonderful jump with lots of talent for those jumps! He is sweet to work with on the ground and easy to trailer, clip, bathe, etc. Very talented as an all around horse. Clean xrays available from 2005.
Nov 3, 2009 Free jumping video
Washington covers grounds with a big jump in his canter and a really strong hind leg for good carrying power for those jumps or dressage! A very multi-talented horse with strengths for the upper levels.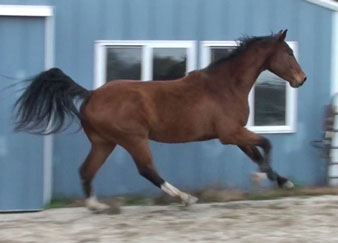 Washington LOVES to jump! He is naturally scopy with good technique with power and quickness for the big jumps. You point him at the jump and he is going over!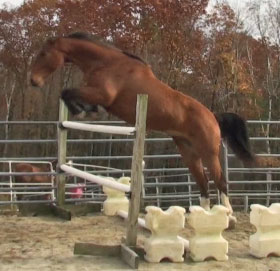 Washington's form is always nice and very scopy.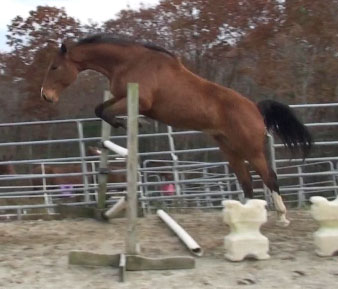 Washington is incredibly athletic and supple. His trot is very fancy for dressage riding. Not getting less than 8's on those gaits!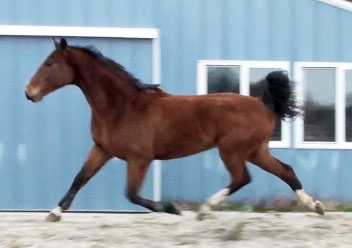 Watch Washington and Makenzi Wendel riding in the Joe Forest Gymnastic Jumping Clinic (5-12-09) This is only the 3rd time Makenzi has jumped Washington and has been riding him for only a few weeks.

Watch Washington and Gretchen Anderson jumping at the 2009 Atlanta Spring Jumper Show for a Blue Ribbon!

2008 NEDA FALL SHOW NEWS
Lou Denizard took Washington for training for a month and then off they went to their first dressage show. Colleen O'Connor-Dzik put a good start on him too, but easy to go to a new rider. You would of thought, they rode together for a long time. He hopped right on and walked around the entire show grounds and he was easy. He looked around and just took it all in and then went to work. His first class was a little tense, but his last class he loosened up to come in 5th with a 68.696% Didn't help that Zem was there to beat him in the class. But he had also 8's for his gaits, 20 m circle, medium walk (said it was soft), 20m canter circle (good ground cover) and working trot.
Watch his ride at his first show below:

Linda Ross, Atlanta Georgia is a co-owner of Washington with us.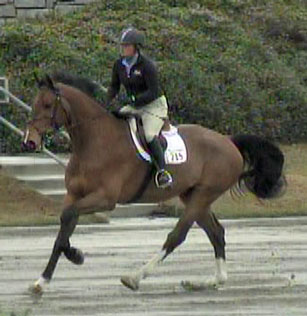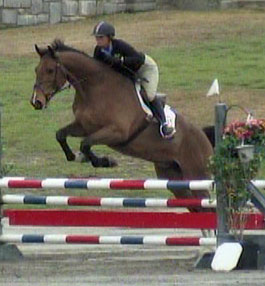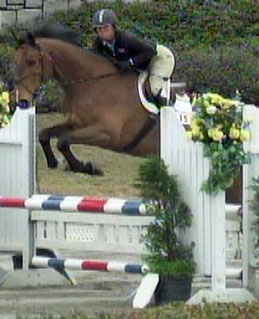 Check out his jumper training going on! Watch for him at the Atlanta Spring Class I & II schooling at March 18-22 & 25-29, 2009 at the Georgia International Horse Park.

August 19, 2009...Schooling dressage canter work at home with Makenzi Wendel.

Schooling walk and trot work at home with Makenzi Wendel

68.5% 4th place at his first dressage show with 8's on his gaits with rider Lou Denizard!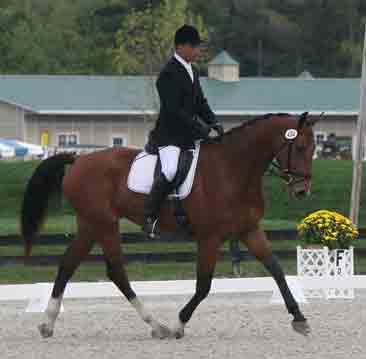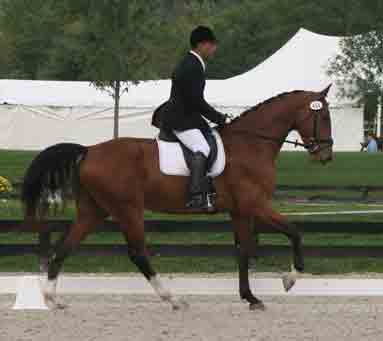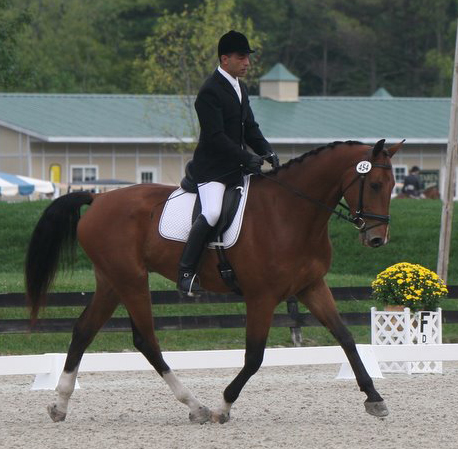 Washington is a very good boy. Very easy ground manners, trailering, clipping, etc. Lots of fun.


woohoo! Lots of airtime. Powerful fancy gaits, very athletic with good suppleness for maneuvering through the tight jumps or doing those difficult dressage movements.