Diane & Wefidence Clean up at 1st Level and Breed Shows (Photo by Carole MacDonald)

Diane and Wefidence (Pictures by Carole MacDonald)



Photos by Carole MacDonald


SOLD
Photo by Carole MacDonald

Congrats to Diane Holston (MA) on her purchase of Wefidence!

Wefidence
(Flemmingh - Beaujolais - Nimmerdor - Courville)
Chestnut Mare Imported from Holland born May 18, 2003
Chestnut, 16-2

This mare has the best character you can find. With very little training, we can put beginners on her and she is our tease mare for the stallions for collecting as she will stand for anything. Her first time out, our intern Taylor Driscoll took her to the Handling clinic at Pineland Farm in Maine. She was so easy. A true Flemmingh character and worth her weight in gold!
3/4 Sister to Anky van Grusven's Krack C! This is an incredible motherline. Her dam Hefidence was invited to the national mare show that is only for the most elite and top mares in Holland and quite an honor and dinstinction. Her granddam, Confidence not only has her sport predicate in jumping but she was 6 times invited to the national mare show. And her great grand dam Riante was invited 2 times to the national mare show and her dam Nicole produced 3 dressage horses, 2 that went to Z2 (4th level) and one at Prix St. George. All of these mares that are Keur have produced at least 3 offspring that have gone to at least M2(4' jumping, 3rd level dressage) with at least 2 points (clear rounds or above 60%). Also from this mareline comes the approved stallens Accent by Legaat and Gloriant by Oregon. The international jumpers Fatal Attraction by Nimmerdor and Washington by Nimmerdor also come from this mareline. Washington is now in the USA. Easy and anxious to please with super gaits.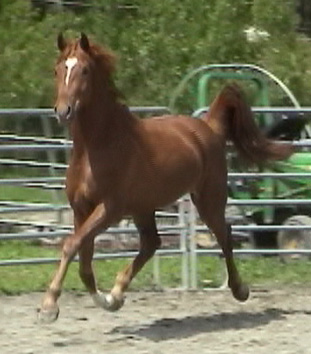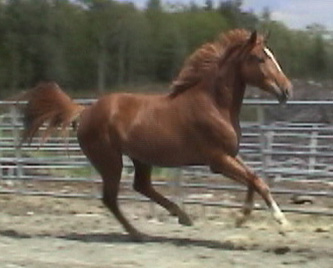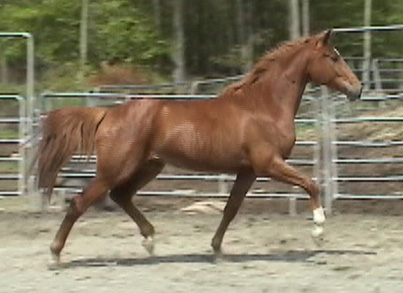 Flemmingh
KEUR
16-3.5

Lacapo (Holst)

Landgraf I (Holst)

v. Ladykiller (Holst)
m. Warthburg (Holst)

Larsa (Holsteiner)

v. Capitano
m. Sarbit

Texas (Holst)
ST PR ST

Carneval (Holst)

v. Cor de La Bryere
m. Assa (Holst)

Ledusa

v. Lorenz
m. Edusa

Hefidence
KEUR PREF
16-2.5

Beaujolais
16-1

Lucky Boy xx
PREFERENT

v. Compromise xx
m. Sejane xx

Venice
KEUR

v. Lorenz
m. Molga KEUR PREF PREST

Confidence
KEUR PREF SPORT (Jumping)
16-2

Nimmerdor
KEUR PREFERENT
Stallion of the Century 16-2.5

v. Farn PREFERENT
m. Ramonaa STER

Riante
KEUR PREF PREST

v. Courville PREF
m. Nicole KEUR PREF PREST
Offspring of Wefidence
Confidence MG (Prestige x Flemmingh x Beaujolais) filly born 5-27-07. She is sweet and easy going like her Mom. This was a super cross.

Now owned by Gene Voss (TX) Going solid 2nd level in 2015 and working on those changes!