Eeyanette RGS at the 2014 KWPN-NA Keuring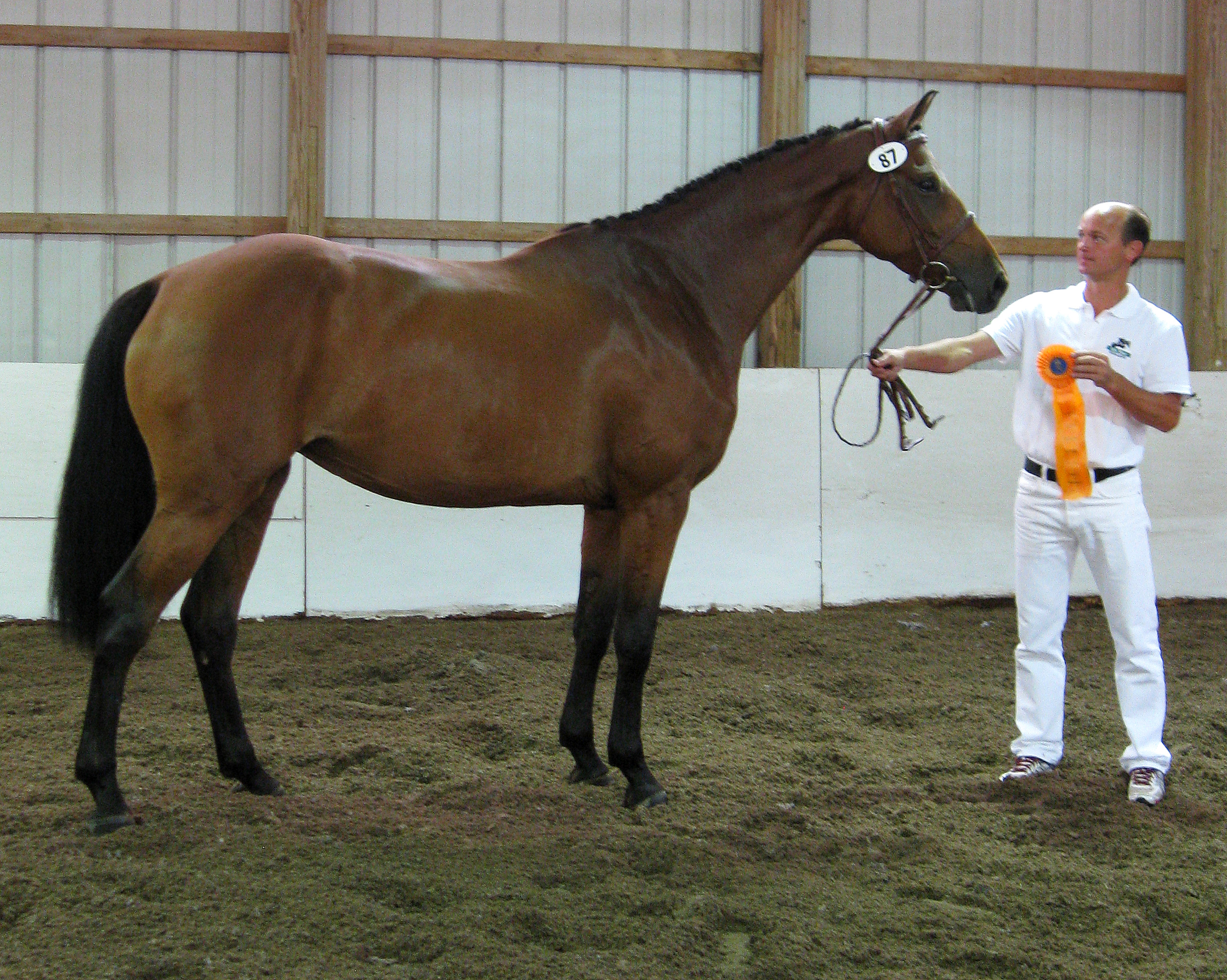 - Received prestigous Gert van de Veen award!!!
- 2014 #1 KWPN Top 5 Mare, Star and Provisonal Keur Clarion Farm Keuring
- 2009 First Premium First in Class at the KWPN-NA Keuring at Apple Lane Farm.
- Site Champion High Score Jumper.
- #2 (Top 5) KWPN-NA Jumper foal in the Nation!!!
Eeynette RGS (Veron - Accord II - Ahorn) Keur Provisional KEUR fantastic mare born April 12, 2009 bred by Terry and Jayshree Schrubb. We imported Eeyanette RGS's dam Larinette Keur. We later sold her to Terry and Jayschree with the option to buy the first filly. We picked Veron for Larinette. And Voila, look what we got!
Eeyanette RGS' dam Larinette Keur is also recently deceased. Larinette had competed up to Z level jumping and was just 1 point away from her jumping predicate. She was a beautiful moving chestnut mare. When I first saw her run free in Holland, her movement caught my eye. But when I saw her under saddle, she proved that she was perfect. She had super movement for dressage and also a very good jumper with very nice jumping breeding. Larinette has a solid motherline of Keur, preferant and prestatie mares. Larinette's dam Firette by Ahorn was the champion of Brussell in 1990 for all of Europe. This is the same motherline as the approved KWPN stallions Matterhorn and Amethist. Larinette's sire is the famous Accord II, who won his performance test in 1991, scoring 9.5 to 10 for showjumping, and 9 to 9.67 for rideability. His overall score was 146.04 scoring 138.26 in dressage and 148.47 in jumping. Acord II was the reserve champion of the 1992 Bundeschampionate in Verden. Acord II's dam is Ribecka, who was a champion mare in Holstein. Acord II full brothers Acord I was an international show jumper in Holland before being sold to the USA. Acord III was the champion stallion in Brazil. Acord II has already produced over 40 approved sons including the famous VDL Atlantic (sorry no frozen semen available). Atlantic continues to win as a Grand Prix jumper in Holland. This is a fabulous producing mother line and we are happy to have Eeyanette to continue it at Majestic Gaits.
Eeyanette's sire Veron is now deceased in a tragic accident. He was a beautiful, luxurious stallion with a lot of expression and a very nice head. He had done a good KWPN stallion test and he has proven that he is an honest and reliable stallion to work with. He received an 8 for scope and a breeding index of 155.
Sire of Veron is the Swedish stallion Quite Easy, who is jumping at international level, and Grand sire is the famous Quidam de Revel. His dam, the 'Keur' mare Rinderella, has done an excellent mare test and her first 2 foals are both approved stallions. Rinderella's sire is Caretino, who has already produced a lot of horses who jump at international level, like Calandro and Caresino. The dam line has produced several approved stallions and S-jumpers. The full brother of Veron, Quinta Real is approved in 2005 for the Westfalen Studbook.
Eeyanette is bred for the best in both the sire and motherline!