Fraucordia MG #1 Jumper KWPN filly in the nation! Photos by Unbridled Photography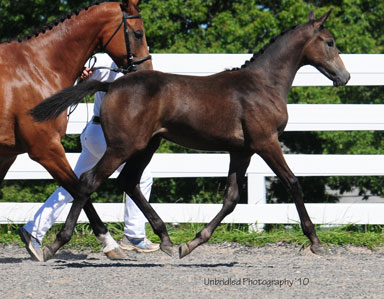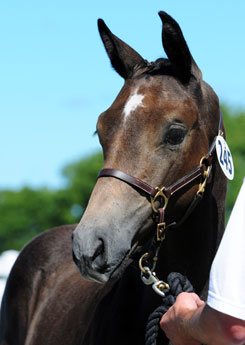 Fraucordia MG at the KWPN Keuring 1st Premium, 1st Place, High Point young jumper!

At the Foal Expo August 8, 2010, Photos by Carole MacDonald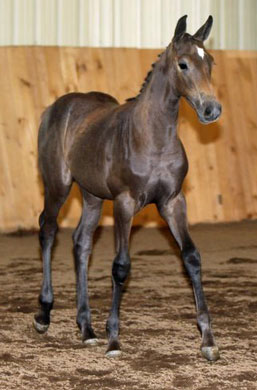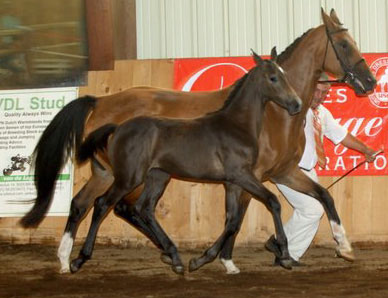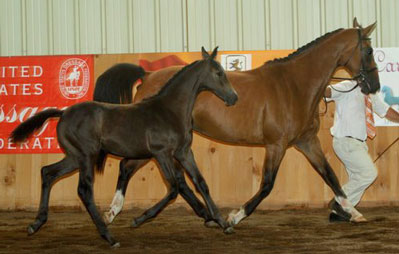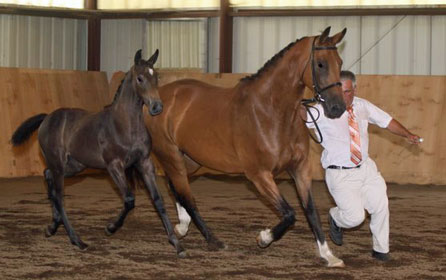 Video of Fraucordia MG at the Foal Expo August 8, 2010

6-5-2010 at almost 1 month old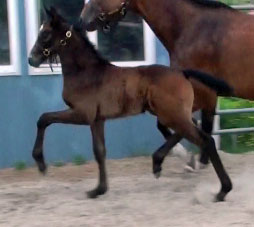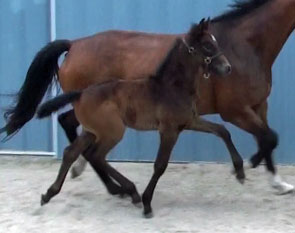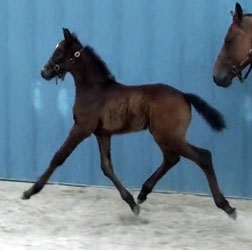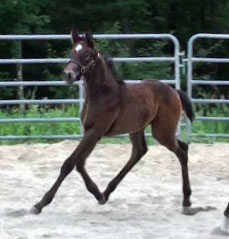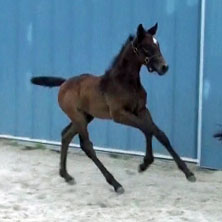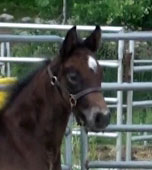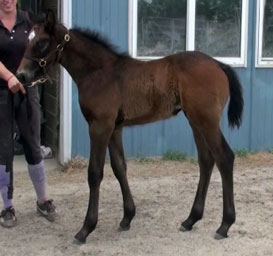 6-5-2010 at almost 1 month old

Here at 4 days old...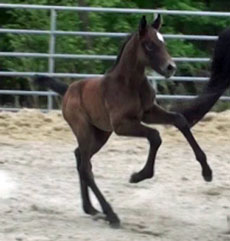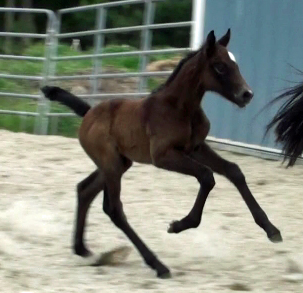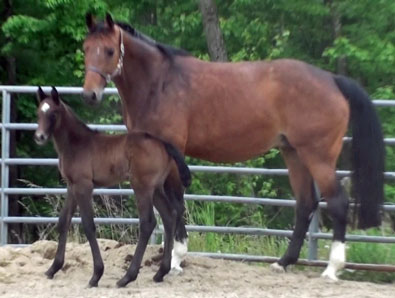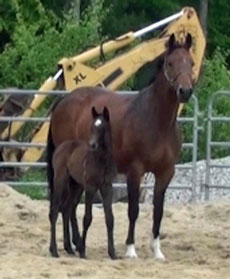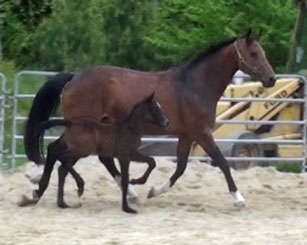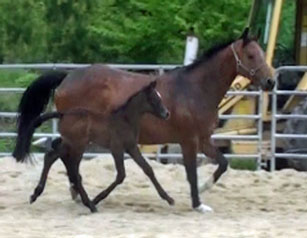 Fraucordia at 4 days old

SOLD Congrats to Michelle Mann (MN)
Fraucordia MG (Campbell x Marlon x Acord II)
2010 KWPN Dutch Warmblood Filly Born May 8 by Campbell VDL (no frozen available at this time) out of our imported KEUR ELITE mare Tercordia. This filly is a rare find here in America. She is from bloodlines that are not available for frozen semen, Campbell, Marlon and Accord II and all world class jumpers!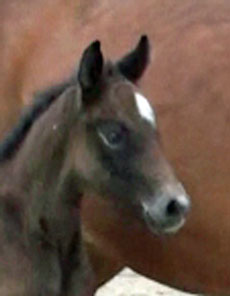 This gorgeous filly shows all the talents, famous motherline and breeding of her pedigree for a top jumper! Her canter is big with a strong hind leg. She has spunk and energy that you want to see in a Grand Prix jumper. She is an incredible mover with the really fancy trot of her mother. This filly has that "look at me"! And you do like look at her as she is very athletic. And pretty too!
Her sire Campbell VDL is a young approved KWPN stallion with top Holsteiner pedigree.

Campbell is a typical Holsteiner stallion with height, length, an impressive front and expression. He jumps with a lot of scope and is very careful. Campbell is a product of the golden combination Cassini I x Caretino (sire of Carpaccio). Sire Cassini I is one of the best Sporthorse producers for example: Cumano and Berlin. Cassini I jumped at the highest level with Franke Sloothaak. Grandsire of Campbell is the all rounder Carpaccio, who is known as sire to a lot of good sport horses and especially as the sire of excellent broodmares. The combination Cassini I and Carpaccio also make sure that we find the genes of Caletto II twice in Campbell's pedigree.
Then we see the stallions Landlord and Wahnfried, who both have produced several good jumpers and are in the dam line of several International jumpers and approved stallions. Campbell descends from the small but strong Holsteiner line 5964, the stallions Caretello and Caribo also come from this line and as well as known sporthorses Carossa, Lambada, Kora and Chester. Campbell is approved by studbook Zangersheide and the KWPN. In both jury reports he is described as a stallion with lots of scope. In the stallion competition Campbell performed well with sustainability and at every competition round he jumped with great ease.
Campbell's first foals look great. He produces nice foals with a lot of front end and with a good canter. They are striking during foal shows. His sons Enzo V and Edison became provincial Champion and Electron became Champion of the Young Foal Show in Tolbert. In the final of the Dutch Foal Championship Electron placed 7th. Fraucordia looks like she is following in Cambell's offspring footsteps!
Fraucordia MG comes from the Holsteiner Stam 1907, Many Holsteiner approved stallions come from this line including; Landmeister, Consul (Cottage Son xx), Corso (Calypso II), Davis (Deadly Nightsahde xx), Antimon (Anilin), Cascaron (Contender), Capitol (Cor de la Bryere), Fiorello (Farnese), Cunningham (Cassini I), Windsor I and Windsor II, Cosmas (Condus) and many many more. Also, this line produced the approved Oldenburg Stallion Sandro King and the approved Dutch and Holsteiner stallion Colino who received a 10 for course jumping and the approved Holsteiner stallion Fiorello. Also coming from this motherline is the approved Westfalen stallions Lord Farm and Lord Orion. The list goes on! Her dam Tercordia is an imported Keur Elite mare who also produced our Keur mare in Holland Acordia who was high score jumping at her mare test.
Fruacordia is a very special filly, with a world class motherline and she shows the movement and talent for a top bred jumper!