Tamora
(Flemmingh - Ahorn - Creool)
Keur Bay mare imported from Holland
16-3
At her mare test she receive Walk 8.5 Trot 8.5 and Canter 7.

Shown here 2 weeks before she gave foal to a beautiful bay Goodtimes Filly (3-14-07)

Sadly Tamora aborted in 2010. We are dealing with a MRSA infections. So we are doing ICSI with her.

We have a confirmed 11 day pregnancy with a recipient with Hennessy (De Niro x Jazz)

ICSI Foal (Hennessy x Flemmingh x Ahorn) due September 11, 2017.

Residing in MI. We are thrilled we are having this foal and hoping for our keeper filly.



Tamora is a Keur mare in Holland who comes from a super producing motherline of sporthorses. We saw in Holland an Indorado mare out of the Jamora by Creool jumping at 1.20m and just a fantastic horse. Also, a Matterhorn son out of the Creool mare was a fantastic mover and jumper. From the motherline also comes the sons approved for the 70 day stallion test A by Sebastiaan, Setanta by Ahorn (8th in the stallion show 2002) and Camelot 2nd round stallion by Sebastiaan. This line produces big movers that are very athletic in sport, which is important for our breeding program at Majestic Gaits. We selected Tamora to be the first mare to be bred to our new Hanoverian licensed stallion Schroeder (Sandro Hit x Excudo I).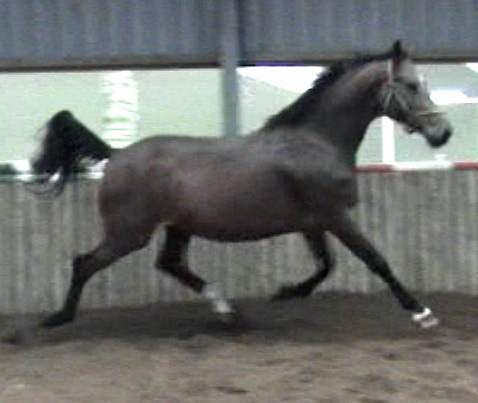 Flemmingh
PREFERENT
16-3.5
Jumped 1.3m

Lacapo (Holst)

Landgraf I (Holst)

v. Ladykiller (Holst)
m. Warthburg (Holst)

Larsa (Holsteiner)

v. Capitano
m. Sarbit

Texas (Holst)
ST PR ST

Carneval (Holst)

v. Cor de La Bryere
m. Assa (Holst)

Ledusa

v. Lorenz
m. Edusa

Namora
KEUR

Ahorn
PREFERENT
Jumped 1.6m

Nimmerdor
PREFERENT
Stallion of the Century

v. Farn PREFERENT
m. Ramonaa STER

M. Hyazinthe
KEUR PREF PREST

v. Ladykiller xx
m. Alpenblume

Jamora
KEUR PREF PREST

Creool

v. Akteur
m. Twiggy KEUR PREF

Famora
STER

v. Zeno
m. Bamora
Tamora Offspring
Zamora - Bay Filly by Negro born 3-22-2004 in Holland.
Amora - Bay Filly by Houston born 3-13-2005 in Holland
Bamora - Bay Filly by Goodtimes born 3-19-2005 in Holland. First Premium foal, 2nd place at the Overijssel Central Keuring and invited to Ermelo.

Charmora MG - 2007 Mare by Goodtimes born 3-13-07 in Holland.

SADLY DECEASED FROM COLIC


Demimora MG - 2008 Filly by Schroeder born 3-30-08


2008 1st Premium KWPN Keuring #2 in Class #12 in the nation out of 63 dressage foals.

2009 2nd place Yearlings Ten Broeck Breed Show 2009

#2 KWPN USDF Yearling Filly Horse of the Year 2009

2012 Champion Under Saddle Ten Broeck Breed Show.



Emora MG - 2009 Mare by Farrington Keur born April 7, 2009 Very proven cross Farrington - Flemmingh, both FEI dressage producers and a top motherline. This filly moves uphill, big gaits.

SOLD:Now owned by Rebecca Galovich

FIRST PREMIUM 2009 KWPN Keuring