SOLD Congrats to Ashley LaMonica (NY)
Zakarla MG (Navarone x Telstar x Joost)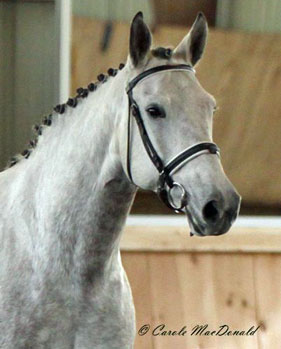 2004, 15-3 Grey Mare from the famous Karla line
Zakarla is training under saddle with Makenzi Wendel. Her sire and dam have produced Grand Prix Jumpers and she comes from the famous Karla line in Holland that also has produced top horses in sport! She already shows fantastic jumping talent during free jumping with nice tuck of the knees, good takeoff, scope and use of her whole body. At the Young Breeders clinic with Britta Johnson from Germany, they gave her a 9 for jumping.
Zakarla's sire Navarone (Olympic Jus de Pomme x Armstrong) has proven himself in Grand Prix Dressage and also jumped to 4'6" and back into jumping again. His oldest offspring are winning internationally in Grand Prix jumping and Eventing. A truly all around talented sire who throws the best temperament you can get! Super jumpers and Zakarla is no exception.
Zakarla dam Amarens Ster (Telstar x Joost) has produced Grand Prix jumpers. She comes from the famous Karla mare line in Holland that has produced many top international horses, approved stallions and top mares. Amarens was bred by Bauke Lodewijks who was a protege for Weipke van de Lageweg of the famous VDL Stud in Holland. Amarens dam Oecarla is a full sister to the mare Picarla "keur prest" and Oecarla is also Keur Preferent Prestatie. Oecarla is the highest rating a dam can have. Picarla produced the the mare Acarla, Acarla is the dam to Mr. Blue. From Amarens famous mother line comes the stallions Mr. Blue, Nubuur and Transvaal. We also find the "pref" stallion JOOST who has left behind a huge number of jumping talents like, VIP, Ommen, Attent Zb, Satchmo and Jonggor II.
Zakarla had her fantast first foal Dillon MG (Tenerife) who has been sold to dressage rider Rhonda Piper (MA). Dillon has always been a favorite at the farm and so sweet to work with. She produces super foals. Zakarla has had limited time under saddle, but getting more now and looks to be a top hunter/jumper.
November 7, 2010 Free Jumping

June 2010 free jumping...