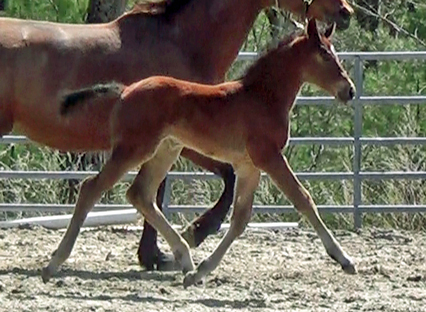 2014 1st Place Colt Carbery Fields Sporthorse Show I
2014 2nd Place Colt Carbery Fields Sporthorse Show II
2014 2nd Place Colt Broadfields 121 Dressage Sporthore Horse Show I
2014 2nd Place Colt Broadfields 121 Dressage Sporthorse Show II
SOLD Congrats to Cara Kettenbach/Broadfields 121

Jumanji MG (Schroeder x Farrington x Goodtimes)

Fantastic full sibling to Frauloma MG who was a first premium high point filly
Jumanji MG's sire is the popular FEI Dressage stallion Schroeder (Sandro Hit x Escudo I) who has progressively moving up the ranks. Currently competing at FEI Intermediare I and schoold GP movements, he has qualified for Regional Championships in 2015.. 2014 he was 4th level regional champion and 2014 in his first shows PSG 1st place and Intermediare I 2nd place. Schroeder was #1 Champion USDF Hanoverian Stallion Horse of the Year. Schroeder comes from both the World Champions Sandro Hit and Escudo I.

Jumanji MG's dam Uloma MG (Farrington x Goodtimes x Dreamstreet) was named the #1 Keur Elite mare in the nation at the KWPN-NA keurings. She also received her sport predicate in dressage and is easy to ride and show! She has many sport and breed show championships along with 2015 Champion non Hanoverian mare. An amazing mare with an amazing bloodline.
From this motherline comes the approved KWPN stallions Furore (Ahorn), Hattrick (Ahorn), Tenerife VDL (Raphael), Whister (Holland), Simon Bolivar, Troostwyk, Tristan, Bourbon, Mural, Hallreck, Graaf and Kigali (Wolfgang). Also from this line approved stallions AES: Neapolitan (Lucky Boy xx), Westfalen Al Dente (Aldato), CH: Grandriver (Ahorn) , NRPS/AES Rodrigo (Indorado), NRPS/AES Quasimodo Z (Quidam de Revel), Zangersheide J.Liberato and Liberato II Z (Libero H), Swedish Jeopardy (Edison), Zangersheide Omen (Carthago), AES Voyeur (Tolan van T Riethof), KWPN-NA Jaguar (Nimmerdor), and SBS Osto M (Narcos II), This mareline is known all over the world.