Uloma MG
(Farrington Keur x Goodtimes)
2001 Blood Bay Keur Elite Sport (Dressage) Dutch Warmblood Mare 16-2
2015 Champion non Hanoverian mare UMASS Hanoverian Inspection
2013 UNH Dressage Show 1st Level 69.5% 1st and 2nd, rider Taylor Driscoll
2012 USDF #3 HOY Bred Mare nationally 77.85%
2012 NEDA Fall Breed Show Regional Champions #4
2012 NEDA Fall Mare Reserve Champion
2012 Brookside Breed Show II Reserve Champion Mare
2012 Brookside Breed Show 1 Champion Mare
2007 Keur KWPN-NA Keuring, MA, High Point Mature Dressage Horse
2007 #1 Keur Elite Mare KWPN-NA in the nation.
2007 1st and 2nd places at several shows at 3rd level. Earned Sport Predicate, no score under 60%
2006 Beland Schooling Show 2nd Level, 65%, 2nd Place
2006 CDA Spring Show FEI 5 Year Old, 2nd Place 73% Qualifies for National championships in KY
2005 Winner DG Bar Cup KWPN Keuring, RI
2001 First Premium KWPN-NA Keuring 2001 NEDA Reserve Champion, Qualified for Region Championships in Devon


Hennessy (Deniro - Jazz)

Plan to breed to Hennessey in 2016 (De Niro - Jazz)

We love the De Niro bloodline with this mare and we know Jazz goes very well with Farrington bloodines.
Uloma MG at the breed show!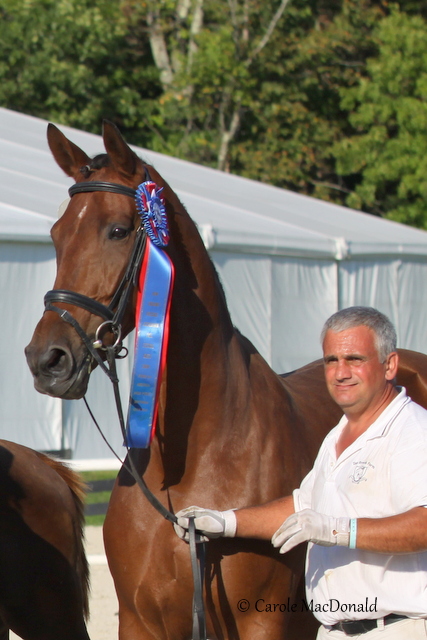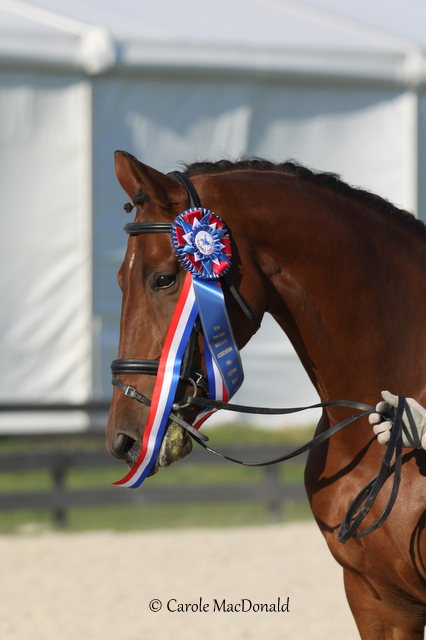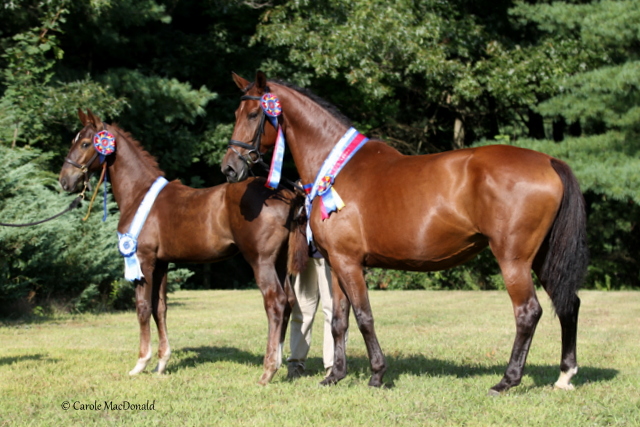 Photos my Carole MacDonald
Uloma MG and Handler Phil Silva at the Bear Spot Foundation Freestyle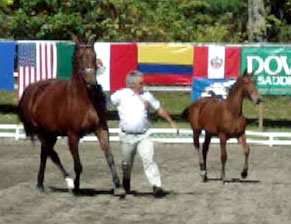 Uloma MG : This is a strong, beautiful moving mare with 3 correct gaits. She carries herself very well with lots of power behind. At the KWPN-NA keuring inspection as a foal she was awarded 1st premium and said to be very strong behind, which is hard to find in a dressage bred horse. She then went on to be the #1 Keur Elite mare in the nation in 2007 and received her Sport predicate in Dressage from the KWPN. Her dam Miloma is an imported KEUR ELITE mare who earned her Keur in Performance at M level (3rd Level) dressage. Uloma is very interested in performing and loves people.
Uloma MG continues the famous LOMA lines that has produce stallions in Holland. From this motherline comes the approved KWPN stallions Furore (Ahorn), Hattrick (Ahorn), Tenerife VDL (Raphael), Whister (Holland), Simon Bolivar, Troostwyk, Tristan, Bourbon, Mural, Hallreck, Graaf and Kigali (Wolfgang). Also from this line approved stallions AES: Neapolitan (Lucky Boy xx), Westfalen Al Dente (Aldato), CH: Grandriver (Ahorn) , NRPS/AES Rodrigo (Indorado), NRPS/AES Quasimodo Z (Quidam de Revel), Zangersheide J.Liberato and Liberato II Z (Libero H), Swedish Jeopardy (Edison), Zangersheide Omen (Carthago), AES Voyeur (Tolan van T Riethof), KWPN-NA Jaguar (Nimmerdor), and SBS Osto M (Narcos II), This mareline is known all over the world.


Foals by Uloma
Anandi MG - 2005 Colt by Flemmingh Preferent (Lacapo x Carnaval)

SOLD Congrats to Gayle Ford (CO)

Frauloma MG - 2010 Filly by Schroeder (Sandro Hit x Escudo I) Born April 29.
SOLD Congratulations to Betsy Moeller-Sallie (MA)

2011: Reserve Champion USDF HOY!!!!
2011: 1st Place Yearling Filly, Highest score of the show 84.6%, High score KWPN and Qualified for series championships.
2010: SITE Champion High Score KWPN Dressage Filly 2010 KWPN Dutch Warmblood Keuring! 1st Premium, 1st in Class!!!!

Gigiloma MG - 2011 filly by Uphill (Oscar x Appollonios xx)
SOLD Congrats to Nicole Navinsky (TX)

2011 First Premium Dressage Foal KWPN-NA Keuring
2011 1st Place Dressage Foal of the KWPN-NA Keuring!
2012 1st Place Yearling Fillies 78.6%
2012 Reserve Champion USDF Filly Championship Dressage at the Palace IV
2013 2nd Place 2 year olds CTDS Bluebonnet Classic I
2015 First Dressage Show 1st Place two times! Training Level.


Harpo MG- 2012 colt by Carlton Hill (Uphill x Vincent)
SOLD Congrats to Elizabeth Tarbell (CT)

2012 #1 USDF KWPN Foal Horse of the Year! #3 USDF Horse of the Year 78.1%
NEDA Fall Breed Show: Champion Colt 2012, Reserve Champion Foal Championships, Reserve Champion KWPN IBC.
1st Premium Dressage Foal KWPN-NA Keuring 2012


photo by Carole MacDonald

Jumanji MG- 2014 colt by Schroeder (Sandro Hit x Escudo I)
SOLD Congrats to Cara Kettenbach (MA)

2014 1st Place Colt Carbery Fields Sporthorse Show I
2014 2nd Place Colt Carbery Fields Sporthorse Show II
2014 2nd Place Colt Broadfields 121 Dressage Sporthore Horse Show I
2014 2nd Place Colt Broadfields 121 Dressage Sporthorse Show II

Sir Kaliber MG - 2015 colt by Schroeder (Sandro Hit x Escudo I) out of elite sport dressage mare Uloma MG

Sadly deceased.
Leonardo MG (George Clooney x Farrington x Goodtimes ) colt born May 17, 2016

Sold! Congrats to Liz Caron (CT)