Farm News 2000
Congratulations to Keersten Nichols of Ohio on her purchase of the imported now 2 year old filly Sijalda by Flemmingh. Sijalda and Keersten are looking forward to a new dressage and eventually breeding career. We wish them the best of luck!
Congratulations to Elaine McCann on her purchase of the weanling filly Tamara by Flemmingh. Tamara will grow up on Elaine's farm in Upton MA and looking forward to a dressage career and eventually breeding. 12/27/00
Congratulations to Joanna Speed of California on her purchase of the 4 year old gelding Orleans (Jazz x Kotell x Amor). Orleans will be imported in January. Look for Joanna and Oreleans at the dressage shows! 12/27/00
ARAM: We are pleased to announce that we will be standing the approved Dutch stallion Aram (Nimmerdor x Uppercut) at our farm for the 2001 breeding season. Aram is the sire of the 2000 Gold Medal Olympic Champion jumper De Sjiem and also many others also competing in upper level dressage. Details coming soon. 12/23/00
Nimmerdor
Preferent

Farn
Preferent

Fax I (Holsteiner)

Dorette (Holsteiner)

Ramonaa
Ster

Koridon xx

Friedhilde Preferent

Miranda
Ster Preferent

Uppercut XX
Preferent

Fighting Don XX

Thrilled XX

Delly
Ster

Parool

Relga D Ster
Hengstenkeuring (Stallion Show) Our next trip to Holland is for the annual Stallion Show or Hengstenkeuring Feb 1-3. We are arranging a tour of the major Holland horse places to visit to go along with it, reserving VIP tables and a reception with the KWPN the night before. Go to our Hengstenkeuring page for details. 12/22/00
Colorado I'll be in Colorado for the Equine Science courses Jan 4-11. If anyone is going to be there, I'd love to meet people. I used to live there a long time back, so it will be good to visit!
Article in the Warmblood Magazine: My article for buying & importing horses in Holland was a featured article published in The Warmblood Magazine. It is a great magazine. If you aren't getting it yet, go to www.warmbloodmagazine.com and check it out.
The December Holland sales tape is now available. This trip was focused on Dressage horses under saddle, but we also have some other dressage and jumping prospects. 12/11/00
Congratulations to Gail Harrington on her purchase of Rambo, a 2 year old Star Gelding (Flemmingh x Creool). Rambo will be imported from Holland and be Gail's next FEI Dressage prospect. Gail found Rambo on our recent buying trip in Holland. Contact us if you'd like to travel to Holland to find your next horse. 12/5/00
A New VDL Sales Video Arrived: It includes 14 horses from 1-14 years old. 11/29/00
The new 2001 Frozen Semen prices are here. New stallions being offered include Pacific, Aram & French Buffet xx. Click here for a complete list. 11/18/00
Equine Affaire was even better this year for us. It was great to see everyone who visited the booth. Thanks to everyone who helped with the booth. It was a lot of work, but we had a great time. 4 of the 5 weanlings arrived on Friday evening. They came right to Equine Affaire and were so good, they came to the display stall. 2 of the weanlings were sold during the show. Click here to see pictures of this great event. 11/18/00
Imported Weanlings Arriving at our farm 11/10/00. We have 5 more super quality weanlings arriving at our farm. Unfortunately not in time to go to Equine Affaire. But we plan to have video of them available to view at Equine Affaire. These foals are packed with top bloodlines and mare predicates. Prices starting at $9500 (10/31/00)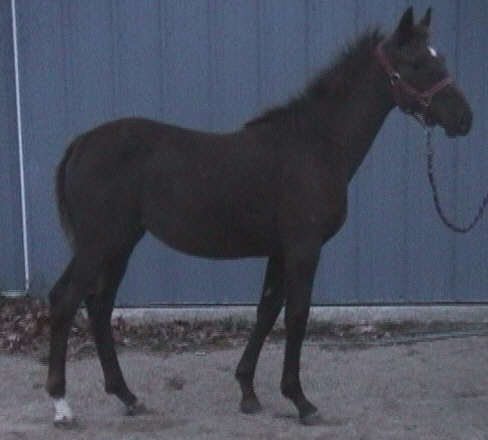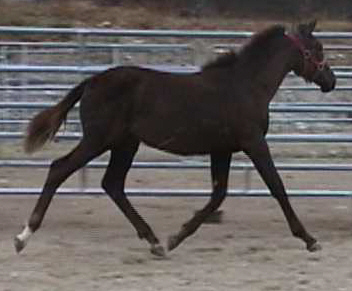 Better pictures coming soon...been very rainy & gloomy here with snow already!
Radiance is SOLD: Congratulations to Carole & Eric Waterhouse (PA) on their purchase of Radiance by Olympic Ferro. 10/31/00
Sander is SOLD: Congratulations to Kamel Mikhael in Canada on his purchase of the imported yearling stallion Sander by Great Pleasure. Sander will look forward to a promising jumping career in Canada. Only 1 imported yearling filly left by Flemmingh. See our sales page for details. 10/24/00
Imported Weanlings: We have already received a fabulous imported weanling filly by Wellington (Pictures coming soon) for sale. Wellington died this year in Holland. We expect 3 more weanlings, one of which is a colt (Goodtimes x Coriander). Email me if your interested in imported weanlings from Holland and make sure I put you on our email list so you get notified when we update the website with the news. 10/24/00
EQUINE AFFAIRE: We are very busy getting ready for Equine Affaire Nov 9-12 in Springfield, MA. Make sure you visit us in the Dutch Booth in the Breed Pavilion in booth B54 & B55. We will again have a stall this year in the breed booth with many dutch horses on display, most of them for sale. Our demonstration is on Friday in the Practicle Horsesman's large arena at 11:30, right after Anne Kursinski and right before John Lyons. Janko van de Lageweg from VDL Stud in Holland plans to be here to meet people and help with any breeding help you may need or purchasing desires of horses in Holland. If you have Dutch horses for sale or a breeding farm and are interested in participating, email me and check out the details on our Equine Affaire page. 10/24/00
Congratulations to Donja Vaughn on her purchase of 2 mares: Nimmerdor mare and a Kalusha mare all in foal and coming from Holland. Let us know if we can find you that special horse in Holland. Check out the details on our Horsefind link. Our fees are very reasonable and we help you every step of the way. We also have trips planned, so check out our schedule. Airfare can be as low as $198 from Boston round trip and we have lots of fun. 10/24/00
Stallion Latest News: The Farrington x Ferro stallion did not pass xrays, so we will not be purchasing him. We still have the Laroche x Cavalier stallion named Rasputin that will be going to the first round of stallion selections at the end of November. I'll be going back to Holland right after Equine Affaire and will look again for other prospects. 10/24/00
PRESALES: Both Presales are now spoken for pending signed contracts and deposits. 10/24/00
Star Mare Jenni Road by Grand Slam and Nala offered for sale: We are offering 2 very special mares for sale. Jenni has been the love of my life since the day she hit the ground. But she has come up with a grade 3 uterus and will be very difficult to breed. I can't afford to have around mares that are hard to breed. If she doesn't sell by breeding time next year, we will give it the college try again with fresh semen. Nala looks to be in good breeding health, but did not take this year. We are offering her again for sale until breeding season starts. See our sales page for further details. 9/22/00
Sancerre (by Goodtimes) is Sold: Congratulations to Evonne Rivers in Florida! Sancerre is going to start up a very special breeding farm. 9/22/00
Congratulations to Beth Dzaugis on her purchase of a 3 year old DeNiro mare and a yearling Ahorn filly. Beth is expanding and improving upon her breeding farm. We are pleased to be able to help her find the horses she needs in Holland. See our Horse Find page for details. 9/22/00
Another great trip to Holland and the Paardendagen: After being gone in Europe for 3.5 weeks, you can imagine there is some catching up to do when I got home. Miloma's breed shows have been sandwiching my trip and keeping me busy, but I've never had so much fun! I really enjoyed the Paardendagen (Horse Days) in Holland. It is such a great event for breeders to see what is crossing successfully. I got to see the IAN trophy (4,5 & 6 year old jumping) and PAVO Cup (4 & 5 year old) finals, along with the Queen 3 year old mare of Holland, and the top foal of Holland. I also got to attend the prestigous Borculo auction. I have a few articles to write for the Warmblood Magazine, so stay tuned! 9/22/00
NEW SALES VIDEO OF HOLLAND IMPORTS: I have a new video of 25 horses for sale in Holland. Send $15 for the cost of tape and postage. We mail express! If you buy a horse, we will deduct this money from our small nominal flat finders fee of $500. We can arrange import of these horses for you or take you to Holland. Airfare is very cheap right now. This video has some very nice mares, foals and geldings for sale in Holland. These are TOP bloodlines. Email me if you'd like some help finding horses in Holland. We work directly with the breeders and avoid the high fees of an agent. 9/22/00
My 8 year old son and Miloma, Photo by Carole MacDonald
Miloma KWPN Winner 2 times!: Our newly imported Keur Elite mare by Goodtimes was 1st place in the KWPN class at the Sporthorse Breeders show in NH and High point KWPN mature horse at the NEDA breed show. We are off to Devon on 9/25/00 for another try. I am enjoying this mare a lot! We had lots of fun riding at NEDA. 9/22/00
Stepping into the Stallion World: We are purchasing with VDL Stud 2 very nice young 2 year old stallions. One is a beautiful bay (Farrington x Ferro). His full sister was 2nd of the mares in Holland. The other is a black stallion (Laroche x Cavalier). They will be going through the first round of approvals in November in Holland. If they get through approval, they may come here someday. We always can use more approved Dutch stallions here! Keep tuned for news! 9/22/00
New 3rd Keur Mare Joins our Farm: We have another Keur mare joining our farm later this year. Her name is O'Bert-e-de. She is a 4 year old black mare by Indoctro. She is in foal to Flemmingh. We expect a super dressage foal from this mare. As soon as her current foal is weaned, she will be coming home. We are excited about having these top bloodlines join our farm! 9/22/00
Another Keur mare Imported: We have another keur mare joing the broodmares at Majestic Gaits. Her name is Larinette (Accord II x Ahorn x Erdball xx). She is in foal to the newly approved stallion international jumping stallion French Buffet xx. We will be offering a presale of Larinette's foal. This will be a super jumping breeding! See more details on Larinette and her foal on our mare page. We expect Larinette to be arriving in the US as early as next week. 7/11/00
Yearling Fillies go to MD. We are planning to take the 2 yearling fillies to the PVDA breeding show August 5th in Upper Marlboro MD. If your there stop by and say hi. This will be the first time these fillies get out to a show since they arrived in the US. Wish us luck! 7/6/00
| | |
| --- | --- |
| | Equine Affaire: We are coordinating the Dutch booth at the Equine Affaire in Massachusetts again this year, November 9-12, 2000. We are inviting other Dutch breeders to join us to help share the expense of promoting the dutch horses and your farm, stallion and horses too. Details available on our Equine Affaire Page. 6/30/00 |
Mare Sales Tape Available. I've finished putting together the video of all the mares that we saw on our 6 day trip to Germany and Holland in early June. This is a 3 tape VHS video set with 55 mares being jumped, ridden and shown free. We will send you a copy to you for the price of $25 to cover the costs of the tapes, copying and shipping. Click here to see a list of the horses on this video. These horses are for sale and we can coordinate purchases for a flat fee of $500. The tape is also great for seeing the results of breeding with different bloodlines. We offer to escort you to Holland or Germany and show you the kinds of horses from many breeders, owners and trainers that meet your specific needs, whether you are breeding or riding jumping or dressage. 6/20/00
Three yearlings are here from Holland. They arrived Friday June 9th. See our Sale Barn page for more details. 6/13/00
Upperville VA Show June 9-11. The Dutch booth at Upperville was great. Not only did we get to meet and talk to a bunch of people about the Dutch horses, but a Dutch mare who had never jumped Grand Prix and was recently imported from Germany 2 weeks earlier won the Budweiser Grand Prix. 6/13/00
Another Frozen Semen Shipment Arriving Soon: We have another frozen semen shipment due to arrive soon. If you have a particular stallion that you are interested in purchase, please let me know ASAP, so I can make sure we stock that stallion. 5/24/00
Two imported yearling fillies coming: We are expect 2 yearling fillies to arrive the 2nd week of June for sale. One is by Goodtimes x Ahorn Z x Ronald x Cor and the other is by Flemmingh x Caritas. If you are interested in a yearling filly, please email me. 5/24/00
Miloma arrived in the US: Our new elite mare Miloma has arrived in the US. She is now going through CEM quarantine. We hope to have her here at the farm around the 2nd week of June. She looks even more beautiful now. 5/24/00
NEW COLT BORN 4/11/2000 10:15pm. Rampal - Fleming (Farnexe) - On the Road xx A pretty bay with a star. Congrats to Lisa Cox who prepurchased this foal. Picture is on our mare page.
Thanks to all our clients for a wonderful year in 1999! All our presales and sale horses are SOLD OUT. Our presales for 2001 will be available when the mares are 45 days in foal. See our mare page for updates on our planned breedings and upcoming presales that will be offered. All our offspring are sold out, but we expect young imports for sale this spring. Email me kathy@majesticgaits.com for current information on expected imports.
NEW MARE: We bought an elite mare, Miloma by Good Times (Nimmerdor - Calleto I - Wahnfried). She is now 45 days in foal to Farrington (Wellington - Doruto - Selim). We are anxiously waiting for her to be shipped to her new home in the US. Look for Miloma in the shows this summer.
FROZEN SEMEN: We are now offering frozen semen from super jumping and dressage stallions from VDL stud in Holland. Visit our Frozen Semen link for more information. A video of these fabulous stallions is available for $15.
Congrats to Linda Saba on her purchase of the yearling stallion Sundance by (Contango x Jenni Road, star by Grand Slam). Look for Sundance at the breed shows in New England this year.
Our offspring and presales for 2000 are all SOLD OUT. Kathy Hickerson, MGCEO
Archive MG News 2009
Archive MG News 2008
Archive MG News 2007
Archive MG News 2006
Archive MG News 2005
Archive MG News 2004
Archive MG News 2003
Archive MG News 2002
Archive MG News 2001
Archive MG News 2000