Farm News 2006
Congrats to Sheila Zepernick (LA) on the purchase of the imported first premium filly Bijjanieta (Emilion x Marlon x Voltaire) (12/2/06)
Congrats to Jan Downs-Barrett(PA) on the purchase of the imported filly Babitha Dyloma (Goodtimes x Dreamstreet). Full sister to Miloma and first premium at the keuring in Holland. (11/27/06)
Congrats to Debbie Malcomson (NH) on her purchase of Britta MG (Prestige x Glenridge). We wish Debbie the best of luck in the future in all the shows and breeding. (11/21/06)
Imported Fillies Arrive:
5 New Imported fillies from great motherlines and super movement arrive. See our sales page for details. (11/20/06)
New Hanoverian Stallion to Majestic Gaits We have bought a 2 year old Licensed Hanoverian stallion Schroeder (Sandro Hit x Escudo) in Germany. He is licensed to breed 50 mares in Germany and will stay there to do his 70 day test in the summer of 2007 and then the plan is to bring him home after that. We are very excited about this stallion and it was the one that we wanted after looking over 66 licensed stallions. We focused on clean xrays that also the KWPN would accept for the KWPN breeders too, good big hooves, easy temperament and good movement. He fits right in with our current stallions Navarone and Farrington giving a new option for our breeders and new backup option for our frozen semen. More pictures and name to come. Details are at his web page. (10/30/06)
Congrats to Cynthia Moore-West (CO) on her purchase of the 2 year old colt Zalig MG (Navarone x Goodtimes). This fabulous first premium top ten gelding has high potential at the shows. We wish Cynthia best of luck in the future.
Aragorn MG (Prestige x Glenridge) 3rd Place at his first breed show 75%. Received an 8 for conformation. This colt was super to take to the show and just a pleasure to work with.
Uloma MG (Farrington x Goodtimes) High Point KWPN-NA GMHA Dressage.
Navarone (Jus de Pomme x Armstrong) and Colleen receive 60% and thier 2nd score qualifying score at Prix St. George that she needs for her USDF Gold medal. See the schedule for details of show results.
Uloma MG Qualifies for FEI 5 Year Old National Championships in KY Uloma received a 74% and 2nd place on her first FEI 5 Year Old test at the CDA Spring show in CT. Even though it was her first big and official show with the pouring rain, she was very well behaved and did well. We are proud of her and now she has the score she needs to go to the National Championships in KY in September.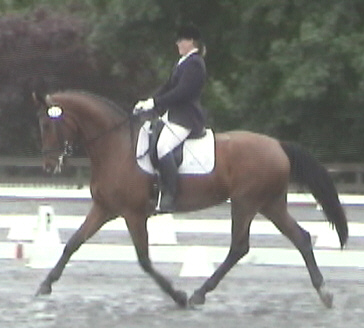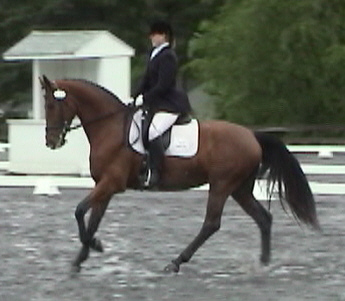 Navarone (Jus de Pomme x Armstrong) 63% 2nd PSG, 4th Place CDA Spring Show (6-3-06)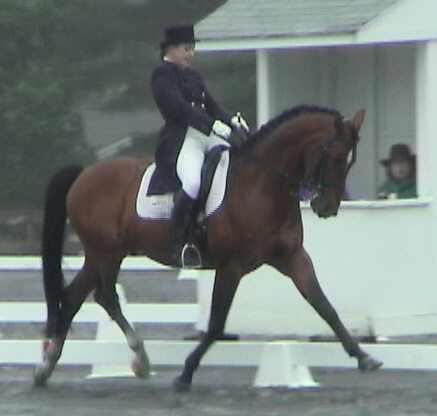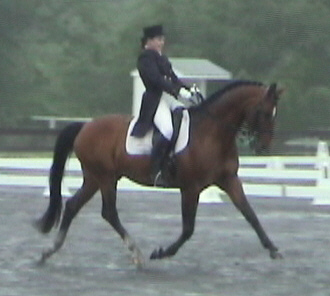 Britta MG (Prestige x Glenridge) A new black Prestige filly is born June 2, 2006 with 4 white socks and a blaze. We are so pleased with this one, she moves like Prestige, has fabulous color and nice temperament. Congrats to Debbie Malcomson (NH) on the purchase of this filly. We have her full brother Aragorn MG who was very successful in the breed shows this year.

Born on our Farm. Congrats to Debbie Malcolmson on her new bay filly by Indoctro out of her Keur Elite Nimmerdor mare that she just got from Holland. This is a fabulous filly and now Debbie has 3 new mares for her breeding program after her barn burned down. We wish her the best of luck in the future with her new horses and new barn which is almost done. (6-1-06)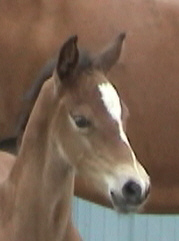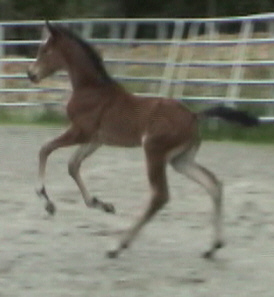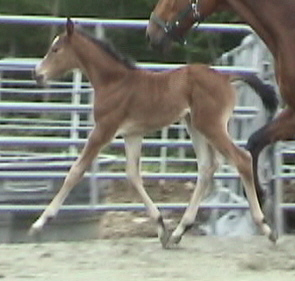 B.... (Cardento x Acord II) Colt Arrives We had a super big, leggy gray Cardento colt out of our Keur mare Larinette. I was hoping for a filly to keep, but this looks like we will keep him for our stallion prospect program. He is very brave and inquisitive. I really like his character. (5/18/06)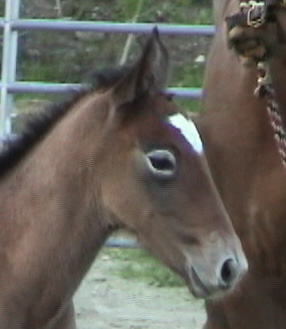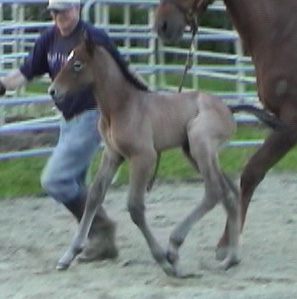 Zalig MG (Navarone x Acord II) offered for sale: Our fabulous stallion prospect Zalig MG (Navarone x Acord II) didn't have one testicle develop enough so we are gelding him and offering him for sale. The is a phenomenal mover and just something really special and will do high level in sport. Really fantastic gaits for dressage and looking very good for Grand Prix. His initial free jumping shows the fabulous natural talent of his sire and grand sire Olympic Jus de Pomme so good potential there too. He was First Premium, Young Horse Champion at the KWPN-NA keuring in 2005, #3 in the nation for yearlings and #5 USDF KWPN-NA Horse of the Year for the Nation. Selected for the Claus Balkenhal NEDA Fall Clinic 2006. More pictures and details on his web page.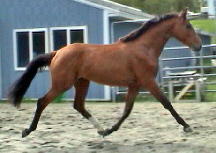 Zorro LAN (Farrington x Flemmingh): Fabulous imported colt now offered for sale. Top Dressage prospect, bay with 4 white socks. Flashy. Clean xrays. See his web page for details.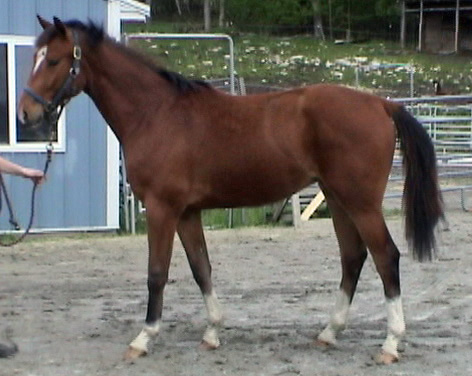 Torette R Keur Elite (Silvano x Flemmingh) in foal
Our latest mare who had the beautiful Don Primero filly Barette MG in Holland is now confirmed in foal to His Highness (Hohenstein x Donnerhall). Torette R will be come home to USA in the fall. Presales information are offered on our mares pages for our mares in foal for 2007.
Congrats to Kim Davies (NJ) on her purchase of the black 5 year old Star mare Ulianacarla by Orame. Ulianacarla is being imported and will compete with Kim in the future. Pictures soon. We wish them the best of luck in the competitions and future breeding. This is a super mare with fantastic movement and a fabulous jumper. Thanks to VDL Stud for finding this nice mare for Kim.
Beneventian MG "Ben" (Flemmingh x Zeoliet) Congrats to Nicole Tatusko (GA) on her new colt born 4/25/06 out of Oisa Keur Elite by Zeoliet. Oisa was leased and bred by Majestic Gaits. Thanks to Mary Fabish for this wonderful opportunity to breed such a fabulous mare.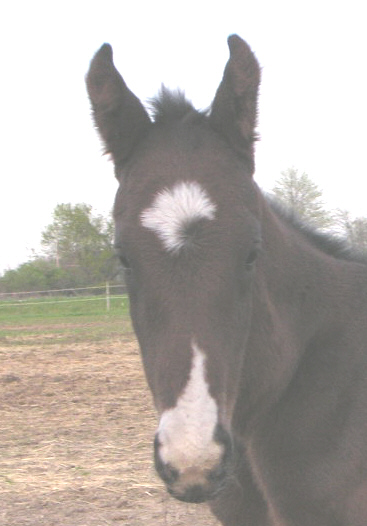 Just 5 hours old here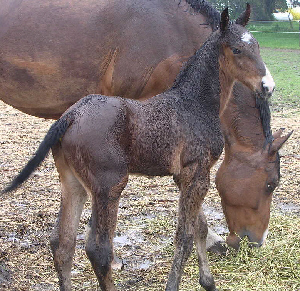 8 days old
Our Latest Stallion Prospect in Germany We bought this fabulous 3 day old colt Hercules (His Highness x Rotspon x Matcho) in Germany and he will join our stallion prospects.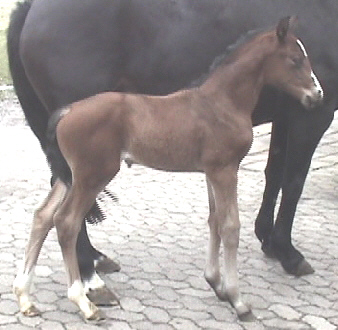 Barette MG (Don Primero x Silvano x Flemmingh) born on March 21st, 2006 in Holland. We are thrilled with out new filly in Holland. This is the first foal out of our newest Keur Elite mare Torette (Silvano x Flemmingh) and we are thrilled. Super temperament, powerful hind end and big trot. Going to be a super dressage horse. Offered for sale in Holland...see her web page.
Congrats - To Debbie Malcomson on her purchase of the Keur Elite mare Lidin (Nimmerdor x Uniek x Uppercut) in foal to Indoctro (Capiltol I). Lidin is being imported from Holland and will foal out here while Debbie continues to build her new barn and then be bred back to Flemmingh Keur.

Navarone Learning Piaffe - Check out Colleen & Navarone (Jus de Pomme x Armstrong) starting their training in Piaffe. Jane Karol is doing a super job at guiding them both to the FEI levels. Navarone will start back again this year at Prix St. George and moving on up from there.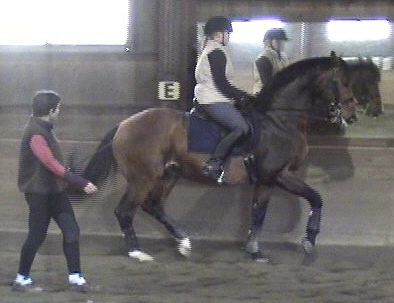 Click here for a short video of their first training
Lancet x Goodtimes colt born March 4 - 2006 Colt by Olympic Lancet Presold to Donna Nita (SC). Donna already has already have a fabulous bred Flemmingh mare from us Uniblab and came back for more! This colt is really sweet, pretty and already well developed. This is another special one for her. Congrats to Donna on her new colt!

Lingh
On Feb 2, 2006 the first foal from Lingh (Flemmingh x Columbus) was born in Holland. You can see a video of this super filly Blingh at http://www.lingh.nl/nl/veulen_lingh.WMV It is out of the star mare (Clavecimbel x Ferro x Farn x Doruto) Lingh and all the VDL semen is here and stocked. We can ship anytime!
In Memory
Sad and shocking news hit our good friend Debbie Malcomson last Thursday morning when she woke up at 3:30 am to crackling noise and her barn gone and demolished by a fire. Sadly she lost her cats and her 3 horses.

| | |
| --- | --- |
| | Zeta, her 2 year old Navarone filly that she showed so successfully with us last year at the breed shows. Debbie loved Zeta and she would never part with her as she was so beautiful, sweet and looked just like her sire. |
| | Calvin, a 10 year old Hanoverian gelding by Sherlock Holmes who jumped Prelim and affectionately known as "Big C" as he was a big boy. He was a big pet, everyone loved him and he was a happy guy as long as he had food. |
| | Abby, her 4 Year old mare by Art Deco in foal to Prestige. Abby had a great sense of humor, loved to boss everybody around, especially Big C. They used to groom each other over the fence when they weren't fighting and kicking it down. Debbie was so much looking forward to this Prestige foal and I'm sure would have been super nice! |
| | Debbie had just bought a new filly Atacha (Metal x Ahorn x Farrington), so luckily she had not arrived. Debbbie is being very strong and as much as this has been a big tragedy in her life she is looking to the future and anxiously waiting for Atacha to arrive and building a new barn. |
Indoctro (Capitol x Caletto II) Preferent
The KWPN Stallion Committee has announced that Indoctro has been awarded the highest status a stallion can receive Preferent! The Preferent predicate is given to a Keur stallion that has established his own line with approved sons. Indoctro has many approved sons including Sheraton and Orame. At the age of 16, Indoctro is the youngest stallion who has the title Preferent. Congratulations to all of you who have bred to Indoctro and have Indoctro offspring and congratulations to VDL Stud on achieving again another Preferent stallion. Indoctro joins already the existing Preferent VDL stallion Flemmingh.
Archive MG News 2009
Archive MG News 2008
Archive MG News 2007
Archive MG News 2006
Archive MG News 2005
Archive MG News 2004
Archive MG News 2003
Archive MG News 2002
Archive MG News 2001
Archive MG News 2000