Vera (Matterhorn x Pretendent) Sold
Congrats to Sandy Brazee (MA) on her purchase of the imported 3 year old mare. We wish her the best of luck in the future and plan to hear of her success at the shows! This was another nice horse selected by VDL Stud in Holland. (12/2005)
New 2005 VDL Stallion Show DVD is here. Order on the Videos Page.
Navarone offspring Tops at the Keuring
Zalig (Navarone x Accord II) 1st Premium, High Score Young Horse and #3 in the Nation at the KWPN-NA keuring.
Austin MG (Navarone x Goodtimes out of Keur Elite mare Miloma) 1st Premium 1st of 10 colts in the class (9/2005)
Congrats to Kellie Nelson & Woodstock (Indoctro x Glenridge) Champion 2 year old Colt and Young Horse Reserve Champion at the Sorenson Park Breed Show in Wisconsin. Woodstock was bred by Majestic Gaits and out of our Keur mare Obertede.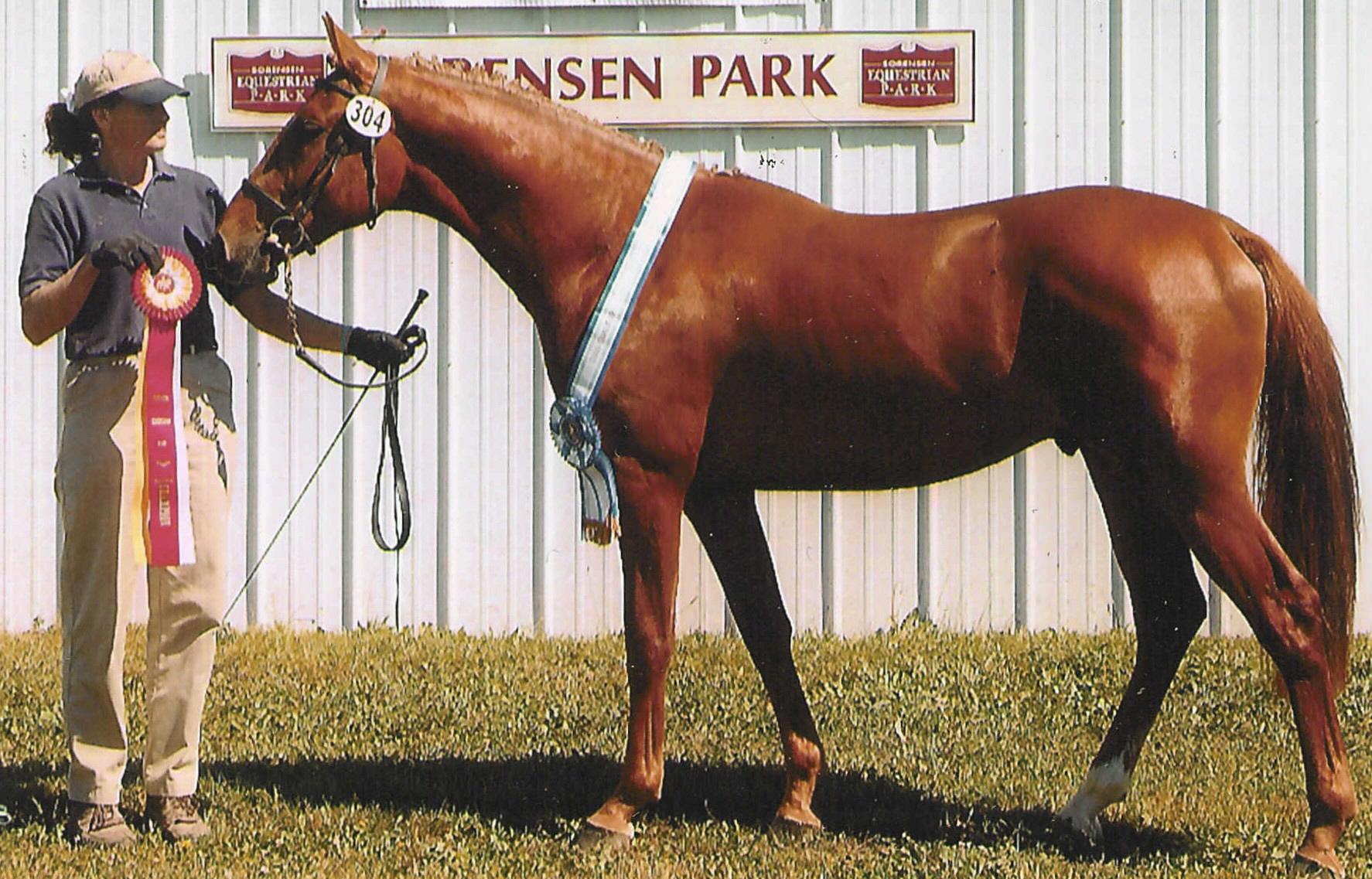 Prestige & Edward Gal 6 Weeks in Training PhotosCheck out the first photos, just 6 weeks in training Prestige (Silvano x Goodtimes) ridden by Edward Gal.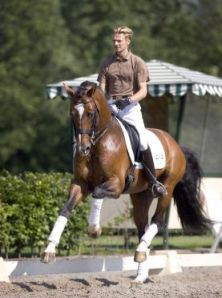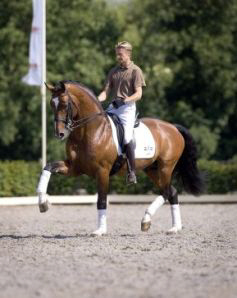 Lingh (Flemmingh x Columbus) winner of many Grand Prix's and winner of the World Cup Grand Prix and 2nd in the Freestyle in Las Vegas 2005, ridden by Edward Gal. We will have his frozen semen next year. Make sure your on my email list of news of prices and availability. He will be frozen after the European Championships. Lingh has been in sport and just approved by the KWPN this year for breeding. He has proven again as many other Flemmingh sons have on the super character and success of this bloodline. Flemmingh crosses very well with thoroughbred blood. Lingh is 1/4 thoroughbred from Lucky Boy and Uppercut. Check out his new web page.
Amadeus MG (Sheraton x Accord II) A gorgeous black colt was born out of our Keur mare Larinette. We expect a fantastic jumper from this one. He already likes to jump over ground poles in the jump chute on his own. We will be keeping Amadeus for our stallion prospect program.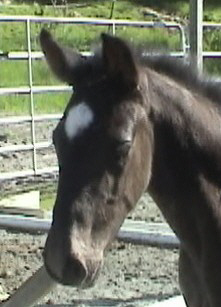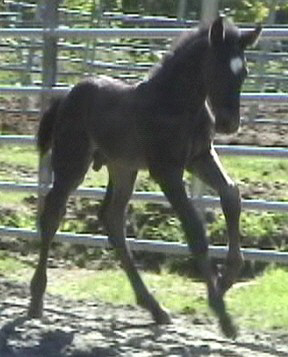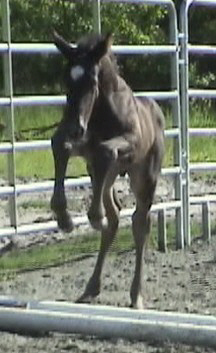 Anandi MG (Flemmingh KEUR x Farrington KEUR) a beautiful bay colt arrives on May 18, 2005. He is super friendly and carries himself with pride. He loves to play and bumped his knee. But, what a super boy to work with and wrap his leg. Congrats to Gayle Ford (CO) on her prepurchase of Anandi. Watch for Anandi at the shows in the future!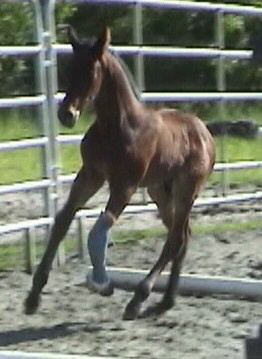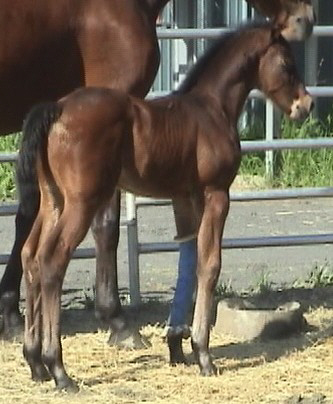 Congratulations to Julie Taylor (OH) on her purchase of the black 4 year old gelding Ulansky (Polansky x Goodtimes). Ulansky is going to be Julie's FEI prospect. Watch for them in the shows in the future. (3-31-05)

Archive MG News 2009
Archive MG News 2008
Archive MG News 2007
Archive MG News 2006
Archive MG News 2005
Archive MG News 2004
Archive MG News 2003
Archive MG News 2002
Archive MG News 2001
Archive MG News 2000
Congratulations to Eduardo Muñiz & Yvonne Losos de Muñiz on the purchase of the imported yearling stallion colt Zola (Flemmingh x Argus). Zola will be going to their farm in Montreal, Ontario Canada where he'll grow to be Yvonne's next riding prospect. Check out their web page at www.lasmarismas.com and see other fantastic horses they are breeding and training. We look forward to hearing great news about Zola in the future in Dressage. (3-25-05)
Congratulations to Monica & Michele Sakurai on their purchase of the 5 year old mare Tisolde by Natal (Caretino-Landgraf I) out of Nisolde (Nimmerdor -Silbersee). Tisolde's grand dam Isold was the first non Dutch mare to be Dutch National Champion Mare. We had a super time in Holland at the Stallion show with Monica and Michele looking for just the right horse for Monica. VDL did a super job. Tisolde will be going to college with Monica where they will train and compete in jumping. Tisolde joins their other mare Oilily VDL (Inferno - Falco). We are looking forward to reporting news on Tisolde at the shows in the future! (3-25-05)
Sambertino (Samber x Wellington) We are please to offer frozen semen from the super dressage stallion Sambertino to our clients. Information here.
Astro MG (Tenerife x Grand Slam) A gorgeous bay colt was born on March 10 with a star and 2 matching hind socks. Astro is out of our Star mare Jenni Road. This colt has a gorgeous head, topline and really uses it hind end well with powerful uphill movement. He will be a super jumper and follow the footsteps of his Daddy Tenerife. Astro is offered for sale. Jenni is being bred back to Tenerife. (3-10-05)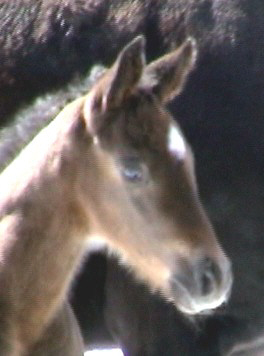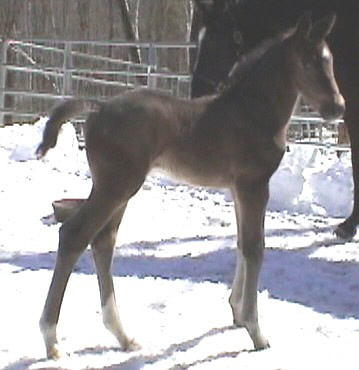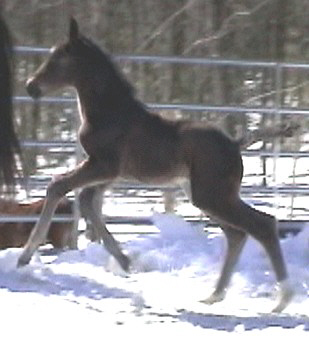 Congratulations to Missy Bowsher(OH) on her purchase of the Imported 2 year old mare Wikarike (Pacific x Nimmerdor). Missy has bought herself a fantastic young mare with super bloodlines and motherline for future breeding, but wow what a jumper and mover she has! Watch for this fantastic mare and Missy at the jumper shows in the future.
Congratulations to Breandan Filbert (KS) on her purchase of the Imported 2 year old mare Walburga (Indoctro x Woldstreek). This young mare will be used for breeding next year and then go into sport with Breandan. We expect to hear big things of the success at the shows and breeding in the future.
Farrington Keur (Wellington x Doruto) comes to America. We are pleased to announce that the Keur stallion Farrington will be coming to stand at Majestic Gaits in New Hampshire. He will be available for fresh semen and backup to all the VDL frozen semen. Farrington is a super stallion for dressage. He received high marks on all 3 gaits 8.5 walk, 8 trot and 8 for canter. And a character of 9. He was described in his testing that the work was easy for him and he was very willing to work. We have seen that in his offspring here too. Uloma, Vermouth and Uno have all been super characters and big strong movers. In Holland he has so far received 24 star mares, 20 keur mares and 1 preferent mare.
Farrington has a high dressage index of 132. He brings the famous Doruto bloodlines who produced top dressage horses as Olympic Barbria, Chevalier and Ideaal. His sire Wellington also well known as producing great movers like Ceylon and Luxaflex. His daughter Perrey was the Dutch Reserve Champion of 3 year olds and Theadra was National Reserve Champion of the Keur and Elite mares. He has many offspring showing at the upper levels of dressage including Limited Edition and Michigan. After the stallion testing, Farrington himself had an unfortunate accident fracturing his hind leg, so he was unable to perform in sport. But, he has proved himself as a dressage sire and the KWPN recognized him with the prestigious predicate of KEUR.
Farrington is a 16-3 dark chestnut stallion with good bone. He crosses well with thoroughbred and warmblood mares. If your looking for a good solid dressage stallion with 3 strong gaits and good character, consider Farrington. He will be offered at a stud fee of $1500 live foal guarantee. EVA semen negative. He should be available for breeding by the end of March. Video of Farrington shown in hand is available on both the 2005 VDL Stallion Promotional video and the 2004 VDL Stallion show. They can be ordered online here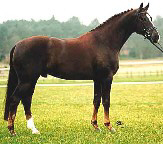 Aragorn MG (Prestige x Glenridge) A beautiful black colt by Prestige arrived this morning. Star, snip and 2 alternating socks. Now we have 2 fabulous colts here! (2-18-05)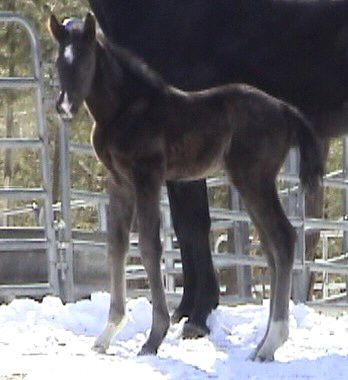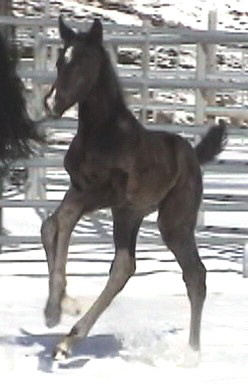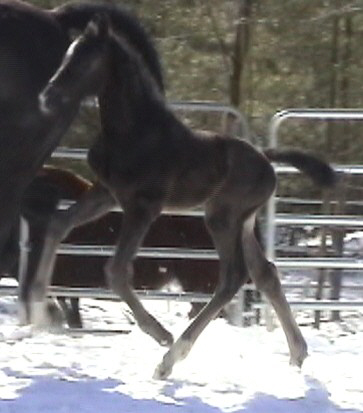 Austin MG (Navarone x Goodtimes) The first foal of the year arrives. A gorgeous chestnut, big boned, strong and very nice character arrived on February 3, 2005 while I was at the stallion show in Holland. What a special surprise to come home to. This colt is similar breeding to Taloma (Navarone x Goodtimes) out of the famous LOMA mare lines. He is offered for sale. More details here. 4 more foals to come! (2-3-05)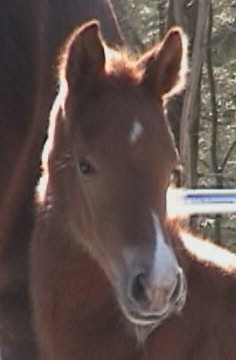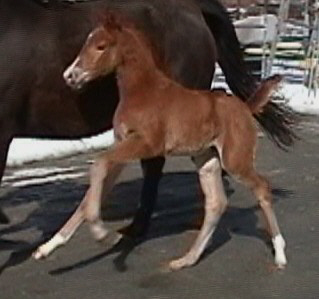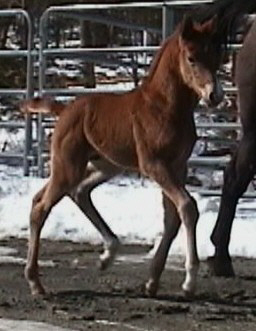 Olympic Cardento (Capitol x Lord) Now approved for KWPN breeding. For those of you that love the stallion Cardento, he is now approved by the KWPN for dutch breeding. That also means he is approved by the NAWPN as they are one in the same. Details of all the frozen semen stallions are on the frozen semen page. Click on the individual stallions for more details of those stallions. (2-1-2005)
Majestic Gaits #6 USDF Sporthorse Breeder in 2004 We are thrilled that we are the #6 breeder in the nation for all USDF Sporthorse Breeding shows. Thanks to all of our clients who purchased our offspring and brought them to shows and won! We all share in the success. (1-10-05)
Corland now KEUR The VDL Stallion Corland has been awarded the prestigious predicate of KEUR by the KWPN. Only a best stallions in Holland received this distinquished title. Congrats to VDL Stud. Details of Corland are on our frozen semen page.
Archive MG News 2008
Archive MG News 2007
Archive MG News 2006
Archive MG News 2005
Archive MG News 2004
Archive MG News 2003
Archive MG News 2002
Archive MG News 2001
Archive MG News 2000