Farm News 2008
Pineland KWPN Keuring Success!
Zeppo (Prestige x Rossini) 3 year old dressage gelding owned by Nancy Chandler-Conrey and Kris Story Many of you remember this fantastic gelding that we had bought as a foal in Holland and sold her. He was just outstanding. He first showed his talents by jumping out of the ring and cleared the fence with ease! He received his first premium and star. Judges commented on his powerful gaits and suppleness.
Demimora MG (Schroeder x Flemmingh x Ahorn) was first premium and 2nd in the dressage foal class
Dollyloma MG (Rascalino x Goodtimes x Dreamstreet) out of our Keur Elite mare Miloma was first premium and 3rd in the dressage foal class. Dollyloma MG is owned now by Mical Samuelson.
Dante MG (Chin Chin x Glenridge x Zuidhorn) out of our Keur mare Obertede was 1st premium and 1st in the class of jumper foals.
Dexter Chin CHF (Chin Chin x Nimmerdor) bred and owned by Debbie Malcolmson was 1st premium and 2nd in the class.
Deliahla RGS (Indoctro x Le Feu) bred and owned by Terry and Jayschree Schrubbs was 1st premium hunter foal

Congrats to all!

Torette R Keur Elite (Silvano x Flemmingh) NEDA Champion!
At the NEDA Fall Breed Show and series Championship Torette R, our Elite Dutch mare (Silvano x Flemmingh) won her class and then was Mare Champion, then Mature horse Reserve Champion, then Grand Champion of the Entire NEDA Fall Breed Show. Then she went on to be Grand Champion Mare for the entire New England Breed Show Series! Thanks to VDL Stud in Holland for selling us this fabulous mare.

Dorette MG (Schroeder x Flemmingh) standing#1 USDF so far 78.5%
Dorette MG had a hard challenge following her mother to the championships. She was 4th in the foal class and 3rd in the Futurity class. She received high marks for her conformation and walk, but just a little too bit wound up to trot without cantering. Dorette MG now listed as #1 filly at the USDF breed shows in America with a median score of 78.5% I'm sure that will change as more scores come in for all the horses, but we are proud of her and such a
fabulous job she has done going to all these shows. She is just a little over 4 months old and doing great. Dorette MG is owned by Sue Wildman (MA).

Schroeder (Sandro Hit x Escudo I) 2nd place Materiale
Schroeder did a super job going to his first big show as a young 4 year old stallion. For those of you who have never been to the HITS show ground in Saugerties, it has 6 dressage rings going, 2 breed show rings with the many warm ups and then the jumpers start up in the other rings. It is a long 10+ minute walk from the back barns over the bridge with the many golf carts, bicycles and scooters everywhere. Announcers, tents and mobile tents moving on tractors, along with the 3 announcers and the many maintenance vehicles.
So, we are thrilled how he behaved with all the mares hanging nearby.

He was super under saddle with his rider Colleen O'Connor-Dzik. He placed 2nd with a 78.5%

Zem (Krack C x Goodtimes) wins his first class at his first show!
We had hoped to just get this 4 year old gelding out to his first show and see how he is and get him used to going to the show grounds and let people see him. He was fabulous with all the hoopla at the NEDA Fall Show and CDI. Not only did he behave so easy, but he went in to his first dressage test ever at such a big show and won his Training Level Test 3 class with a 70%. He received an 8 on his gaits, his canter depart, free walk and medium walk. The judge commented that he was a super nice prospect and will be very nice and can score even higher. Zem is an imported Dutch gelding available for sale and
has clean xrays. If your looking for a top prospect for the upper level potential. Details on his sales page.

Wembley D (Flemmingh x Actueel) 2nd place with a 72.286% for his first show/class
Wembley D, the imported 5 year old flashy gelding also went to his first show, but showed at 1st level. In his 1st level test 3, he did fabulous with a high score of 72.286% and a 2nd place in the class. Missing 1st place by only less than a point. Judges commented that there was a nice relationship between the pair
and good prospect! good riding!. He also received 8's for his gaits, trot, free walk, canter lengthening, 15m circle, working canter and changing reins. Wembley D was so easy to show. Such a flashy chestnut gelding with is 4 white socks. He has such high potentials. He is for sale and has clean xrays. Pictures and more information on the sales page.

Washington (Orame x Animo) super success at his first show!
Washington is an imported 5 year old gelding. He is 17-1.5 hands tall and has needed the extra time to mature and grow. This horse has 3 big powerful gaits and can jump but just fantastic for dressage too. He is a sweet boy and fabulous to ride, but a little too playful for just anyone for such a big horse.
Lou Denizard did a super job riding him last month. You would of thought, they rode together for a long time. He hopped right on and walked around the entire show grounds and he was easy. He looked around and just took it all in and then went to work. His first class was a little tense, but his last class he
loosened up to come in 5th with a 68.696% Didn't help that Zem was there to beat him in the class. But he had also 8's for his gaits, 20 m circle, medium walk (said it was soft), 20m canter circle (good ground cover) and working trot. Judges comments was that he was an elegant horse just not always in
balance especially with the halts. He is super leggy and just needs the time to develop properly, but Washington is a top prospect also. If your looking for a big horse, he is for sale. He has clean xrays. Details on the sales page.

Thanks to a great team to show all 6 horses that went to the NEDA Fall show. We couldn't have done it without our fabulous riders Colleen O'Connor-Dzik, Lou Denizard, our handlers Phil Silva and Sara Vanacek and help from Orintha Silva, Sue Wildman and my daughter Amanda and Denis Looney. Also, the many people we hijacked at the breed ring to hold horses! Thanks to you all!
Iron Spring Farm Keuring Successes
Sandra Piceno presented her colt Done Right by Navarone (Jus de Pomme x Armstrong) out of Winter Morning by Ramiro Bube and received 1st premium. A beautiful looking colt.

Wildcard SCF by Goodtimes (Nimmerdor x Caletto I) out of her mare Marie Louis by Silvio I had a good IBOP under saddle test and received her Keur predicate. Bred and owned by Dr. Carlos and Karin Jiminez.
Schroeder (Jus de Pomme x Armstrong) approved ISR Oldenburg
We had a fantastic trip to Hilltop Farm. Chris Hickey and all the staff at Hilltop were very nice and made for an enjoyable trip. Schroeder (Jus de Pomme x Armstrong) showed well. Super under saddle and free jumping too. He was approved with the 3rd highest score. The 2 stallions that were higher was a Grand Prix jumper and a PSG stallion! Super for a 4 year old stallion who has been through a lot this year. We are really enjoying taking him to the shows. 8-29-08
Navarone and Schroeder approved RPSI
Navarone (Jus de Pomme x Armstrong), our approved KWPN stallion received his RPSI (Zwubruker) approval and received high score stallion of the keuring. Schroeder (Sandro Hit x Escudo I) who is already Hanoverian approved also is now approved RPSI. 8-16-08
Farrington, Schroeder and Navarone approved BWP!
Farrington (Wellington x Doruto), the VDL Keur stallion standing at Majestic Gaits went to the BWP approval at Swept Away Farm in NH. Farrington received the high score of 83 and approved. Navarone (Jus de Pomme x Armstrong) also received his approval. NavaroneWOWed the croud with his fantastic free jumping. He had not jumped for a few years and he still has it! Schroeder (Sandro Hit x Escudo I) also received his approval and showed a nice test under saddle. 8-14-08
Dollyloma MG (Rascalino x Goodtimes) sold!
Congratulations to Mical Samuelson (PA) on her purchase of Dollyloma MG (Rascalino x Goodtimes). Dollyloma MG is a fantastic black filly and only the 2nd filly from our Keur Elite Mare Miloma. Another famous LOMA line mare for the future. We wish Mical and Dollyloma MG all the best for the future! 8-12-08

Congrats to Sue Wildman and Waltina LAN (Flemmingh x Nimmerdor) on becoming Grand Champion of the Pineland Farms Breed Show in Maine. Waltina LAN was selected by VDL and imported and sold by Majestic Gaits to Sue as a foal. She is now 5 years old and Sue and Waltina LANs first show and they did us proud! Handled by Phil Silva from Ten Broeck Farm. We love when our clients have super success. Congrats!!! 8-10-08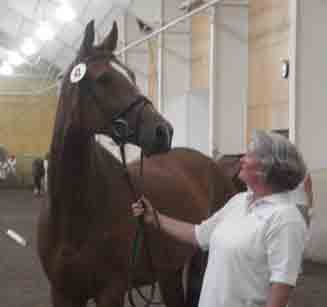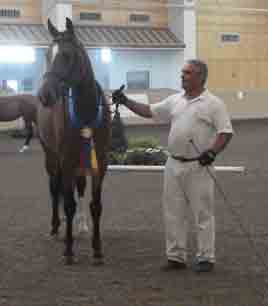 Schroeder (Sandro Hit x Escudo I) Champion Stallion Pineland Breed Show and winner again of his Material Class with a 79.5% Ridden by Colleen O'Connor-Dzik. Schroeder has now qualified 3 times for the USDF New England series stallion Championship being held at the NEDA Fall Festival next month. 8-10-08
Dorette MG (Schroeder x Goodtimes) wins filly class. Dorette MG the 2nd foal from Schroeder showed her stuff again to winn the filly class. She has the extra stress of having to go in all her mother's classes too. We are really proud and have a lot of fun showing this Schroeder baby. 8-10-08
Torette R (Silvano N x Flemmingh) wins the broodmare class and qualified for the USDF New England Series Breed show championships being held at the NEDA Fall Festival. Torette R has already proven herself as a KWPN Keur Elite mare and #4 mare in all of Holland at Ermelo. But, it is just fun to show her off. She received a high score of 80%. Thanks to VDL Stud for selling us this super mare. 8-10-08
Acordia (Indorado x Marlon) earns her Keur predicate at the central keuring in Holland. She was first in her group. Thanks to VDL Stud for finding this fantastic horse for us. She is now in foal to Zavall (Cassall x Emilion) so we look forward to a super foal next year. 7-30-2008.
Schroeder Reserve Champion of the Maplewood Breed Show What a fantastic day for Schroeder (Sandro Hit x Escudo I) at the Maplewood Breed Show. He won his stallion class, stallion champion and reserve champion of the whole show. Then after a long day, he won his Materiale class with a high score of 80.23%. 8-2-08
Acordia (Indorado x Marlon) is now a Star mare and High point of the Sleen mare test in Holland
Acordia is High point and star mare now from the Sleen, NL mare test with 80.5 overall points. Scores were Walk 7 Trot 7.5 Balance 8, Canter 8.5 Reflex 8 Tech 7.5 Power 8.5 Character 9 Work Ability 8 Potential 8 Overall conformation 7.5 Movement 7.5 and Jump 8 May 29, 2008
Acordia will continue training under saddle and go to the central keuring to try for her Keur predicate in July. Thanks for VDL for fnding this super mare for us 3 years ago as a foal. We bought her Keur Elite mother this year Tercordia who had a super filly by Silverstone.
Demimora MG (Schroeder x Tamora Keur by Flemmingh) Born March 30, 2008. This is the first Schroeder foal to arrive. She is a big, long legged, long lined filly with a very pretty head and good bone. She is 12 hours old in these pictures
.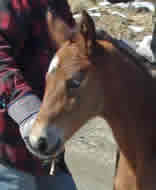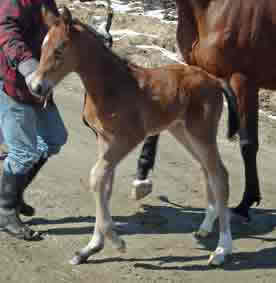 Dollyloma MG (Rascalino x Miloma Keur Elite by Goodtimes) Born March 9, 2008, we had a beautiful black filly born with 4 white socks, star and snip. She is absolutely beautiful and she moves gorgious like her Keur Elite mother Miloma. We priced her high as we will be happy to keep her like we did her sister Uloma MG, but will sell for $20,000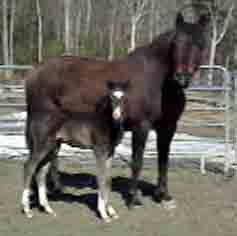 Schroeder arrives! Schroeder gets out of CEM quarantine and comes home 2/14/08. Happy Valentines Day!
New Mares for Majestic Gaits
We had a super trip to Holland for the Stallion show and a nice group and tour. We bought 2 new Elite mares Tercordia (Marlon x Acord II) and Valanta (Goodtimes x Houston). Tercordia is in foal to Silverstone and will foal in Holland and be bred to Indorado. Valanta is in foal to Johnson (Jazz x Flemmingh) and will be bred back to the new VDL stallion For Ramadour (Furst Heinrich x Pik Bube). 2/1/08

Archive MG News 2009
Archive MG News 2008
Archive MG News 2007
Archive MG News 2006
Archive MG News 2005
Archive MG News 2004
Archive MG News 2003
Archive MG News 2002
Archive MG News 2001
Archive MG News 2000